We at Journal del Pacifico are excited to be back for our 7th season promoting Baja Sur and informing visitors and residents about its rich history, environment, and unique qualities. We look forward to sharing area and business information, events, enlightening stories, exciting adventures, and stunning photography with you this season!
Once again, Luz Gallery has supplied us with this issue's fabulous cover and interior photographs by Bruce Herman. Bruce was our "On the Cover" artist for the Holiday 2016/2017 issue. You will find his biography online in that issue and see more of his recent works at the Luz Gallery in Todos Santos. Luz Gallery also has more prints of vintage maps like those in Geography of Hope, Bryan Jáuregui of Todos Santos Eco Adventures' fascinating tale of Jesuits, Indians, and El Camino Real in Baja California Sur.
This time of year with the heat and rains, the desert is alive and green, and our resident lizards can be seen scurrying about. This issue, Kaia Thomson of Todos Caballos, gives us a glimpse into their lives and their survival adaptations, sharing with us her marvelous photographs and knowledge.
The first annual Fiesta Día de Muertos Todos Santos takes place in the historic district, November 1st through 4th, with a parade of Catrinas, Day of the Dead altars, live music, gastronomic fair, a fashion show, a photography contest, and a special performance by Tania Libertad. For more information visit: https://fiestatodossantos.com/ or Facebook: Fiesta.TodosSantos
This November, The Palapa of Todos Santos celebrates the grand opening of The Palapa Learning Center and Elena Poniatowska Community Library. You can read how after three years, this dream became a reality in our article this issue. You can also help the dream continue by donating to their scholarship fund for local children.
You can now see artist Brian McGuffey's light-hearted and thought-provoking works at Bésame Mucho Bazaar in Todos Santos and Pez Gordo in San José del Cabo.
The successful Women Awakening conference is back at Cuatro Vientos this December 1st to 3rd. This year's theme is Reclaiming Your Power. See our article for more information.
The 5th annual Todos Santos Writers' Workshop (TSWW) will take place January 27 through February 3, 2018 at Casa Dracula on the otro lado of Todos Santos. This year, they've added a poetry workshop. Christopher Merrill, director of the International Writing Program at the University of Iowa, will be returning to TSWW as its inaugural instructor. Chris's latest book, Self-Portrait with Dogwood, is being widely well received. You can read more about the workshop and one of Christopher's poems in this issue.
Attention Foodies: the Garden Restaurant at Rancho Pescadero is now open to the public Sunday afternoons with a full menu and their Sunday specials—Mole de Rancho and Barbacoa. Thursday through Sunday, you can also enjoy sunset cocktails with farm fresh tapas on their patio. For reservations, email: Rancho1@ranchopescadero.com
La Bohemia Hotel Pequeño, in downtown Todos Santos, has daily a happy hour, a local market, and lots of fun events this November and December. See events for more details. Ask about their pool pass!
Ana Delora's Hair Salon is now located at the Whitesands Spa in Todos Santos. With over 18 years' experience, Ana is bilingual and provides men's and women's haircuts,  dyeing, shaves, and pedicures.
Mini Super Munchies, well known for its famous ice cream sandwiches, micro brews, and Tuesday night Open Mic music jams has a new exciting addition to the shop this season, DoTerra Essential Oils—therapeutic-grade essential oils, natural skin care products, and supplements. They will be offering free classes to learn how to use essential oils in your everyday life. Check the Facebook page: Mini Super Munchies for events and Baja Essential Oils class schedules.
Slow Down Pescadero is a community effort looking to save lives through the placement of speed limit signs, education, and enforcement. For more information, visit their Facebook page: Slow Down Pescadero
Want to get away for a few days? The four-room bed and breakfast Casa Kootenay in La Paz is only a few steps from the Sea of Cortez. Enjoy the waters with a standup paddleboard or kayak that come as part of the package and turn your vacation into an adventure!
MaxiHome Nursing Services are now available in our area. They provide long- or short-term homecare, help with the elderly, IVs, injections, and more. See their ad for contact information.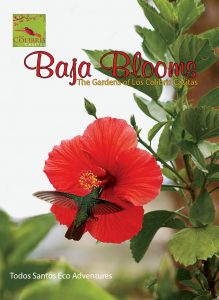 You won't want to miss Dr. Esmé F. Hennessy's talk at the Centro Cultural in Todos Santos on December 1st. Her paintings of Baja plants serve as the centerpiece and chapter headings for Todos Santos Eco Adventures' latest book, Baja Blooms: The Gardens of Los Colibris Casitas, which also features the extraordinary photos of Kaia Thomson and book design and production of this latest book by Janice Kinne of Journal del Pacifico.
We'll see you with our next issue, Holiday 2017/2018 with more of everything you love! Deadline is November 10th.