by Katy Hurado
Alec and April Tidey, founders of Baja Beans, share a lifelong passion for coffee, but it has to be good coffee! Like really good coffee, the kind that was hard to find in Baja California Sur. It was with this passion that Baja Beans Roasting Company came to be. It started out as a venture for their own cup of perfect Baja java, serving coffee to friends, free of charge, who shared their same feelings for an exceptionally brewed cup. It quickly evolved into a business of importing high quality beans from the mainland and roasting them to perfection, and so they brought a new level of coffee to the area. The freshly roasted beans were packed in bags and were offered for sale and Baja Beans Roasting Company was officially in the business of offering really great coffee in Baja.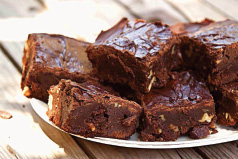 It was a discussion, that came about during a break at Spanish class, between April and manager Sandy, as to what would be the perfect accompaniment to the perfect cup of coffee? Of course, a bakery! Before the oven door could open and close, April's grandmother's original coveted chocolate cake recipe came alive and now the counter display case is also filled with irresistible carrot cakes, brownies, original pies, seasonal mango scones, daily varieties and accompanied by amazing croissants from San José del Cabo. All made from scratch, with the finest and freshest local ingredients, overseen by head baker Catano. World scone aficionados, cake connoisseurs and bakery enthusiasts frequently comment "These are the best I have ever had!"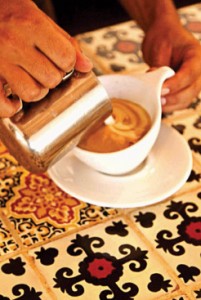 Baja Beans brought  in the finest equipment for the baristas (Italian for coffee bartender) to work with, Head Roaster Alec and up and coming roaster Sammy use a German made professional Probat roaster that can easily transform 110 pounds of green coffee to roasted perfection in an hour. Accompanied by the Synesso Cyncra machine, one of the top traditional espresso machines in the world, the barista artist can now create the coveted designs on the top of a cup of espresso, cappuccino or latte. Commonly known as "Latte art," it is with the most careful wiggle of the talented wrists of baristas Denise and Hesed, who literally pour the design upon the shot of espresso at a critical moment to create the art with the perfectly frothed milk floating on top.
As the business keeps growing alongside the demand for specialty roasted coffee distributed by Baja Beans, so does the passion for bringing the best coffee produced in Mexico to Baja California Sur. Currently offering beans such as Prima Lavado and Marago Superior from Puebla and decaf from Veracruz, more varieties of beans are on the way. As Alec and April continue their journey to provide the finest of coffees, grown in Mexico both retail and wholesale, part of their mission is to represent coffee from the top growing regions such as Nayarit, Veracruz, Puebla and Chiapas.
Baja Beans' coffee is served at several of the finer establishments in Baja Sur, including Hotel Casa Tota, Café Santa Fé, Baja Joe's and Flora Farms. Alec and April now realize that there is an increasing demand for an exceptional bean and  is creating a new revolutionary coffee movement in Mexico with increasing demand, with more and more repeat customers are discovering that to the bottom of every cup, Baja Beans is all about the coffee!
Baja Beans Roasting Company beautiful location is just off Highway 19, at KM 63 in Pescadero. Nestled among the mango trees, they are open 7 days a week from 7 am until 3 pm, with Internet always available to guests, as well as all coffees and baked goods.
Sunday brunch has become a weekend tradition for many. Starting at 9 am, the menu also offers a delicious veggie frittata, with home style potatoes and fresh Mexican salsa.
Check out The Sunday Local Market that runs from 10 am to 3 pm with music from Ben and the Men.
For more information or to contact Baja Beans Roasting Company please visit: www.bajabeans.com    612-143-7138,  info@bajabeans.com