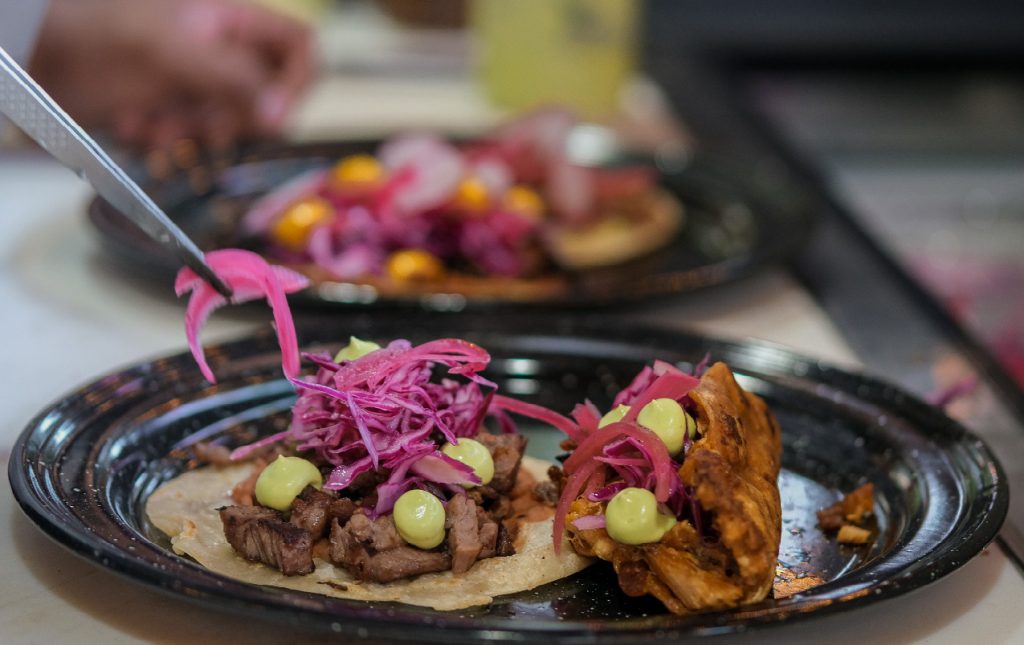 Tacos–Mexico's best known and favorite food.
Español abajo
The stands and restaurants which cater to taco lovers are as common in Mexico as disregarded stop signs.– Bodie Kellogg
In our quest for the perfect taco, we have been sampling the incredible diversity of this common food. In this issue, we take a look at a recent gem in Todos Santos' taco scene, Tacoteca, the creation of chef Marina Garnica and her sister Perla Garnica.
Tacoteca is barrio street tacos made with the highest quality ingredients. Their tacos are culinary art. Chef Marina Garnica and her team are dedicated to using the best possible ingredients, creating one-of-a-kind flavors, and delivering visually beautiful, creative servings.
Marina and Perla Garnica's father taught their family to eat well. He was from the interior of Mexico and a world traveler; he was never afraid to try new flavors. He was a lover of fancy international food, but of course a big fan of street food, especially tacos! This is where Marina's love of food and cooking started.
Marina recalls, "I started cooking when I was very young. When I was 10 years old, I prepared my first meal for my dad, "arroz poblano," using a recipe from a very old cookbook that I used to read all the time. My dad told me it was delicious, but I remember that it came out a little burnt. I also spent a little time with my grandmother "Mama Bibi." I used to go grocery shopping with her. It was fun going to the butcher shop and to the mercado to get fresh ingredients and then coming back to her kitchen and prepare classic regional dishes with her."
In more recent years, Marina (who was already a naturally amazing cook) attended the Culinary Arts program at San Diego College with head instructor, Chef Lee Blackmore. After graduating, she did her professional internship in Madrid, Spain at the Coque restaurant in barrio de Salamanca with Michelin star winning Chef Mario Sandoval.
After years of gaining experience in different restaurants, she moved back to her homeland, Baja California Sur. Once Perla and Marina started discussing ideas, the Tacoteca project of serving exciting and unique tacos to the public didn't take long to crystallize; they opened their doors on May 5, 2022 and have been a popular taco stop ever since!
Tacoteca's signature tacos include the portobello vegetarian, fish quesabirria, duck confit, Asian fusion, and Mediterranean fusion.
The Taco Chino is a pork carnitas taco marinated in an Asian style sauce of ginger, soy sauce, tamarind sauce, and toasted sesame seeds, then served on a wakame seaweed 100% nixtamal tortilla.
The Fish Quesabirria is yellowtail fish marinated in classic birria chiles. The meat shreds while cooking, then the taco is dressed with red cabbage, pickled onion, fresh cilantro, and avocado dots, then served on a 100% nixtamal grilled hard-shell tortilla.
The Chicharrego is their very special creation–local organic lamb cooked in a brick oven and pork pressed chicharron, served with garbanzo parsley salad, pickled cucumber, pickled onion, and a Greek yogurt herb creamy sauce, then served on a handmade Naan bread tortilla pre-cooked in the brick oven.
Every Thursday is Taco Thursday with different specials like tacos de cabeza al vapor, lamb pozole, tortilla soup, or regional cheeses, and in the evening there is often live music.
The chef keeps the frequent special offerings inventive without any pretension, and the standard options are always consistent. A+!—chef Leif Holland
Their tacos are just as unique and delicious as their creative name… not your normal taco!—restaurant owner Mark Neiman
For your tasting pleasure, we recommend ordering two or three of the following options along with a refreshing agua fresca of tamarind, pineapple, cinnamon and lime, cucumber, lime and spirulina, or Jamaica with blood orange.
Meat lovers will enjoy the Taco Macho–top sirloin with chile and cheese crust; Taco Psicodélico–top sirloin, porky beans and crunchy chicharron; Taco Chamorro–beef shank; Taco Chino (pork); or the Chicharrego–lamb and pork.
Looking for something different? We suggest the Taco Pato–duck confit; Taco Pescado–marinated yellow tail quesabirria; or the Taco Veggie–portobello and sweet corn. And for the little ones, the Quesakids.
For something delicious on the side, add the corn on the cob with pulverized chicharrón and cilantro chile aioli, or the bean soup with lamb broth.
You should hurry in soon to satisfy your taste buds. This summer they are taking a long break at the end of June to gear up with some exciting new surprises for the next season. Stay tuned on their Instagram and Facebook page.
Tacoteca is open Monday, and Thursday to Saturday 1 – 8 pm, and Sunday 12 – 5 pm, closed Tuesday and Wednesday. They take major credit cards. They are located inside Plaza Amigos, Calle Juarez and Zaragoza y Rangel in Todos Santos. Tel: 612-176-1910, Facebook: Tacoteca, Instagram: tacoteca.ts
---
Tacos–La comida más popular y también, la favorita de México.
Traducido por Francesca Magallon
"Ver puestos y restaurantes para los amantes de los tacos en México, es tan común, como lo es ver que los ¡ALTOS! sean ignorados en las calles".–Bodie Kellogg
En nuestra búsqueda por el taco perfecto, nos hemos dedicado a probar la increíble diversidad que esta comida común tiene para ofrecer. En esta edición volteamos la vista hacia la gema más reciente dentro de la escena del taco en Todos Santos, Tacoteca, la creación de la Chef Marina Garnica y su hermana Perla Garnica.
Tacoteca es: tacos callejeros, "de barrio," pero hechos con ingredientes de la más alta calidad. Sus tacos son arte culinario. La Chef Marina Garnica y su equipo se han dedicado a usar los mejores ingredientes posibles, para crear sabores únicos en su clase, y entregarnos platos visualmente hermosos, y creativos.
El padre de Marina y Perla Garnica, le ensenó a su familia el arte del buen comer. Era originario del interior de la República Mexicana y viajero del mundo; nunca le tuvo miedo a probar nuevos sabores. Era amante de la comida internacional elegante, pero por supuesto, también era un gran fan de la comida callejera, ¡y en especial, de los tacos!
Aquí fue donde comenzó el amor de Marina por la comida y por la cocina:
"Empecé a cocinar cuando era muy pequeña," recuerda Marina, "cuando tenía 10 anos le preparé mi primera comida a mi papá, 'arroz poblano,' usando una receta de un libro de cocina muy antiguo que yo leía todo el tiempo. Mi papá me dijo que estaba delicioso, pero yo recuerdo que me quedó un poco quemado. También pasé una temporada corta con mi abuela, "Mama Bibi." Me llevaba a que la acompañará a hacer las compras, era divertido ir a la carnicería y al mercado por los ingredientes más frescos y después regresar a su cocina a preparar platillos regionales clásicos junto con ella."
En años mas recientes, Marina (quien ya entonces era una cocinera nata maravillosa) entró al San Diego College a estudiar Artes Culinarias con el Chef Lee Blackmore como el instructor a la cabeza del programa. Después de graduarse hizo sus prácticas profesionales en Madrid, España, en el restaurant "Coque" en el barrio de Salamanca, con el Chef Mario Sandoval, ganador de una estrella Michelin.
Tras años de adquirir experiencia en diferentes restaurantes, se mudó de regreso a su tierra, Baja California Sur. Una vez que Perla y Marina empezaron a conversar acerca del tema y sus ideas, el proyecto Tacoteca, donde se servirían tacos exquisitos y originales al público, no tardó mucho en cristalizar; Tacoteca abrió sus puertas el 5 de Mayo de 2022, y desde entonces se ha convertido en una parada popular para ir ¡por unos tacos!
Los tacos de autor de Tacoteca, incluyen el Vegetariano de portobello, la Quesabirria de pescado, el pato confitado, con fusión asiática y fusión mediterránea.
El Taco Chino es un taco de carnitas de cerdo marinadas en una salsa estilo oriental con jengibre, salsa de soya, salsa de tamarindo y semillas de ajonjolí tostado, servido en una tortilla de alga wakame hecha de 100% nixtamal.
La Quesabirria de pescado está hecha con jurel, que se marina en los chiles clásicos que se usan en la birria. La carne se deshace durante la cocción, posteriormente se corona con col morada, cebolla encurtida, cilantro fresco, y puntos de aguacate, y al final se sirve en una tortilla 100% hecha de nixtamal dorada, tipo tostada.
El Chicharrego, es su creación super especial, es de borrego orgánico de la zona, cocinado en horno de ladrillo y chicharon prensado, servido con ensalada de garbanzo y perejil, pepino encurtido, cebolla encurtida, y una cremosa salsa de yogurt griego y especias, servido en una tortilla de pan Naan previamente cocida en el horno de ladrillo.
Todos los Jueves es "Jueves de Tacos," con diferentes especiales, como tacos de cabeza al vapor, pozole de borrego, sopa de tortilla, o quesos regionales, y en varias ocasiones hay música en vivo por las tardes.
"La chef ha logrado mantener los especiales que frecuentemente se ofrecen, creativos, pero sin llegar a ser pretensiosos, y el resto del menú es siempre consistente. ¡Se lleva un 10 de calificación!"—Chef Leif Holland
"Sus tacos son tan originales y deliciosos como su nombre es creativo… aquí no encuentras un taco normal!–Mark Neiman, propietario de restaurant.
Para que puedas degustar de su menú con gran placer, te recomendamos que pidas dos o tres de las siguientes opciones junto con una rica agua fresca de tamarindo, piña, canela y limón, limón con espirulina, pepino, o jamaica con toronja roja.
Los amantes de la carne van a disfrutar del Taco Macho—hecho de top sirloin con costra de queso y chile; el Taco Psicodélico— hecho de top sirloin, con frijoles puercos, y chicharrón crujiente; el Taco Chamorro – hecho de chamorro de res, el Taco Chino, de puerco; o el Chicharrego – de puerco y borrego.
¿Buscas algo diferente? Te sugerimos el Taco Pato – de pato confitado; o Taco Pescado Quesabirria de jurel marinado; o el Taco Veggie – vegetariano de Portobello y elote dulce. Y para los pequeñines, las Quesakids.
Como deliciosa guarnición para acompañar tus tacos, pide el elote con chicharrón pulverizado y alioli (mayonesa de ajo) de cilantro con chile, o los frijoles con consomé de borrego.
Deberías apurarte y visitarlos muy pronto para satisfacer a tus papilas gustativas. Este verano el equipo de Tacoteca se tomará un largo descanso a partir de finales de Junio para preparar nuevas y emocionantes sorpresas para la próxima temporada. Síguelos en sus páginas de Instagram y Facebook para mantenerte al tanto.
Tacoteca tiene un horario de servicio de Lunes, y Jueves a Sábado de 1 a 8 pm, y Domingos de 12 a 5 pm, cerrado Lunes, Martes y Miércoles. Aceptan pagos con tarjetas bancarias. Están ubicados en el interior de la Plaza Amigos en la Calle Juárez, con Zaragoza y Rangel en Todos Santos frente al BBVA. Tel: 612-176-19-10, Facebook: Tacoteca, Instagram: tacoteca.ts