The Todos Santos Music Festival 2012
by Chloe Johnson
photos by Vivian Johnson
This January a large number of musicians and their fans will be making the pilgrimage to Todos Santos in Baja for the first Todos Santos Music Festival. The festival is being hosted by the Hotel California and is a benefit for the Palapa Society of Todos Santos, A.C. The idea is to raise a large amount of money to benefit local children's education and health. The festival is the brainchild of Peter Buck of the band REM.
—-
When the internationally acclaimed rock band REM announced their retirement in September of 2011 it left the members in an unusual position. For the first time in over 30 years they no longer had any commitments to the band that had occupied so much of their time. While some people might embrace their retirement as a chance to sit back, relax and enjoy the results of years of hard work that was not the case for songwriter and guitar player Peter Buck.
Most long-time fans of REM are already aware that Peter cannot stop working. During every break or down time from touring Peter was often found either in the studio or on the road with various musicians that he had become close to during his long career in the music business. Many were friends that he came up with during the 80's alternative scene, but there were also many young bands languishing in obscurity that got a huge boost from Peter's involvement in their work.
Facing the prospect of having a lot of extra time on his hands Peter decided that he was not yet ready to put down his guitar. He also wanted to find a way to use music to benefit other people, not just to provide a boost to other artists, but to ultimately bring value to the community. It was in this spirit that Peter came up with the idea for the Todos Santos Music Festival.
Peter made his first journey to Southern Baja in December of 2007. It all started with a flight to Loreto, followed by a drive that lead him through Ciudad Constitución to Los Barriles and then finally to Todos Santos. While he was immediately taken with Baja's climate and beautiful landscape it was Todos Santos that really resonated with him. "I liked Todos Santos immediately because it reminded me of all the good things about the small town where I grew up in Georgia. I love that it has a vibrant international art community and has still maintained an authentic small town feel," says Peter of his first visit. After several years and many more visits to the area Peter decided the time was right to purchase a home in Todos Santos. It didn't take Peter very long to start thinking about how he could give back to the community that had been so quick to embrace him.
He started by focusing on the Hotel California. Peter had swiftly become a regular in the hotel bar and frequent conversations with owner Debbie Stewart often turned to music. Soon the topic moved to Peter putting together a house band for the occasional residency on the Hotel's outdoor patio. Local band Flashback had for many years been a Friday night fixture in the bar, but Peter had many more nights of music in mind. So when the idea for the charity music festival came to him, he went straight to the Hotel California.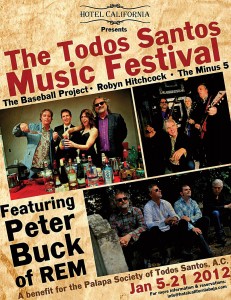 It wasn't difficult for Peter to convince the Hotel California that this music festival would not only provide a lot of publicity for the hotel but it could be turned into an event that would benefit the entire community of Todos Santos. After several meetings and discussions with the local community leaders it was agreed that the charity, The Palapa Society of Todos Santos A.C., would be the beneficiary of any funds raised by the music festival. "Choosing the Palapa Society was an easy decision," says Peter of the charity. "I've only been coming to Todos Santos for a few years, but I love the town and now I'm a part of it. I'd like the children of Todos Santos to have the same opportunities that my kids did and education is a very important part of that." Peter then started looking to his musical friends to find those who would be willing to donate their time for an important cause, and who would enjoy playing music in an amazing location.
His first stop was an obvious choice, Scott McCaughey, his long time friend and supporting musician in the band REM. Peter first met Scott in the mid 1980's when Scott played a major role in the Seattle music scene as the founder of The Young Fresh Fellows. The two rapidly became good friends and when Peter's band REM found itself in need of an extra supporting musician in '94 Peter recommended Scott for the job. Since the two of them were spending a lot of time working together Scott asked Peter to join his side project, The Minus 5, as bass player. They had so much fun with the project that it was not unusual to find them playing in front of an audience of 80,000 people with REM and one week later in front of club audience of maybe 200 with The Minus 5.
Peter found the experience of riding in a van, loading gear, and selling merchandise to a club audience to be both humbling and rewarding after years of fancy tour buses and large arenas. It was also important to once again connect with an audience that had literally been pulled further and further away from him over the years. It was also fun for him to have a new challenge of being the bass player, not normally his role in a band. Fifteen years and 9 albums later the Minus 5 are still going strong. While the history of the Minus 5 has involved a large rotating cast of musicians, the "classic" line-up consists of Scott McCaughey on lead vocals, Seattle musician John Ramberg on lead guitar, Peter Buck on  bass and Bill Reiflin on drums. Says Peter of the Minus 5's unique sound, "I would call us classic garage band with sharp edges."
Next up on Peter's list was Steve Wynn. Peter and Steve met years ago when Steve's band The Dream Syndicate, a wildly popular band in the emerging alternative scene in Los Angeles, opened for REM on their 1984 tour. Peter reconnected with Steve many times over the years and it was at Steve's wedding, in 2009, to rock drummer Linda Pitmon that Steve, Peter and, of course, Scott McCaughey formed the idea for a new project. Both Steve and Scott were long-time, avid baseball fans. The new side band would be called The Baseball Project and involve only songs about baseball. Some of the new songs were based on popular history but others involved obscure facts that only the most diehard of fans would recognize. The band, with their distinctive Americana sound, has released two well-received albums that have songs popping up on ESPN and at major league baseball stadiums all over the U.S. During the Steve Wynn/Baseball Project weekend of the festival be prepared to hear tunes by The Dream Syndicate, by Steve's current band The Miracle 3, and of course, many of the Baseball Project tunes. Peter says of the upcoming show, "the set will be pretty loose and fluid. We'll be playing a lot of Steve Wynn tunes but also some really interesting covers."
Peter first met seminal English singer-songwriter Robyn Hitchcock around 1985 during his solo years. Robyn's legendary career started with the English rock band, he formed in the late 70's, The Soft Boys. After the Soft Boys, Robyn recorded several solo records and later went on to put together Robyn Hitchcock and The Egyptians, who had several hits on A&M records. Robyn and Peter were introduced through mutual friends in the music business, and it wasn't long before they were in the studio recording together. According to Peter it was a friendship based on mutual admiration. "Robyn Hitchcock is one of the greatest English songwriters of the last 30 years. He's taken influences from folk-rock, early Pink Floyd, and The Beatles and merged it into a psychedelic stew of his own making."
Over the years, whenever Peter and Robyn found they were in the same city, the pair would end up playing random gigs at pubs and anywhere else Robyn would throw together a "hootenanny." At some point in 2006 Robyn convinced Peter, Scott and Bill (from the classic Minus 5 line-up) to back him on his new record, which became Ole Tarantula. The new backing line-up was dubbed The Venus 3 and Robyn was so pleased with his new backing band that he recorded two subsequent follow-ups, Propeller Time and Goodnight Oslo, with the help of The Venus 3. Known for his quirky on stage banter and vast catalogue of music you can bet that every night of his set will be interesting, different and cover a wide variety of musical ground.
Bill Rieflin, who is appearing with both Robyn Hitchcock & The Venus 3 and The Minus 5, also has a long history with Peter. When original REM drummer Bill Berry retired in 1995, the band auditioned a large number of the music industries greatest drummers, but it wasn't until they played with Bill Rieflin that things really clicked. His previous success with such cutting edge bands as Ministry and KMFMD had made him one of rock and roll's elite drummers, and once Rieflin entered the studio with REM, they never looked back. To this day, a shared passion for creating new music and a strong work ethic continue to keep Peter and Bill collaborating in the studio and onstage.
In addition to the spectacular line-up scheduled at the Hotel California, you can expect that The Festival will have many musical surprises in store. Peter has already convinced many other friends to come down and join in the festivities. Even with the currently set line-up, every night of the festival will be unique and some exciting surprises and special musical guests could make an appearance at any time. Although don't expect this first festival to be an REM reunion show. "It's too soon for that" laughs Peter.
The Festival starts January 5th through January 8th at the Hotel California, featuring a weekend line-up of Steve Wynn and The Baseball Project. The second weekend will highlight Robyn Hitchcock & The Venus 3 from January 11th through the 14th, and the final weekend, beginning January 18th, through the 21st will be Scott McCaughey and The Minus 5. Peter will be appearing in every line-up. Shows start at 8 pm each evening and the band will play two sets. Entrance is free and a limited number of VIP reserved tables are available for every show with a suggested donation of $5 per seat that benefits the Palapa Society of Todos Santos, A.C. There are still tables available for most shows but they are going quickly. Contact the Hotel California info@hotelcaliforniabaja.com for reservations and more information.

The final night of the Festival, Saturday January 21st, will be held in the town square of Todos Santos. It will feature a larger musical line-up opening for headliner The Minus 5, including some local favorites and many special guests including The Elected, featuring Blake Sennett of Rilo Kiley, Chuck Prophet and Fernando Viciconte. Sponsor Pacifico will be on hand along with Hotel California to provide drinks and many food vendors will add to the carnival like atmosphere of the final evening. The Todos Santos Delegado Arturo Martinez Villalobos will be on hand for a presentation of the funds raised for the Palapa Society of Todos Santos, A.C. and Peter Buck has agreed to match all donations raised by the Festival up to $10,000 USD.
Anticipation is running high for this major musical event in Todos Santos and it is expected the Festival will not only draw people from all over Southern Baja but from all parts of the world. The town can now add host of international music festival to its long pedigree of artistic attractions and endeavors. Says Peter of future plans for the Todos Santos Music Festival, "I really hope the people of Todos Santos enjoy these few weeks because we would love to do this again every year and hopefully bring a lot of exciting and interesting music to this wonderful town while raising a lot of money for a great cause."
For more information contact:
Chloe Johnson:  (U.S.) 503-784-7191, chloejsn@yahoo.com
Hotel California: 011 52-612-145-0525, info@hotelcaliforniabaja.com; www.hotelcaliforniabaja.com/press
Follow the Todos Santos Music Festival 2012 on Facebook.