Roy Stock, distiller
The Distillery in Todos Santos is the first artisan distillery in Baja Sur. The first spirits being
produced onsite are Moonshine and Vodka, with Tequila also being offered. The Moonshine is made from sweet white corn and the Vodka created from a sugarcane base—both
feature all-natural, 100% Mexican ingredients.
Master distiller, Roy Stock, uses a small batch and slow fermentation process that allows him to give attention to every detail. Each bottle is hand numbered and labeled for that special artisan touch. The first still Isis, "the goddess of magic," is making quality spirits and a second still will be added this summer. Tastings are offered daily and tours are available by reservation.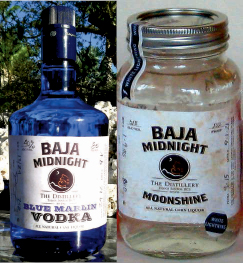 The Distillery has a full-service restaurant and well-stocked bar including
local draft beers. Stop in and enjoy the hospitality, great service and attention to
every detail.
Restaurant/bar open Tuesday–Saturday
8 am–10 pm, Sunday 8 am–3 pm,
Closed Mondays. Free tastings and purchases of Handcrafted Moonshine, Vodka, and Tequila—all day, everyday. www.thedistillery.mx