The Garden Restaurant
Chef Rodrigo Bueno
As you drive up the entrance to Rancho Pescadero on the Pacific Ocean, the first thing you see is the garden; row upon row of colorful flowers, fragrant herbs, and vegetables.  It is a sight that is both beautiful and delicious!
Guests and visitors enjoy a memorable dining experience, surrounded by the garden and the sound of light jazz or classical music, watching the moonrises over the mountains. The restaurant's concept is "Everything from the Pacific." All the ingredients come from the garden and the Pescadero/Todos Santos area. Fruits and seasonal produce come from local growers, cheeses and organic meats from local ranches, and catch of the day from local fishermen. Combining the fresh ingredients from this local abundance, Chef Bueno creates dishes that come from his heart and his life. It's culinary magic with "the flavor of memories."
Chef Bueno, a very adventurous eater, believes that in order to cook, you have to travel and eat a lot. When sampling something new, he remembers the flavor, and then returns to his kitchen and combines the essence with the ingredients that he has available. He loves  combining ancient spices—cumin, saffron, cardamom, Mexican oregano—with fresh products. Essential ingredients include sea salt, virgin olive oil, tomato, a touch of garlic, and organic herbs from the garden. He enjoys learning from his staff, discovering local traditions, what they eat and how it is prepared. The preparation of meals in the open kitchen, situated in the middle of the garden, is an ideal environment.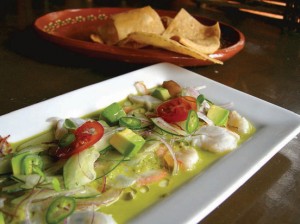 The Garden Restaurant's signature dish is Mexican Green Curry Shrimp: Baja shrimp with a Mexican-style green curry. It's a heady mix of Mexican and Thai flavors—oregano, tomatillo, serrano and basil—served in a clay pot with couscous, fresh corn cream, and garden vegetables. This dish pairs well with a crisp Chardonnay or rosé, but is also well complimented by a glass of Merlot or a Cab/Merlot/Shiraz blend. Simply heavenly!
Every day the specials are based on what's available and fresh from the Pacific and local area. Each flavorful and beautifully presented dish is accompanied with newly picked vegetables from the garden. Keep it fresh; keep it simple.
If you come for breakfast, Rancho Pescadero offers a variety of choices; including vegetarian and healthy options, and a wide variety of Mexican dishes such as chilaquiles or Rancho Pescadero's famous burritos. Or come for lunch on the Ocean View Terrace. Sample ceviche paired with a nicely chilled glass of Sauvignon Blanc, or, better yet, with a Rancho Margarita. ¡Salud!
Want to learn how to create Chef Bueno's mouthwatering specialties? You're in luck! A lunchtime cooking class with Chef Bueno starts with a trip around the garden, picking the vegetables and herbs used in the meal preparation. Chef Bueno will share his secrets and tips, and then you'll enjoy lunch together next to the garden.
Background
Chef Bueno first began preparing meals when he was eight years old. He studied at the Instituto Culinario de Mexico and the Universidad Iberoamericana in Mexico City, then continued his education by working in fine establishments that include the Landmark Hotel in Bangkok, Thailand; David & Buster's; Roots Magic Club; Cantucci's in Mexico City; and, most recently, the Market Restaurant at the One & Only Palmilla in Los Cabos. He loves Asian flavors—sweet and sour, spicy, soy—saying, "they wake up the taste buds and imagination."
Rancho Pescadero
Breakfast beginning at 7 am, and lunch all day on the terrace. Relaxed garden dining, 6 to 9 pm daily. Full bar and wine list. Light jazz and classical dinner music Thursday, Friday, and Saturday evenings.
Located on the Pacific Ocean in Pescadero, #18 on the Pescadero  corridor map.
Open 7 am to 9 pm, 7 days a week. Mastercard and Visa accepted. Dinner reservations recommended. Available for weddings, private parties, and cooking classes.
Tel. (612) 135-5849. www.RanchoPescadero.com
To read related Journal del Pacifico stories, click on the links below:
La Cocina Corazon