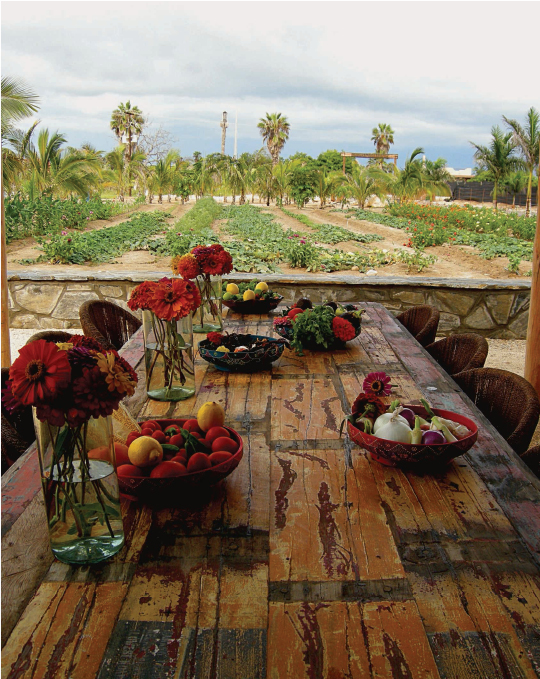 By Ashley Self
When I cook, it is three-quarters necessity and one-quarter pure pleasure. That means, when I'm not scrambling to throw together one thing or another for my family at the end of a long day, I am thumbing through recipes, searching out variations on the familiar, trying to replicate some flavor or uncover what exactly was done to "that amazing soup" that made it so perfect. In fact, that's what brought me to my cooking class with Chef Rodrigo Bueno at Rancho Pescadero. I'd had a taste of his Aguachile de Camarón and was far from replicating it.
The class took place in the hotel's remodeled Garden Restaurant, which has a lovely, Food Network-worthy open-air kitchen overlooking the hotel's organic garden, and long, reclaimed-wood picnic tables perfect for friendly, communal dining. (Rancho Pescadero has plans to open the Garden Restaurant for Sunday brunch and dinner two nights a week beginning in December.)
We were cooking Aguachile de Camarón, at my request, as well as Chef's semi-famous Snapper a la Talla served over black beans and traditional Mexican rice. For the most part it was easy going—a little slicing, a little marinating, a little grilling, a little mixing—all with beautiful, fresh ingredients.
As we de-seeded dried chilies for the talla sauce, Chef admitted he has come a long way since his first experience cooking from scratch at the age of four, when he wowed his family with a desert concoction of Jello, animal crackers, banana, fruit and, yes, toothpaste—he felt it was missing a minty flavor! He now maintains an impressive résumé that includes Sous Chef at Romano's Macaroni Grill in Mexico City and Executive Sous Chef at The One and Only Palmilla, before settling in at Rancho Pescadero.
There is an even more interesting back story that dictates what's on the hotel's nightly menu, which is sometimes Asian, sometimes Italian and more often traditional Mexican. It turns out Chef's real résumé, the one that inspires his versatile cuisine-without-borders, reads more like a travelogue. From the shoji screened restaurants of Mexico City's Chinatown to a little seaside restaurant in Barra Vieja that prepares fish a la talla over an open fire—his ritual meal after a late night at the disco in Acapulco and a day off spent sleeping on the beach—Chef Bueno's culinary preferences are influenced as much by memories as they are by flavors. When we put the snapper, smothered in thick marinade, on the grill, Rodrigo shook his head and smiled. "Barra Vieja," he said.
There wasn't much talking as we ate, aside from my ineloquent assessment "Oh my God. This is so good!" repeated several times. I was craving an Indio or maybe a rich California Cab, but I'd asked for water. I guess that means I'll have to do a do over. After all, how else will I bind the rich flavors of Snapper a la Talla and pungent Aguachile to my memory of a rainy September afternoon in one of the most beautiful places in Baja.
The restaurant at Rancho Pescadero is open daily from 7 am to 9 pm. Individual, group and couples cooking classes are available anytime by appointment. For reservations call 612.135.5849.
Rancho Pescadero Aguachile de Camarón
3 jumbo shrimp cleaned, tails removed
10 limes
1 large bunch cilantro
2-4 serrano chilies (depending on how much heat you want)
1/2 cucumber
1/2 red onion
2-3 cherry tomatoes
3 oz. olive oil
Thinly slice the shrimp from head to tail into three thin slices. Place in a shallow dish, cover with the juice of 4 limes, cover and refrigerate for 20 minutes.
For the sauce, blend the juice of 6 limes, the serranos, the cilantro, the seeds of the 1/2 cucumber, 1/4 of the red onion, 2 ounces of the olive oil and salt and pepper to taste.
Arrange the shrimp on a plate, cover with the sauce, and top with a drizzle of olive oil and a salad of thinly sliced cucumber, red onion, cherry tomatoes and serrano chilies.
¡Provecho!