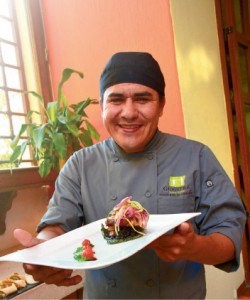 Chef Rogelio Domínguez
Chef Rogelio Domínguez, a native todosanteño, has been cooking for his family since he was eight years old. His father, a local fisherman, was also a talented and highly passionate cook. When Chef Domínguez was a small boy, his father taught him to prepare "fish machaca," which was a family favorite. Since that moment, he has been hooked on cooking.
Domínguez is proud of his training with a Swiss chef, and of his previous experience in other restaurants. These experiences allow him to successfully combine Mediterranean flavors with selected Mexican influences. The chef feels that while formal training is important, it is equally important to have a natural inclination to spend time in the kitchen and to delight in obtaining good results.
Mexican herbs and spices, including various kinds of chiles, are essential to Chef's dishes. However, he is careful not to prepare dishes too picante for international palates. He also enjoys using citrus fruits in salads, and loves surprising the palate with sauces made with chocolate and fresh strawberry or mango.
Among Chef Domínguez's favorite ingredients are those that were used by ancestral Mexican cultures. As such, one of his signature dishes is fish wrapped in "Hoja Santa." The "Hoja Santa" wrapping creates a unique and delicious flavor.  This dish, like other seafood specialties, pairs well with a dry white wine.
Chef Domínguez feels very lucky to be so near to the Pacific Ocean and the Sea of Cortez, both of which provide fresh fish and a wide variety of seafood. Most of the vegetables, herbs, and spices Chef uses are organic and locally grown. He delights in using such seasonal ingredients as strawberries, mangoes, basil, oranges, and pitahayas.