Live the Baja Dream…
and the Reality
Come Home to Pescadero
Real Live Baja
You might have felt the pull the first time you saw a Baja California Sur sunset, or maybe it was the hot, salty tempura contrasting with the fresh pico de gallo and crema of a the best-dollar-you've-ever-spent roadside fish taco. Maybe the whales did it. Maybe you were walking on an almost empty beach. But at some point this thought bubbled up… I could do this. I could live here.
It happens to all of us.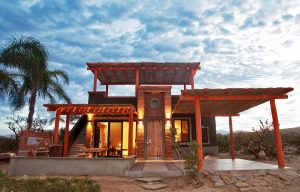 Over time, most who relocate from other countries to Baja California Sur become aware of the assumptions we arrived with – assumptions so deep we often don't realize we carry them. The evenness of sidewalks; the ability of the internet to work even on rainy days; the expectation of enough cash at the bank to facilitate a large withdrawal; the constant availability of natural peanut butter at the grocery store. At best, these daily navigations become part of the delight in resetting the cadence of a hectic life left behind. The inverse is this: a strong appreciation for things that just work, have been thoughtfully crafted, and deliver on their promises.
What you don't know at this point – the moment of taco rapture, if you will–is the assumptions you are holding about what homeownership will be like. You assume the water will flow, the power will work, and the toilet will flush. Just like at home. It's a learning curve for all of us extranjeros.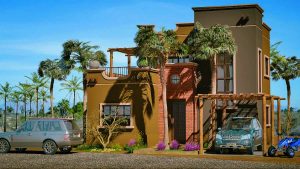 The principals of Pueblo Pescadero have thought very carefully about these very things. Mark Catania and Peter Arbuckle are affable Canadians who each relocated to El Pescadero some eight years ago. Mark, with a background in business development, established the successful and much-loved Gypsy's By The Sea rental management service. Peter came from a long and storied background in international property development. He built his own home in Pescadero, where he lives with his wife Karen (who, incidentally, is the force of nature behind Pescy Dogs rescue). They've learned to navigate Mexico and have created deep roots in the community. They know exactly what assumptions you are making, because they made them themselves. Peter and Mark have incorporated all that they've learned along the way – from their business backgrounds and from their local Mexican experiences, and with five years of planning and permitting, thoughtfully and carefully crafted Pueblo Pescadero.
Down one of those postcard-worthy cardon-lined Baja California Sur dirt roads where the ocean glints ahead is where you'll find Peter, Mark, and Pueblo Pescadero. The community itself sits amongst ancient cactus, a short walk from a spectacular beach and just a few minutes drive to town. There is nothing rushed about Pueblo Pescadero. The homes are designed to respect and reflect local architecture, and the existing desert landscape was largely left untouched. The reliable and adequate water is supplied from an officially sanctioned well that's actually located within the project (trust us, this is a big deal), while a grey water system insures that the water is responsibly reused for irrigation after household use. Five years of planning, processing, and permitting have created a comprehensive community – with an environmental impact statement, building permits, occupancy permits, the aforementioned well and water rights, as well as a condo regime that gives each home its own distinct, legal title. All homes include a hybrid solar/grid power system that seamlessly blends 'free' power from the sun with the traditional security of a connection to the power grid; not only an environmentally responsible choice, but also one that guarantees owners low power bills for years to come. The shared services will keep dues low but conveniences (think pool!) high, and the single point of entry and robustly planted perimeter deepens the sense of privacy. And should you want to garner some rental income, Mark has almost a decade worth of clients who love to vacation in Baja California Sur. In fact, some will likely be your neighbors. A peek at local real estate offerings will quickly demonstrate the value of Pueblo Pescadero.
The laid-back office of Pueblo Pescadero sits in the corner under the giant mango trees at Baja Beans in Pescadero. Here you are likely to find Mark, Peter, and their dogs, while Kenny Gehlhof, a transplanted Wisconsinite (yes, he's a Packers fan) manages the sales center on site. The architect, Hiram Arce, has deep Baja roots. Project Manager Ángel Velasco Ojeda, in addition to his duties at Pueblo Pescadero, quietly does good works throughout the community. Keeping it all together is Vivianne Jáuregui Mariño, problem-solving ace, as Director of Administration. And April Tidey, calling on her considerable experience in landscape and interior design (not to mention her role as co-creator of the popular Baja Beans café) has been busy working on interior design for the first Pueblo Pescadero neighbors.
Mark and Peter feel strongly about the guiding principles behind the community. While proud of the sustainability and foresight that has gone into the planning, they shy away from self-promotion, feeling that the work should and will speak for itself, and that careful stewardship should be an integral part in any project. This humble and capable spirit really sums up Pueblo Pescadero, and for those of us who have walked the path from vacationer to expat and stumbled along the way, holding onto our assumptions – we can vouch that Pueblo Pescadero certainly offers a soft and value-rich landing in Mexico. Who doesn't love a soft landing? Even better, a fully permitted, beautifully designed, and thoughtfully crafted soft landing with a secure water source and years of work already in the bank. There is the Baja Dream, and there is the Baja reality – with Pueblo Pescadero you can have both. Come home to Pescadero.
Tel. (+52 1) 612 168 9254
www.pueblopescadero.com
FB: Pueblo Pescadero