When Todos Santos Inn owners John Stoltzfus and Todd Schaefer decided to rejuvenate their in-house restaurant, they sought an energetic young chef to steer the establishment in a new direction.
Chef Patrick "Patricio" Mullen could not have been a better fit. A native of Sun Valley, Idaho, the 28-year-old's childhood love of snowboarding translated easily into a passion for surfing when he decamped to San Diego to pursue a degree in linguistics. Chef Patricio, a newcomer to Baja, arrived in Todos Santos last October in a Ford F350 laden with an adventure kit that would make most Baja veterans turn cactus green with envy. The requisite surfboard was tucked inside a spacious camper atop the flatbed of the four-wheel drive, and his dirt bike brought up the rear. It's not unfair to say that fluently bilingual Chef Patricio is the face of the exploding new generation of expat youth that are choosing Baja Sur not only for its climate, lifestyle and surf, but also for the abundant opportunities to take their careers to the next level.
In Chef Patricio's case, that next level is actually downstairs: La Copa Cocina is tucked neatly below the Inn's well-known La Copa Bar, like a surfer curled up inside a monster Baja wave. The dual indoor/outdoor space offers diners a choice. Inside, patrons can dine in a space that is at once cozy and energetic, and offers a view of the action in Chef Patricio's presentation kitchen. Just outside, the airy garden patio welcomes diners whose al fresco dining experience is warmed by a swirl of flame at its heart.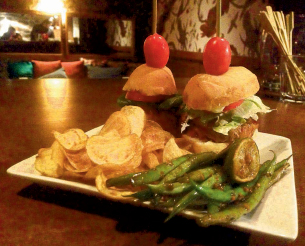 Yet many diners seek still more heat, and their appetite is satiated by one of Chef Patricio's signature items, the volcano roll, a call-out to both his experience as a sushi chef in San Diego and the time he spent preparing culinary masterpieces in the shadow of Nicaragua's volcanoes. This sushi sensation is lightly deep-fried and surrounded by creamy lava—and plated with a flame in the center to really bring the taste fiesta to life.
But if La Copa Cocina's menu is Popocatepetl, then the volcano roll is just the rim of the crater. Chef Patricio has been tweaking the menu weekly since opening and the result is an evolving offering of temptations with both broad appeal and a sense of focus. Twin offerings of California-inspired bocadillos (don't miss the 50/50 sliders) and craft tacos stuffed with fresh local ingredients (did somebody say cochinita?), accompanied by homemade rice and beans, have garnered rave reviews. Most plates are "tapas"-sized, allowing diners to sample and share a wide range of tastes in the same sitting.
Despite the finely tuned menu, "The happiest diners are the ones who throw away the menu altogether," says Chef Patricio. Daily fresh catch chef's specials—think local lobster, yellowtail, pargo—never make it to print but tantalize taste buds nightly. The most adventurous—and arguably the most satisfied—diners simply turn the decisions over to Chef Patricio, who wows them with a succession of La Copa Cocina's freshest selections.
"It's exciting to be here right now, riding the leading wave of what feels like a whole new era for Todos Santos and Baja Sur," explains Chef Patricio. "Every wave brings in more people, more energy, more creativity, more ideas." He couldn't be more correct: with his sublime dishes crashing onto the Todos Santos restaurant scene like waves onto the beach at La Pastora, Chef Patricio's La Copa Cocina is an idea whose time has come.
La Copa Cocina
Casual but elegant indoor and al fresco dining. Serving a pan-American array of tapas and entrées with European and Asian touches. Full bar and wine list. Full menu also available upstairs at La Copa Bar. Available for special events and weddings.  Visa and Mastercard accepted. Reservations recommended for large parties; walk-ins welcome.
Located on calle Topete in the Todos Santos Inn in the historic district. Open 5 to 10 pm. Closed Wednesday. Tel. (612) 145-0040.