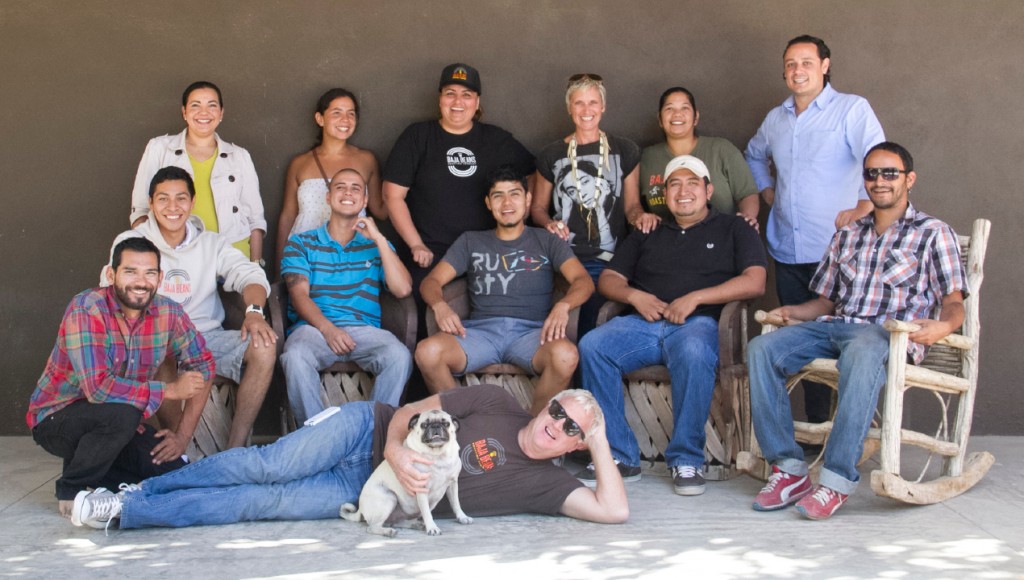 Alec and April Tidey,  originally from Vancouver, British Columbia—pulled the first shot of their own roasted coffee in November 2010, and have been supplying the best Baja java ever since. People line up not just for a fresh-roasted espresso, mocha, or latte fix, but also for their irresistible baked goods, like scones, biscuits, muffins, carrot cake, brownies, and April's grandmother's chocolate cake.
Sharing a lifelong passion for the brew, Alec and April Tidey's focus from the beginning was "all about the coffee." What came a bit later was the realization that the best accompaniment to a perfect cup of coffee is a really great bakery—which has expanded to include quiche and breakfast sandwiches on a buttermilk biscuit. April is now working on perfecting an amazing bread recipe for loaves and sandwiches. The rich baking tradition started early in April's family. Her grandmother, mother, and aunt are all bakers; and not only did they share their family recipes, but, more importantly, their techniques. It's not just the ingredients that make those mouthwatering results!
For coffee, try the espresso drinks with any of the roasts. Their limited-edition specialty coffee, Marago, is grown in small batches and is only available for a few months of year.
April's favorite baked goodie is the orange and cranberry scones; but customers also rave about the carrot cake, as well as the moist chocolate cake with its decadently rich icing—made with 100% dark cocoa.
Alec, April, and their staff are well aware that it is the combination of its location and friendly and comfortable atmosphere that has made the unique Baja Beans Roasting Company a favorite gathering place for the local community. We concur!
Casual outdoor, sit down, and take out. Serving fresh-roasted coffee, espresso, mochas, and lattes. Fresh-baked scones, biscuits, muffins, cakes, and quiche. Mastercard and Visa accepted.
Located in El Pescadero, #28 on the Pescadero map. Open Tuesday through Sunday, 7 am to 3 pm. The popular Sunday Brunch and Community market takes place from
9 am to 2 pm. Tel. (612) 143-7138   www.bajabeans.com
For the full interview with April Tidey, click here.
To read a previous Journal del Pacifico feature story on Baja Beans, click here.