Story by Katy Hurado and photos by Rodrigo Bueno
"I love the kitchen and cooking is my passion!"
No truer words could express the energy that Chef Rodrigo Bueno has brought with him to Rancho Pescadero.  Attention to detail, creativity and a lifetime of worldly education and experience, Chef Bueno prides himself in adding that special personal touch to the dishes offered on the new menus. Which all adds up to a dining experience to be enjoyed by visitors, locals, and hotel guests.
Executive Chef at Rancho Pescadero, it is his kitchen now and he's doing things different. From welcoming guests to a vast array of interesting dining in the Patio and Upstairs locations, to the newly constructed Garden Restaurant–the focus for the main dining experience, to events, celebrations, holidays and cooking classes–all personally attended by the man himself, Chef Bueno!
Living in Todos Santos, Chef Bueno has immersed himself in the community and takes pride that his recipes are all based around local organic products enhanced with memories of dishes he savored from places like Morocco, Spain, Portugal, France, Japan and Argentina. "Rustico!" he happily exclaims for one of his favorite styles of cooking as he remembers dishes and spices from around the world.  "Sometimes I might add a pinch of Spanish paprika, a dash of Greek olive oil or maybe grind my favorite chili into the daily salsa!" (Cascabeles are one his favorite chili pods…the seeds inside sound like a rattlesnake tail!)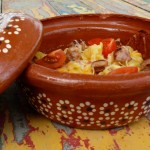 Chef Bueno's credentials extend far and wide. He first began preparing meals, with sushi as his specialty, when he was 8 years old. The list became long and distinguished after studying at the Instituto Culinario de Mexico and the Universidad Iberoamericana in Mexico City. He continued his education by cooking, learning and managing in fine establishments including the Landmark Hotel in Bangkok, Thailand, David & Buster's, Roots Magic Club, Cantucci's in Mexico City and, most recently, the Market Restaurant at the One & Only Palmilla in Los Cabos.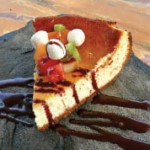 Chef Bueno's goal is to provide guests with a unique experience for all tastes—from the selections on the regular menu as well as daily specials. Start the day with breakfast on the beach with fruity yoghurt and eggs benedict and in the evening, a spectacular sunset supper, enjoying lobster tails with fresh organic salad and top it off with an amazing inventive infusion of flavor for dessert. ¡Bienvenidos a Rancho Pescadero y que bueno Chef Bueno!
Rancho Pescadero
On the Pacific Ocean in El Pescadero, B.C.S.
Restaurants, bar, sun deck, pool, hot tub, ocean front lounging and fire pits.
27 well-stocked, ocean front rooms and suites with wireless internet and iPOD docks.
tel. 612-135-5849, from US 910-300-8891
email: rancho1@ranchopescadero.com
www.ranchopescadero.com
Available for weddings and special events.
Restaurant
Garden Restaurant, the Patio and Upstairs
hours: Open 7 days a week from 7 AM to 9 PM, bar serving until 9 PM
tel. 612-135-5849