A seismic event brought Angelo Dal Bon and his wife, Magda Valpiani, and their magical cooking to Todos Santos. Angelo Dal Bon, a third-generation chef, ran his family restaurant in Northern Italy. Magda had recently moved her restaurant to a 16th-century Italian villa on Lake Garda, but in November 2004, a 5.3 magnitude earthquake hit and the villa was split in two. When Magda recovered from the shock and heartache, she realized that the earthquake had opened a new door in their lives. She decided that they should start over and open an Italian restaurant in Baja California Sur.
Angelo and Magda shipped their restaurant equipment and furniture to Baja and opened the doors to Tre Galline in February, 2006, then purchased Caffé Todos Santos in October 2009. Their son, Constantino, now lives in Todos Santos and works with them at both restaurants.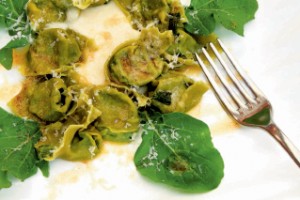 This May 1st, Tre Galline will be moving to share space with Caffé Todos Santos on calle Centenario in the historic district. Caffé Todos Santos, known as "the café" by locals, will still be serving fresh ground coffee, hearty breakfasts, and baked goods in the mornings; with a variety of lunch options, salads, and Mexican fare until 5 pm. In the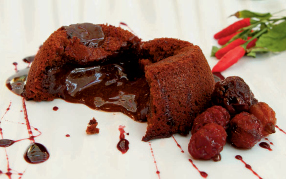 evenings, the staff of Tre Galline will transform the location's patio and indoor dining space into a casually-elegant atmosphere with subdued lighting and linens, serving the Italian favorites of Tre Galline's menu—homemade pastas, and fresh seafood and meats—and the pizzería will be open every evening, too! For that after-dinner or late-night treat, Magda's repostería will delight customers with her specialty dessert creations. Bravissimo! It sounds to us like, a match made in heaven.
When dining at Tre Galline, try the exquisite "Amatriciana de Mar": homemade bucatini noodles served with a light, creamy sauce of fresh egg and topped with smoked tuna and roe; it pairs well with a Nebbiolo. Another delicacy is Tre Galline's handmade raviolis, with fillings such as lobster, spinach, smoked tuna, or the dulce sweet potato with a touch of amaretto. Daily specials include fresh seafood, and organic chicken, lamb, or pork. Ask Angelo and his knowledgeable staff for wine recommendations.
The colorful Caffé Todos Santos is known for their cakes, freshly-baked breads, and their special blend of coffee. Lunchtime favorites include large sandwiches (on homemade bread) and salads. Also on the menu are traditional Mexican breakfast and lunch dishes; as well as not-so-traditional dishes, such as the chicken curry flautas. Both Tre Galline and Caffé Todos Santos have a full bar, in addition to their fine selection of Baja and Italian wines.
This past summer, Angelo opened a new restaurant, Tre Galline de Vale Guadalupe, in the wine country near Ensenada, which introduced him to new ingredients and wines available in the north. Angelo loves to experiment with different flavors to create unique combinations. He has brought some of these tastes back to his kitchen in Todos Santos and reworked them with local ingredients—both Magda and Angelo believe in using local and organic products. With Angelo, the smallest details are the most important, he ensures that every plato that leaves his kitchen is seasoned to perfection. Mamma mia—we agree!
Caffé Todos Santos
Casual indoor, sidewalk, and patio dining. Serving breakfast and lunch. Fresh coffee, bread and baked goods, and traditional Mexican fare. Full bar.
Located on calle Centenario between Topete and Obregon in the historic district.
Open 7 am to 5 pm, 7 days a week. Tel. (612) 145-0300.
Tre Galline
Casual but elegant indoor and patio dining. Serving upscale Italian appetizers, salads and entrees; pizza and delicious desserts. Full bar and wine list. Available for special events and weddings. Pizza available for takeout. Mastercard and Visa accepted. Reservations recommended.
After May 1st, located on calle Centenario between Topete and Obregón in the historic district. Open 5 to 10 pm, 7 days a week. Tel. (612) 145-0300.
Click here for the full interview with Chef Angelo Dan Bon