by Janice Kinne, photos by Laurie Pearce Bauer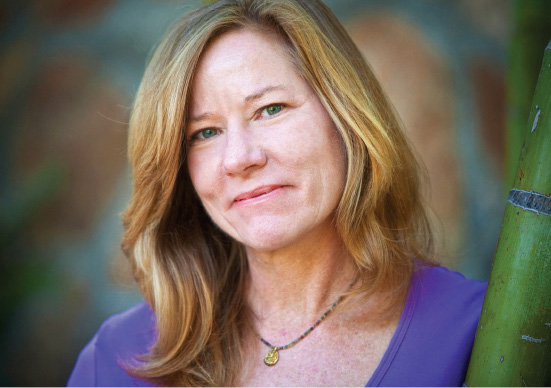 Let's face it; none of us like to see the physical effects of ageing, particularly on our faces. A big birthday, stress and an active lifestyle in a hot, dusty, sunny environment were making their presence known on my skin. So when I first heard about White Sand Massage and Day Spa's 35-step facial with high-frequency laser treatment, I was intrigued.
I scheduled a series of five weekly White Sand Signature Facial treatments with spa manager Karla Lucero Huerta. She was very kind, gentle, and answered all of my questions and concerns.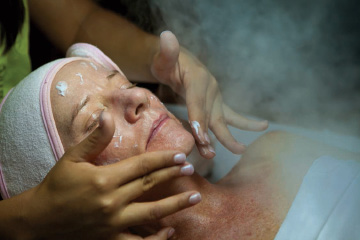 The 35-step facial treatment takes approximately 60 minutes. Karla first analyzed my skin and we discussed my problem areas and concerns. Next she cleaned and exfoliated my skin with a bamboo cream scrub. Refreshing toner was spritzed after every step. We then moved on to the steam vapor to open pores; the amount of time varies based on the client's skin. After the vapor, the esthetician performed what is known as "extractions." Next was the high frequency laser which is effective in closing pores and stimulating the skin. After the laser, a mask was applied to my eye area and a treatment for the pores of my face. Next, lightweight gauze was placed over my face and neck and a mask was applied. Different products are used for each area depending on the client's needs. A collagen mask is applied for those over thirty and an algae mask is used for blemishes or irritated skin. The masks were left on for 20 minutes, during which time the lights were dimmed and the esthetician gave me a relaxing arm and hand massage. I was then left alone in a truly relaxing environment. The masks were then removed, and my skin was cleaned and the toner applied again. The final step was an am/pm moisturizer and sunscreen.
White Sand Massage and Day Spa uses Doctor D. Schwab skin care products for their facials which are pH balanced. Doctor D. Schwab, a brand of CA Botana International Inc., has been developing botanical skincare products made with natural and organic herbal extracts, vitamins, plant stem cells, and powerful free radical exchangers in San Diego for over 25 years.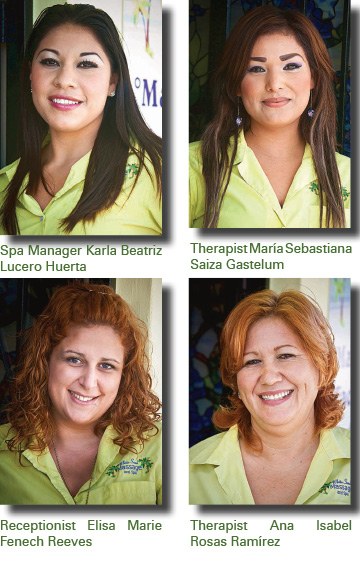 My skin felt better after the first treatment. I could see and feel an improvement in the overall appearance and texture. After two treatments, my pores were noticeable smaller and my skin tone was more even. My eye area looked brighter and my face, neck and upper chest area felt smooth, tighter and less red. We alternated between the collagen and algae masks depending on my needs. At my request, Karla also treated my lip area. The treatments left my lips looking smoother and they felt plumper. The entire experience left me feeling very relaxed and pampered.
Guys—don't think that facials and high-frequency laser treatments are just for women. Men can also benefit from treatment for acne, fine lines and wrinkles, under eye area, and thinning hair.
In addition to facials and high-frequency laser treatments, Karla and the other therapists provide body waxing, massage, manicures, pedicures, and acrylic and gel nails. Karla also teaches the spa services, including the three types of massage: deep tissue, hot rocks, and gentle relaxation. Karla has eight years experience doing nails, waxing, and facials, and seven years massage experience.
White Sand Massage and Day Spa is located on calle Militar in Todos Santos. They are open seven days a week, 10 am to 6 pm. Tel. (612) 145-0571. www.WhiteSandMassage.com, email: info@whitesandmassage.com
High-Frequency Laser Treatments
High-frequency current was first developed in the late 1800's by renowned scientist Nikola Tesla. Prior to the invention of modern antibiotics, it was largely used for medical purposes, such as an anti-bacterial treatment for strep throat and other infections. By the 1970's, European spas and salons had discovered the cosmetic and healing benefits of high-frequency electrical stimulation, and by 1980 the technology had become widely used in North America.
The primary action of high-frequency current is thermal (heat producing), and is characterized by a high rate of oscillation. High-frequency treatment has been used for years to eliminate and prevent acne, shrink enlarged pores, reduce the appearance of fine lines, wrinkles and cellulite, decongest puffy eyes, fade dark eye circles, and even rejuvenate the condition of the scalp for improved hair growth.
High-frequency facials offer a safer and gentle alternative to plastic surgery procedures, laser resurfacing, chemical peels, and Collagen and Botox injections. The results can vary by individual and skin type, and are gradual. The safe and gentle oscillating, oxygenating power of low-level electrical current has been shown to enhance blood circulation, increase collagen and elastin production, eliminate toxins and acne-causing bacteria, encourage lymphatic drainage, exfoliate dead skin cells, and assist with improved skin care product absorption. The skin is left feeling energized, rosy, firm, refreshed, and noticeably softer–even after just one treatment.
Cautions: avoid using AHA or Glycolic Acid products with high-frequency machines. Avoid contact with broken capillaries, spider veins, and areas of rosacea. Do not use high frequency during pregnancy. Do not use if you have a pacemaker or heart disease history. Avoid wearing metal jewelry while using high frequency.