Story and photos by Katy Hurado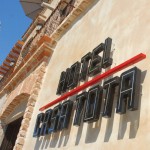 "HOLA!" to Todos Santos' newest boutique hotel. Carrying on the tradition of warm friendly service, the staff invites visitors in to the newly constructed hotel located in the historic district on Obregon, between the streets of Benito Juarez and Colegio Militar.
Hotel Casa Tota is owned and designed by Miguel Ochoa. Baja Builders, the partnership of Miguel Ochoa and Brenda Casillas, oversaw the construction. The resulting space immediately gives off a feel of design fused beautifully with old Todos Santos charm and modern Mexican warmth and comfort.
Built on the property of the original mercantile store of Doña Tota and the Salgado family home, the hotel, bar and restaurant incorporates part of the original structure. This central location provides guests with the perfect downtown experience for their stay in Todos Santos.
It was very important to Doña Tota that all her customers and employees were treated like friends, so that people would feel really welcome and comfortable. Managers Christine and Josh feel the same way and so the tradition continues on in every aspect of the hotel.
Warm earth tones compliment the design and coziness in the 13 "proudly modest" rooms priced under $100 USD per night.  Equipped with comfortable furnishings, plasma TV, A/C and hotel wide Internet access, the accommodations surround the lavishly planted courtyard complete with wooden sun deck, lounge chairs, sculptured fountain and a full size turquoise blue swimming pool.
The second level allows guests to enjoy the beautiful views of town from the shady hot tub deck or comfortable relaxation style seating and features an original custom abacus for the serve yourself cerveza system!
The top deck is fantastic! Sunrise over the sierras, treetops in town or sunset on the Pacific Ocean…the vistas are magnificent. You can enjoy even more relaxing outdoor space and ambiance with large umbrellas, big pillows, fire pits and "deck" service–it is the perfect way to start or end the day. Also located on the top floor is another shaded area complete with hammocks, privacy curtains and yoga areas.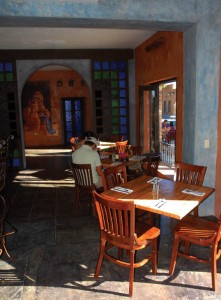 Original paintings, sculptures and textures throughout the hotel and restaurant add to the artistic visual environment of Hotel Casa Tota. Open 7 days a week from 7 am to 10 pm, the great food and drinks served up from La Santeña can be enjoyed both indoors and out. Guests frequently gush… "the huevos rancheros were superb!"
Head chef Tony Peralta's menu creations include fresh fish of the day with chipotle sauce, omelet al gusto, chiles rellenos con papas, smoked marlin burritos standing near a bed of perfect guacamole, torta de helote and chocolate mousse with chilies topped on a bed of fresh strawberries and pecans! Yum!
Another member of the welcoming committee is Javier Pico, lifetime resident of Todos Santos. Javier is a wealth of knowledge about the area and history. Guests, locals, friends and visitors will delight in spending time talking to him and finding yet another personal side of the staff at Hotel Casa Tota.
For over 70 years, this location has been all about the welcoming personal touch. The staff is proud to carry on the tradition into the future with… "Absolutely the best food, service and accommodations at Hotel Casa Tota!"
Hotel Casa Tota
Calle Obregon, between calles Juárez & C. Militar
Todos Santos historic district
Restaurant / bar, sidewalk cafe and roof deck lounge, sun deck, pool and hot tub.
15 Pet friendly rooms under $100 USD per night, with plasma TV, A/C, Internet access and room service. Adorable staff.
tel. (612) 145-0590, from US 619-400-3089
email: hotelcasatota@gmail.com        www.hotelcasatota.com
La Santeña
Open 7 days a week from 7 am to 10 pm, bar serving until 11 pm.