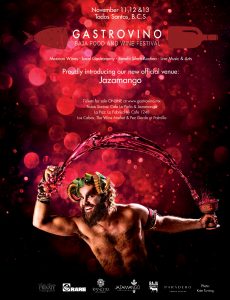 The Famous GastroVino Festival returns to Todos Santos!
by Perla and Marina Garnica
The GastroVino Festival is proud to promote the gastronomy of Baja California Sur and premium Mexican wines again. After the recent break and global reset, that we all went through, we feel it is time to celebrate together again in our Pueblo Mágico this November 10, 11, 12 and 13.
This year, GastroVino 2022 (GV2022) returns with new ideas, new dishes to tempt your palate, and new wines! We are all very excited by the increase in the gastronomic offerings in Todos Santos and Pescadero as well as making new friends in the world of Mexican wine. In order to include all our favorite historic district restaurants, we have modified and expanded our schedule.
Happily, there are things that never change, such as our community support fundraising with the help of private organizations, local non-profits, local business owners, and the Todos Santos delegation, which has taken place every year and has raised more than $63,000 USD since 2012. We are pleased to announce that this year our ally and beneficiary of the hugely successful silent auction is The Palapa Society of Todos Santos A.C., who for 20 years have dedicated the majority of their work to educational programs for children and families in our community. Weeks before the event The Palapa Society will be posting the items to be auctioned. Stay tuned!
GV2022 SCHEDULE OF EVENTS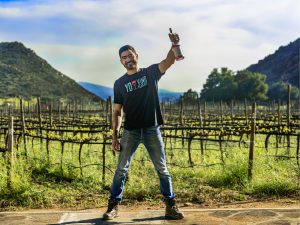 THURSDAY NOVEMBER 10, FINE PAIRING DINNER AL FRESCO AT RANCHO PESCADERO
To start the weekend of festivities and indulge the most demanding palates, GastroVino welcomes you to the newly re-opened, iconic oceanfront Rancho Pescadero hotel in Pescadero and to celebrate fine Mexican wines with a culinary experience. Come and see their new restaurant, Botánica, dine alfresco amidst their superb organic garden nestled beneath a thatched roof palapa. You will enjoy farm-fresh ingredients magnificently paired with the best wines that Mexico has to offer.
FRIDAY, NOVEMBER 11 and SATURDAY, NOVEMBER 12, GASTROTOUR
This year, GV2022 offers two days of GastroTOUR! Now that Todos Santos has more restaurants in the downtown area, each evening, the experience will be totally different, with wine labels and culinary delights both nights.
The GastroTOUR experience offers a walking tour through the Todos Santos historic district. Your ticket purchase options include the option of walking with a map in hand on your own, or tour with a group and one of our guides to all the participating restaurants. At each location, a guest winemaker will be co-hosting with the chef and will offer you a wine and tapa pairing. Enjoy the bacchanalian atmosphere with drinks, tapas, music, art, and street entertainment. The 10th anniversary edition event theme is Bacchanal created by our much-loved creative director and photographer Kate Turning.
Each night there will be a different party that closes with an event together in Bacchanal! It is an opportunity to meet with the exhibitors and the creators of GastroVino.
Friday November 11, 4 to 7 pm
Friday evening, the GastroTOUR check in will be at Plaza Amigos at 4 pm, where you will receive your map, emblematic wine glass, bracelet, and a taste of wine. Then the GastroTOUR will commence with visits to the restaurants in the south area of Todos Santos downtown area and ends in the gardens of Oystera for a spectacular and fun after party starting at 7 pm.
Saturday, November 12, 4 to 7 pm
Saturday evening, the 4 pm check in will be at La Santeña restaurant at Hotel Casa Tota where you will receive your map, emblematic wine glass, bracelet, and a taste of wine. From there, the GastroTOUR will take place around the restaurants in the northern area of downtown Todos Santos, ending back at the Hotel Casa Tota for an after party with live DJ music starting at 7 pm.
SATURDAY, NOVEMBER 12, 11 AM, WINEMAKERS BRUNCH AT PARADERO HOTEL
Meet the GastroVino winemakers in the beautiful natural setting of the Paradero Hotel in Pescadero. Enjoy this incredible opportunity to taste the best Mexican wines paired with the stunning cuisine of Paradero as you take pleasure in the open kitchen experience with open fire, and the traditional Oaxacan clay oven, which highlights corn. The Paradero chefs will create simple, refined dishes that showcase modern Mexican coastal cuisine with different culinary techniques.
SATURDAY, NOVEMBER 12, 12 to 2 PM, BLIND TASTING CONTEST
Do you consider yourself a wine aficionado or are interested in broadening your education about wine? Then this event is for you! Sommelier Lulu Martinez from Vinícola Bruma, along with sommelier Denisse Tavizon, will guide you through a blind tasting of more than 10 different wine labels, including red, white, and rosé. It will be a sensory experience paired with live music. The person who correctly identifies the most wines will win a surprise prize.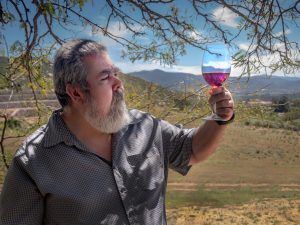 SUNDAY, NOVEMBER 13, 1 to 5 PM, GV2022 FESTIVAL / MUESTRA GASTRONOMICA at JAZAMANGO
Watch out GastroVino friends, this is breaking news! For the main event this year we have a new location, although we would rather call it a new host, at the breathtaking Jazamango grounds, which is home of our friend and colleague chef Javier Plascencia. The gardens of the Jazamango restaurant create the perfect environment for this Bacchanal party. We are thrilled to announce this perfect pairing with the icon of Mexican cuisine. Your ticket purchase includes an emblematic wine glass, five food tastings and seven wine tastings; additional food and wine will be available for purchase.
On this special day, Jazamango will embrace the entire GastroVino atmosphere, with samples of wine and food, and dishes available at special prices. All GastroVino exhibitors–chefs, restaurateurs, and winemakers—will shine with their best offerings. In addition to partying, dancing, eating, and drinking like a Greek God, enjoy the silent auction benefitting the Palapa Society of Todos Santos A.C., with art from talented and renowned local and international artists. There will be fantastic items you can win, live music, art, fabula danza, wine for sale, and endless entertainment.
SUNDAY, NOVEMBER 13, GASTROVINO AFTER PARTY @ SKY LOUNGE BY GUAYCURA HOTEL
This is the perfect ending to a great weekend! It will be time for the final toast, where we will all raise our glasses as this extraordinary festival calls for an extraordinary grand finale. GastroVino's official after party will be held at the Guaycura Sky Lounge and starts right after the festival at Jazamango has ended. Everyone is welcome to join us for a gorgeous sunset and the last chance to say cheers to GV2022.
Advanced tickets are available at Café La Perla and Jazamango in Todos Santos, La Fabrica by Café 1240 in La Paz, The Wine Market in Cabo San Lucas, and Pez Gordo Gallery at Shoppes at Palmilla in San José del Cabo, or at:  www.gastrovino.mx. Tickets are also available at the door the day of the events. For more information, visit: www.gastrovino.mx, Facebook: FestivalGastroVino, or Instagram: gastrovinobajafest.
Cheers!