By Kat Bennett
This year, as last year, the list of artists performing at the Todos Santos Music Festival is impressive. The lineup includes, among others, Robyn Hitchcock & The Venus 3, Steve Wynn and The Baseball Project, The Minus 5, Alejandro Escovedo, Joseph Arthur, Chuck Prophet's Mission Express, Mexican indie-pop group Torreblanca and… The Posies.
The Posies began in the mid-1980s in Bellingham, Washington (about 90 miles north of Seattle), when Ken Stringfellow and Jon Auer began first writing songs and then performing together as a duo. Mike Musberger and Rick Roberts joined the band, and The Posies began playing gigs to enthusiastic crowds in Bellingham and Seattle. They released their first album, Failure, on a local indie label. After signing with a major label, The Posies released their second album, Dear 23. Their third album, Frosting on the Beater, with the hit single "Dream All Day," was released in 1993.
Despite not being easily classified as "grunge," The Posies saw their beginnings in the heyday of the Seattle grunge music scene. It was through the Seattle music scene that Ken Stringfellow met Scott McCaughey of the Young Fresh Fellows, and then Peter Buck of REM. Along with Jon Auer, they were early members of The Minus 5.
Over the years, the members of The Posies have changed, although Stringfellow and Auer have remained as the founding members and the backbone of the group. Currently, the band consists of Jon Auer, guitar and vocals; Ken Stringfellow, guitar and vocals; Matt Harris, bass guitar; and Darius Minwalla, drums.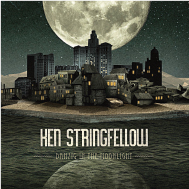 At times, the band has taken long hiatuses while the members have pursued other projects. Ken Stringfellow has been very busy with other projects, as both a producer and artist. He is currently touring in Europe, having just released his fourth solo album, Danzig in the Moonlight, which is getting rave reviews online. He was generous enough to take time out of his busy schedule to answer a few questions for us.
—-
When asked if his trip to Todos Santos for the music festival would be his first trip to Mexico, Stringfellow related the following: "I visited Mexico in 1986, with my school choir group. We performed in Mexico City, Guadalajara, and Puerto Vallarta. It was a great experience, my first 'tour' outside of doing things in Washington State and British Columbia with the choir. Jon Auer, my future bandmate in The Posies, was also on this trip and we were becoming very good friends by this time. A funny anecdote: I was buying some little piece of jewelry or other at the big market in Guadalajara, and the (Mexican) seller asked me where I was from. 'Bellingham, Washington.'  The guy laughed and said, 'You know the Mexican restaurant on D Street? I used to play guitar there! Check it out—' He pulled out his Washington driver's license and sure enough, he had a Bellingham address."
"In 2004," Stringfellow continued, "I visited Mexico City for two shows with REM. By then a savvy world traveler, in a way I was able to enjoy it even more. It was not as overwhelming as my first travel experiences; I could focus in on the details. I will say the intensity of REM's audience for those shows was deeply moving. They'd been waiting a long time for that band and they showed it, vocally, electrically."
"Also, I visited Argentina and Brazil with REM in 2001. In 2009, I released my band THE DiSCiPLiNES' album on an Argentine label and did a tour—solo with local bands backing me in each city—of Colombia, Ecuador, Peru, Chile, Argentina, and Uruguay. I co-wrote and sang in Spanish on Argentinian band The Super Ratones' self-titled 2009 album; and I produced an album for Quito-based electro-pop band Can Can, traveling there in 2010 for the sessions. I'm sure to return to the region. My shows made a really great impression with audiences there. I mixed the softer moods of my solo stuff with the punk edge of the DiSCiPLiNES songs. You can Youtube some really wild TV appearances I did in Buenos Aires."
In relation to his exciting new solo album, Stringfellow tells us: "Being a pretty ardent traveler, with the mission of bringing my music to various parts of the world, and interacting and learning what the local scenes have to offer (in 70 countries worldwide and counting), and also being a very hard working producer and artist—I make on an average year a dozen plus albums and perform no less than 75-100 live dates a year—I was able to bring a lot of new experiences to bear on my latest solo album, my first since 2004. Not so much literally—it's not a kitchen sink of every ethnic instrument that was playing within earshot the last years – but let's say I have taken perspectives a number of different ways, felt and seen and thought about human experiences in a multifaceted way, and tried to bring that to bear on this album. The result, I think, is pretty rich, multifaceted, and, I imagine, hard to get in one bite."
"I'm in this game to give, and give a lot," said Stringfellow. "And I do it to the best of my abilities (or better—I worked with some absolutely brilliant players, mostly folks from the Netherlands where I do a lot of music productions these days). The album, Danzig in the Moonlight, is distributed throughout North America, so I hope as a result of this visit, my solo material gets on the radar of Mexican listeners." We hope so, too. Anyone not listening to Ken Stringfellow's solo material is missing out.
Ken Stringfellow will be performing with The Posies—Jon Auer, Matt Harris, and Darius Minwalla—at the 2013 Todos Santos Music Festival. The Posies performances will be at The Hotel California on January 17th, 18th, and 20th, and at the Punta Lobos beach concert on January 19th.
Ken will also play an acoustic show at Rancho Pescadero.
The resort might bristle at this sentiment, but attendees to Ken Stringfellow's acoustic show at Rancho Pescadero on January 16, aren't going to remember the bonfire, the imaginative margaritas, the yummy appetizers or the s'mores. All they are going to remember—and talk about until it becomes legend—is the show.
En route from Limerick, Ireland to Portland, Oregon, Ken Stringfellow (of The Posies, REM and Big Star fame) will stop in sleepy Todos Santos to blow the minds of any—and every one savvy enough to attend his shows with The Posies at the Hotel California, January 17, 18 and 20th and at the Punta Lobos beach concert, January 19th during the second annual Todos Santos Music Festival.
But, even better than that, he will be playing a more intimate acoustic show at Rancho Pescadero one January evening (date TBA). I get goosebumps just thinking about it. Fans of Stringfellows lyrical voice and honest, poetic songwriting will be forever changed.
Contact Rancho Pescadero at 612-135-5849 for show details.
To listen to samples of Ken's music visit:
http://www.last.fm/music/Ken+Stringfellow
or to listen to samples of The Posies:
http://www.last.fm/music/The+Posies