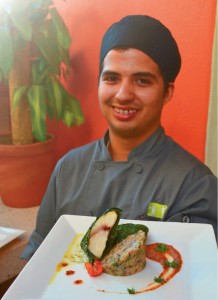 Chef Jesús Abraham Sánchez
Chef Jesús Sánchez is Todos Santos' newest arrival on the gastronomical scene, arriving in February 2014. Quickly, he has made the most of the professional staff and equipment at "El Jardin" restaurant at Guaycura Boutique Hotel and looks forward to doing the same at the new "El Faro" Private Beach Club and Spa.
Chef Sánchez began cooking in high school, studying with a professional chef. He became more and more enthusiastic and and realized that it was his vocation. He went on to attend the famous CESSA school in Mexico City. During this period, he also worked for a contemporary Mexican food restaurant in Cuernavaca, and interned at the Penha Longa Ritz-Carlton Hotel in Sintra, Portugal. After finishing his studies, he worked on a Celebrity Cruises ship.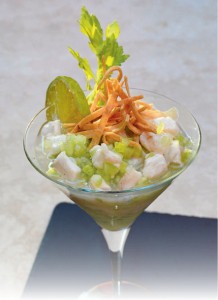 Chef Sanchez's inspiration comes from his family history and tradition and the different cultures that he has lived in, especially Mexico. Several kinds of chiles, avocado, corn, beans, tomato, and Oaxaca cheese are indispensable in his kitchen.
A favorite dish from Yucatan that he prepares for family and friends is "cochinita pibil"—which is very tasty. "Mole Negro de Oaxaca" and other traditional Mexican dishes fascinate him because of the flavor combinations. He remembers one time when his Mexican cuisine chef-professor made an apple strudel with five-chiles powder and double cream-cheese whipped cream. To his surprise, it was the best strudel he's ever eaten!
We can't wait to see what he cooks up for his "author's menu" nights at "El Jardin" restaurant.