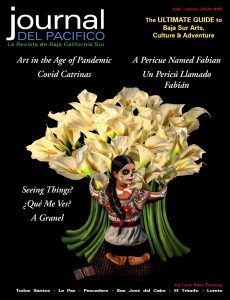 Thank you for all the compliments on our Fall 2020 issue with the fabulous Day of the Dead cover by Kate Turning.
This issue, we are pleased to feature a piece from artist/photographer Emanuela Gardner's Fantasia collection to adorn our Navidad cover. You can see more of her fun and whimsical photographs throughout the issue and at Galería de Todos Santos.
Bryan Jáuregui of Todos Santos Eco Adventures tells the fascinating story of the Juan Cuevas family that has made their home on Isla El Partido in the Sea of Cortez since 1923.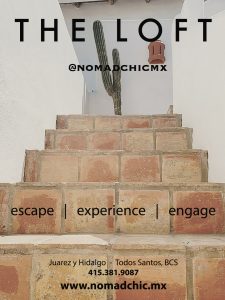 The Loft @ Nomad Chic is a new private event  space that is a welcome refuge for those seeking inspiring experiences while staying safe this season. See the article in this issue and our events listings for all the sensational shows taking place in person and online.
Zócalo by LOVELeigh is excited to be opening, this December, a second location in Todos Santos, on the corner of Topete and Benito Juárez in the Plaza Antigua. Zócalo is an ethical artist collective with artists and brands from México and beyond. A portion of every sale is contributed to three local charities (dog rescue, recycling center, and a children's not-for-profit). You can still find their fashions at the Pescadero location next to Baja Beans (formerly LOVELeigh Designs).
Madre Santa Panadería is a small Todos Santos family business that was born in the middle of the global pandemic. They offer freshly prepared handmade bread, desserts, and cakes that are fashioned by merging basic and modern techniques. These methods reflect the passion, care, and experience that create delicious and memorable flavors. Madre Santa Panadería unites tradition with the tastes and desires of today's Todosanteños.
Hacienda Sydney is a luxurious beachfront estate located in the Las Tunas area of Todos Santos. This unique location would be ideal for a boutique hotel, corporate retreat, or one-acre family compound. See their ad for more information.
Ellen Waterston's Writing Ranch (www.writingranch.com) and Serendipity hotel have teamed up to offer a COVID-safe environment for the eleventh annual "Writing Down the Baja" creative writing retreat–NEW DATES June 26 – July 4, 2021. See our article for more information.
In spite of the Coronavirus pandemic, the Padrino Children's Foundation continues to grow and serve the children of Todos Santos and the surrounding areas. They welcome pediatrician Dra. Mitzy Cervantes Malagón from Mexico City to their staff in December. Dra. Cervantes Malagón will be the first resident pediatrician in Todos Santos. Jessica L. Avila Franco will also be joining as the second staff psychologist. In addition, Todos Santos community member Adali Parks has been added as a member of the Board of Directors.
The Padrino Children's Foundation has initiated a new collaboration with the Centro de Salud—the Early Stimulation program for new mothers and their babies—which is designed to support optimal neurodevelopment and identify medical issues early in life, when they are most treatable. For more information or to support the programs, visit
www.padrinocf.org or call 612-145-0506.
Looking for garage doors, windows, doors, and hurricane protection for your home? With Pacific Door's wide variety of professional brand partners, you'll find the perfect complement to your home. See their ad for more information.
Have you tried Valma Chocolates? Her handmade chocolates are created from 70% dark organic bean to bar made by solar energy and love. To order for you holiday pleasure, see the Valma Shakti ad.
Baja Mandala and Sueño Tropical have teamed up to offer their certified organic produce, essential oils, chocolates, and handmade personal products at the San José del Cabo Farmer's market on Saturdays and the new Terra Santa Farmer's market coming to Todos Santos in the La Cachora huertas on Sundays. They are also offering their farm harvest boxes begining in December and you can contact them for group farm tours too!
La Esquina Café is open on the otro lado of Todos Santos with new hours, offering the same good food and good times. Their popular local's market is happening every Wednesday and they've added Saturday movie nights under the stars.
Kilometro del Jugete is your opportunity to help bring a smile to a child's face this holiday season. Amamos Nuestro Pueblo is an organization with a focus to help the most vulnerable in our community. President Rouss Ramírez of Bésame Mucho Bazaar, believes in helping others and strengthening Mexican traditions in Todos Santos. Their goal this holiday season is to bring toys and smiles to the children of the agricultural fields, including Melitón Albañez, where there are around 700 children, the vast majority between two and eight years old. Please donate toys, clothes, or other items in good condition. Drop off locations for donations in Todos Santos are at Bésame Mucho Bazaar, Hablando Mexicano, and Hotel Guaycura. In La Paz, in Bisuteria Valentina's, (calle Agustin Olachea and Tijeretas, local 4), and in Cabo at LocoMotion on Blvd. Paseo de la Marina 181, local 3. For more information, visit: https://www.facebook.com/FiestaDiaDeMuertos
Lic. Norberto López Aguirre is a certified English to Spanish and Spanish to English translator. See his ad for contact information for all your translation needs.
We wish you a safe and happy holiday season! We'll see you with our Winter 2021 issue. Deadline is January 9, 2021.