Two exciting new art shows open this weekend on Friday, February 4 and Saturday, February 5.
Anne Hebebrand "Glory & Despair" at Galería Militar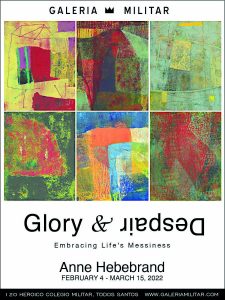 Anne Hebebrand has tapped into the elemental rawness of life's daily twists and turns. Each new painting in this series represents a moment from the artist's year. The energy of the fleeting hours and days, captured in paint and tactile sensuousness, immediate and reflective – she shares these personal moments with us. This work has to be seen in person! The muted yet vibrant colors and the delicate and sometimes rugged textures. A feast for the senses.
Embracing Life's Messiness in all of its Glory & Despair. On view in Galería Militar and online February 4 – March 15, 2022.
Opening Day Reception February 4, 2022, 2 – 7 pm.
RSVP: https://www.galeriamilitar.com/hebebrand?fbclid=IwAR2VDJBOCILhOWypAqzlR2qBuz47HTxdbx8WZs_xY73jkvviWQBw0Od8WcI
_______________________________________________________________________
Roberta Booth "Divine Light" at Santa Terra Art Project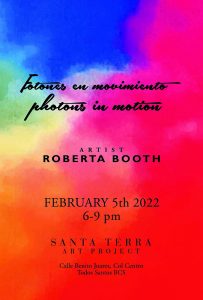 Roberta Booth studied at both the Art Students League of New York and the School of Visual Arts in New York City. She also studied with Alexey Brodovitch at Richard Avedon's studio as well as with Art Kane and Bruce Davidson in NYC. It was after a successful career as a high fashion model for the Ford agency, she turned to the other side of the camera and became an internationally recognized photographer. Her photos have appeared in Vogue, Harper's Bazaar, Town and Country, and many other publications worldwide. Her photographs of icons like Andy Warhol, Roy Lichtenstein, Rauschenberg, Erté, The Rolling Stones, and Pink Floyd have become collectibles.
In 1982 Roberta became interested with the third dimension and entered the field of holography. Her teachers were inventors of this new field of vision involving laser and high-tech equipment. She received many grants and commissions and curated for major museums exhibitions such as Museum of Science and Industry Los Angeles; Powerhouse Museum Sidney, Australia; State Museum, Austria; and the Royal College of Art, London. In 1992, she produced the first holographic ticket for the Barcelona Olympics. It was in 1997 that she built a dome in the Mexican desert where she continues her studies of light. She is constantly photographing the beauty of the skies and sea.
Roberta's new art exhibition is all about 'Pure Light.' She says, "I have named these holophotos as they are photographs of my holograms made with a pulse laser at the Center for Holographic Arts in New York City, 3-color master holograms, photographed and then printed on canvas as scrolls. Laser light is pure light (coherent) and is true to electromagnetic spectrum."
Roberta was one of the first artists to work with this technique and now is the first to do pictures of holograms. She decided to photograph the holograms to show them in an exhibit. Even though you do not see the movement in three-dimensions as you do with a hologram, you will still get the pure spectral colors–coherent light. They are always in motion and color and music feel connected. Her scrolls are about the sea and sky; in both the scrolls and pictures you can see nature's colors and may find them meditative and healing.
The show is an opportunity to see amazing scrolls, that play with the skies, sea, and healing light. Roberta's opening exhibition will take place Saturday, February 5th, from 6 to 9 pm, at Santa Terra Art Project at Santa Terra in Todos Santos. Her work will be on display through March. To enjoy the coherent and pure divine light these scrolls are easy to transport in a tube or folded to take it home with you.