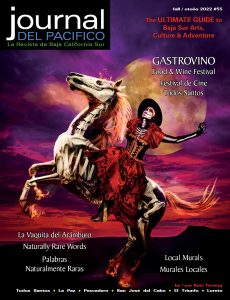 Thank you for all the compliments we received on our Fall 2022 issue with its stunning Day of the Dead cover by Kate Turning.
In this issue, Lisa Demoney introduces us to Uli Martinez and his street art, which you can see throughout Baja California Sur including Todos Santos, La Paz, San José del Cabo.
Bryan Jáuregui of Todos Santos Eco Adventures tells us about regenerative farming in Baja California Sur.
And Ivonne Benítez of Hablando Mexicano tells us of the happiness of sharing and how you can brighten a local child's holiday.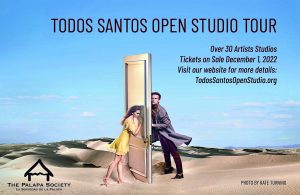 The Artists of Todos Santos Open Studio Tour is back with over 30 participating artists! The tour weekend kicks off February 3 with a meet the artist opening reception, then two full days, February 4 and 5, in which to tour the artists' studios. Tickets go on sale December 1.
Galería Militar has two exciting art openings coming up: December 9 through January 31, they will be featuring original paintings by Terryl Tagg. February 2 is the opening reception for Mark Gabriel's Retro Tropical Jetset IV.
Hotel Gallo Azul has recently opened with 10 beautifully appointed rooms, four loft suites, and a large swimming pool. It is conveniently located in downtown Todos Santos, next to the Gallo Azul restaurant.
Hotels with a Heart is a new campaign raising awareness for the Padrino Children's Foundation, which provides professional healthcare services to disadvantaged children in Todos Santos, Pescadero, and the surrounding area. See their ad this issue for a list of participating hotels.
St. Jude's has opened a new 24-hour pharmacy on calle Degollado in Todos Santos. Besides medications they offer a large selection of medical equipment. St. Jude's hospital offers home consultations, x-rays, ambulance and laboratory services.
Docecuarenta Casa de Café has added El Mercado at the Cañada del Diablo location. El Mercado is an upmarket mix of shops, offices, and galleries surrounding a relaxing courtyard area. It is open Tuesday through Sunday, 8 am to 9 pm.
Coming soon to Todos Santos, La Vibra Urban Condos with only eight, one-bedroom units. Pre-sales start in 2023. Contact Perla Garnica at Ricardo Amigo Real Estate for information.
Happy 15th anniversary to La Esquina Café! They are celebrating with live music December 29.
Pronto Muy Pronto in Casa Dracula across from La Esquina Café, has an eclectic mix of handmade Mexican clothing, swimwear, unique gifts, and home décor.
Mini Super Munchies in Pescadero will be holding bimonthly and weekly events such as "Meet the Artist," little markets, guest chef pop-ups, and more. Check their Facebook and Instagram for more information.
Safe Storage Baja is now open at the south Cerritos entrance with 10 x 10 and 10 x 20 units. Their storage includes discounted airport transportation with Todos Santos Private Transportation, and 3-point security including 24-hour cameras, on-site security guard, and fully gated/walled property.
Tu Casa Concierge Property Management Service offers security, maintenance, and property management needs in the Cerritos area.
Valma Chocolate are handmade, luxury chocolates, truffles, and ganache filled tarts. You can find them in Bésame Mucho Bazaar, Pura Vida, Qué Rico Foods, and Kalma flower shop, or place a direct order.
Miguel's Restaurant has new hours this season. They are open Tuesday through Sunday, noon to 9 pm, closed Monday.
The 10th annual Todos Santos Writers Workshop (TSWW) takes place January 28 – February 8th this year. See their ad and our events column for more information.
Artist Anne Hebebrand will be holding Cold Wax technique workshops in January and March at the Barro Sur Studio in Todos Santos. Look for more information in our events column as well.
We will see you next with our Winter 2023 issue. The deadline is January 10.