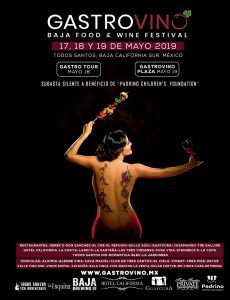 This May 17, 18. and 19, GastroVino, southern Baja's increasingly popular food and wine festival returns for its eighth season with plenty of surprises to inspire and delight the Baja food and wine community. For those who are unfamiliar with the festival, GastroVino celebrates the spectacular quality of Mexican wines and the equally delectable appeal of local cuisine via pairings, dinners, tours, and more. It's also an important charity event, having raised over $15,000 USD last year alone for local nonprofits.
GastroVino's illustrious founder and muse, Perla Garnica, has presided over the festival for eight consecutive years. "I'm particularly excited to see how much it's growing," says Garnica enthusiastically. "Every year the number of attendees grows, we raise more from the silent auction, and we are able to make an even bigger impact on how we give back to the community."
Garnica, along with creative director and famed art photographer Kate Turning, and their devoted team of volunteers, have dreamed up perhaps the most exciting theme yet. Journal del Pacifico is pleased to share the exclusive reveal of this year's theme for GastroVino 2019:
CIRCUS OF THE SENSES
As in previous years the festival will take place in the town of Todos Santos, a charming oasis that has increasingly become home to a diverse community of spirited residents, who contribute to its impressive array of culinary and artistic offerings. Whereas the event was originally designed to bring recognition to the 150-year tradition of winemaking in northern Baja, it has evolved into a multi-dimensional celebration.
For those who haven't been to the festival in prior years, expect the town to buzz with activity for two days as winemakers, chefs, artists, and musicians throughout the peninsula join together to share their gifts. The venerable carnival that takes over the town each year is precisely what inspired this year's theme.
"In a way, it feels like the circus is coming," explains Kate Turning. "All of these amazingly gifted people come together in such a unique and special way. It's not just about eating and drinking; there are artists, musicians, and dancers who have become an integral part of the event. Last year, we had a number of chefs actually cooking on site, in the plaza. There were incredible aromas wafting through the air as music played and people laughed and cavorted about. It's truly a feast for the senses and that's really what we wanted to explore for this year's theme."
When the team sat down to develop the poster art, they tried dutifully to develop a concept that explored a meaningful balance between food and wine. "We wanted to acknowledge the marriage of those two elements in a more intentional and celebratory way." The founder, Perla Garnica, elaborates, "In fact, the Spanish term used to describe a wine and food pairing is the word 'maridaje' which actually means marriage." Art is a powerful undercurrent of the culture of Todos Santos, so for this year's poster, Turning curated a collaboration with local resident and sought-after tattoo artist, Tomato N Sal and his team. It took them four hours to artfully paint the chili pepper and grape tattoos—emblematic of two perfectly intrinsic elements of Baja wine and cuisine. The skewer was a literal reference to the increase in chefs who cook on site with locally sourced ingredients. There is a decidedly inclusive nature to the open kitchen. The smells and flavors that ensue create a culinary spectacle for all to enjoy.
The overall imagery and tone of the event's artwork evokes a magical realism that typifies not only an important theme in Latin American culture but also a longtime trademark of Turning's work. "I wanted it to cultivate a sense of mystery and enchantment, like antique circus posters of the gilded age," says Turning. "Perla represents the figure of the ringleader, a concept that is both literal and figurative. The ringleader holds all the magic and the secrets."
And yet, it is no secret that the GastroVino Festival has become one of the most anticipated events in southern Baja. This year promises more winemakers, more chefs, and more fun.
The celebration kicks off on Friday, May 17 from 7 to 11 pm, with a VIP Sunset Cocktail at El Mirador Ocean View Restaurant. Meet and greet the winemakers of GastroVino Baja Food & Wine Festival, while you savor the culinary creations of guest chefs Frankie Terzoli and Marina Garnica. Live music by Grammy award winner Terry Townson, Hollywood composer Bill Levine on the piano and DJ Marymoon. Tickets are 100 USD / 1,900 MX. Limited capacity, so please by your tickets online (gastrovino.mx) or at Guaycura Boutique Hotel Beach Club & Spa.
Saturday, May 18 at 6 pm, hit the town with the GastroTour. Attendees will be given a map of the historic town center and will be invited to visit over ten distinct restaurants. Each visiting winemaker is matched with a local chef and together they design the perfect gastronomic pairing to feature during the tour. The evening ends with live music and a chance to mingle with other gastronomic adventurers at the famed Hotel California. Tickets are 400 pesos in advance, $500 pesos at the door.
On Sunday, May 19 from 2 to 6 pm, the Todos Santos plaza principal will transform into a Circus of the Senses for the main event from 2 to 6 pm. Over 20 restaurants will be serving some of their best dishes while guests will have the opportunity to taste wines from over 15 of the most popular Baja producers. Live painting and performance art will bring the festival to life with appearances by Fabula Danza, international DJs, and the jazz band of Pepe Soza. Tickets are 700 pesos in advance. The evening continues with the afterparty on the sky lounge of Hotel Guaycura at dusk, with live DJ music.
Every year, GastroVino features a silent auction to raise funds for local charities and this year's event will once again be devoted to the Padrino Children's Foundation. Attendees can expect to bid on artwork, jewelry, gastronomic accessories, and once-in-a-lifetime travel experiences.
From oenophiles and foodies, to travelers and culture-seekers, there is truly something for everyone at GastroVino 2019. Come raise a glass, join the circus, and see what makes this event one of the most beloved celebrations in the region.
Tickets are available online and at El Tecolote Bookstore and Amor d'vino in Todos Santos, The Wine Market in Cabo San Lucas, Pez Gordo at The Shoppes at Palmilla in San José del Cabo, and Doce Cuarenta in La Paz. For more information, visit: www.GastroVino.mx or https://www.facebook.com/FestivalGastroVino/