Our last issue, with the textured octopus cover and story, continues to receive rave reviews. Also the feature articles, in that previous issue, on some of Pescadero's innovative businesses has brought new customers to their doors. One happy client recently told us that all of her business comes from her ad in our publication (we love to hear that).
We are sure that you will enjoy this issue with its glamorous Kate Turning designed cover, the fascinating feature story by Bryan Jáuregui of Todos Santos Eco Adventures on Baja medicinal plants with stunning photos by Kaia Thomson and more!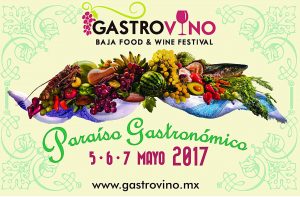 The popular GastroVino Festival takes place from May 5th through to 7th uniting the best Baja wines with the best Baja cuisine, music and art. It's always a fun-filled weekend that brings hundreds of visitors to enjoy the tastes, sounds and sights in the Pueblo Mágico of Todos Santos. See our feature article and events for details. ¡Salud!
Check out our story about the grand opening of the new Palapa Society of Todos Santos library, Biblioteca Elena Poniatowska, named in honor of the Mexican-French-"grande dame" of Mexican literature. The Palapa Society will be hosting book groups in English and Spanish to introduce the community to some of her most famous works.
Besáme Mucho Bazaar is now open in their spectacularly restored location on the plaza in Todos Santos. This high end bazaar features carefully selected, one of a kind jewelry, fashions, decorations and gift items that you won't find anywhere else.
The Tasting Room and Distillery in Todos Santos feels like an old mission in a vineyard setting. They have draft beer, wine and spirits. The beautiful events center with a world class kitchen has weekly pizza nights, dinner and a movie, guest chef dinners, a bocce court and lots of parking. It is available as a music venue or for special events including weddings. Locals and visitors have been enjoying the plant-based Noche de Super Salud events there. Check out our events section for more details.
Corazón de Té, waffle house and tea room, on the otro lado of Todos Santos, has tasty breakfast and lunch waffles, sandwiches and soothing and aromatic teas. Owner Abigail Amezquita has shared the art of tea with our readers in this issue.
Looking for an Easter or spring treat? Chocolates La Laguna, behind the El Tecolote Bookstore, has chocolate mendicants, pistachio truffles, chocolate covered candied orange peel and more scrumptious handmade delicacies. Yum!
The Centro de Salud in downtown Todos Santos is closed for construction. The temporary Centro de Salud is located on Cuauhtemoc street, on the same block as Carnitas Barajas.
Gypsy's Beach House Rentals has low season special rates on a variety of homes in Pescadero and Todos Santos.
Tony's Arte, Decoración y Muebles in Todos Santos has a large variety of home decorations and furniture including carved wood, colorful ceramics and cement pots and planters.
The popular Asian restaurant Rumi Garden is open through the end of May and then will be closed for the summer.
Did you know that you can support the Padrino Children's Foundation and help children in need in Todos Santos when you buy something at Amazon via Amazon Smile? Sign in to smile.amazon.com, choose 'Select a charity,' 'pick your own charitable organization' and type in 'Padrino Children's Foundation' and click on 'Select.' 0.5% of your purchase will be donated to the non-profit by Amazon. For more information visit: http://padrinocf.org/en/ or email: info@padrinoCF.org,
Dr. Carlos Young on calle Militar in Todos Santos, has ultrasound, electrocardiogram, lab services and more.
Delight in the ocean and huerta views from downtown Todos Santos at the Sky Lounge in the Boutique Hotel Guaycura and enjoy 2×1 margaritas and beer from, 2 to 4:30 pm, when you mention that you saw it in Journal del Pacifico!
You can read the entire Spring 2017 issue online here. We'll see you next time with our Summer issue. Deadline is May 10.