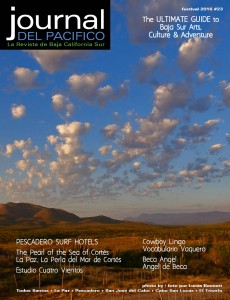 This issue, Festival 2016, the husband and wife team of Lucas Bennett and Zoë Dearborn from Art for Life contributed the feature stories on Estudio Cuatro Vientos and photos for our cover and Pescadero surf hotels.
Also in this issue, Bryan Jáuregui of Todos Santos Eco Adventures shares the legend of "El Mechudo" with Sea of Cortez and diving photos by The Cortez Club.
Looking for a special place to dine in Los Cabos? It doesn't get any better than the De Cortez Contemporary Grill in the Hacienda Sheraton del Mar. Enjoy the moment with
a delicious dinner overlooking the Sea of Cortez. Call the concierge for reservations at 52 624 1456113 ext 4087.
Blue Moon Productions presents "Alice Down the Rabbit Hole" a new spin on an old tale. Performances are on the weekends of February 26 & 27 and March 3, 4 & 5 at Teatro Luna Azul on the otro lado of Todos Santos. Tickets are available at El Tecolote Bookstore.
Join in the fun at Shut Up Frank's 20th Annual St. Paty's Day in Todos Santos. The party starts at 4 pm with Frank's own corned beef, marinated for one month in a special
brine and turned every three days until it's just perfect. It's the most delicious corned beef ever! Shut Up Frank's is now open 7 days a week with different daily specials.
Miguel's Restaurant is just across the street, serving delicious chiles rellenos and seafood specialties and is now open every day.
In the Spirit, located on Juárez near Topete in Todos Santos, is a new clothing store with the subtle fusion of the bohemian way and modern style. The shop features an
artist collective, beachwear, jewelry and accessories.
New hours and new live music nights at Chill N Grill in Todos Santos. Now open Tuesday through Saturday with open mic nights on Tuesday, and live music alternating
weekly between Friday nights with "JamaRama" and classic rock on Saturday nights. Call for this week's details and get out and dance!
Nomad Chic, with locations in Sonoma, California and on calle Juárez in Todos Santos, is an evolving collection of apparel, jewelry, furniture and home accessories from around the globe. They specialize in products by independent designers that you won't find in most stores; designers that are giving back to their communities.
Rumi Garden, on calle Degollado in Todos Santos, is a popular Asian restaurant with a variety of organic friendly entrees including many vegetarian and vegan dishes. Their
lovely location also hosts Open Readings, once a month, and live music on select evenings. They also offer free delivery in Todos Santos and el Pescadero with a minimum
order of three entrees. Call or stop in for details.
Monica Avila is back in Todos Santos in her new office located on calle Del Huerto. With over 25 years' experience, Monica is bi-lingual, and can help you with notary and legal
services, trusts and contracts.
Chez Laura, the affordable French restaurant in Todos Santos, now has a "happy hour" with wine and tapas for 60 pesos, from 1 to 5 pm. Relax and enjoy in a lovely garden
setting.
We'd like to congratulate Freesouls, at Playa Cerritos, on their one year anniversary this Valentine's Day. As of press time, this beautiful location was close to serving their
10,000 customer. Stop in to experience fine but relaxed dining overlooking Cerritos beach.
The Joy of Floating offers a true weightless experience inside of a floatation tank filled with warm Epsom salt. Veronica, with 20 years' experience working with chiropractors, acupuncturists, and osteopaths, also offers effective and thorough bodywork. "I can now lift my arm!" one client with a skiing injury said after her first float. The spa is located in Pescadero next to Baja Beans. Appointment recommended.
Gypsy's Beach House Rentals has been providing surfers and travelers accommodations in Baja since 1967. They have a selection homes and villas for short or long term rentals in the Cerritos, Pescadero and Todos Santos area.
Pueblo Pescadero is a thoughtfully planned, affordable and sustainable community of recreational homes currently under construction in Pescadero. Their master planned
community provides a collection of one, two and three bedroom freestanding casas.
Need a ride from your hotel to the beach or to your favorite restaurant? Rudolfo of Brody's Pizza at Cerritos beach is now offering Taxi Los Cerritos. Call +52 612 157 9049.
Be sure to stop by the Galería de Todos Santos and Pez Gordo Gallery at Shoppes at La Palmilla to see new sculptures in glass by Jill Casty. You can also see the "fantasia"
photographic works by Emanuela Gardner at the Galería de Todos Santos.
Enjoy all the festivals this February and March in Baja California Sur! The deadline for our next issue, Spring 2016 is March 10.