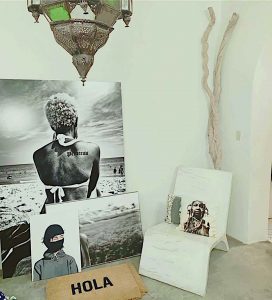 New Private Events Space Promises a Silver Lining for winter Travel
Beloved boutique in Todos Santos unveils new private space for rich programming and bespoke events, a welcome refuge for those seeking inspiring experiences while staying safe this season.
Nomad Chic has been a favorite of Todos Santos locals and wanderers alike since its opening in 2004. With glowing mentions in publications like Vogue, Sunset, and Napa Sonoma Magazine, and a history of fabulous events in Todos Santos and Northern California, the carefully curated boutique of global treasures and rare finds has become a destination in itself.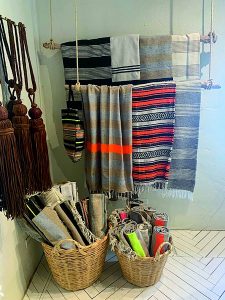 But with the world over half a year into the COVID-19 pandemic, the shop now faces the same challenges as any other Baja retailer during these troubling times: how can business flourish and tourists be welcomed while respecting the current risks at hand?
A silver lining has emerged with the addition of The Loft @nomadchicmx, a new oasis of design, style, and indulgence which will cater to small groups looking to enjoy unique experiences and events without sacrificing safety or caution.
Perched directly above Nomad Chic and accessed via private sunwashed stairs, the loft boasts a roof deck perfect for balmy desert nights, a full kitchen, bedroom, and luxurious tiled bath, and unparalleled views of Todos Santos and the Pacific Ocean. Fully styled by Linda Hamilton, owner and creative mind behind Nomad Chic, and serving in part as her interior design showroom, The Loft will immerse guests in Nomad Chic's trademark whimsical, bohemian style.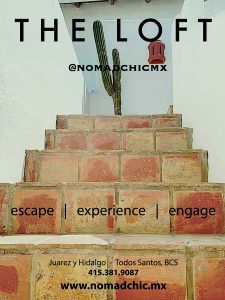 "The Loft @nomadchicmx is my place to combine all my past endeavors and my love for design, events, and retail; I wanted to create a space that allows guests to feel like they've entered their own private pied-à-terre, with a bird's eye view of Todos Santos and the beaches beyond," says Hamilton. She intentionally designed the space to be shoppable, with most featured pieces and elements available for sale; for those looking for design consultation, Hamilton will happily meet you at The Loft to introduce you to her eclectically cool way of styling spaces.
The focus does not stop at beautiful aesthetics. Hamilton hopes to make The Loft a home for culinary exploration and community-driven events. "When I travel, the first thing I try to do is attend a cooking class; I believe the best way to get to know a new culture is by learning what the people eat," she says, a smile spreading over her face. "I'll be working with local chefs to create entirely authentic experiences and incorporating every aspect of preparing a meal, from shopping at the organic market (which could actually mean being in the fields) to meeting the fishermen as they bring the fish ashore, and then heading back to The Loft @nomadchicmx for a cooking class."
Hamilton also looks forward to developing and hosting her own series of cultural events, reminiscent of past fashion shows held at Hotel California and Casa Dracula. "The space is perfect for intimate, but impactful, events. Having not held anything in Todos Santos for several years, I'm looking forward to the challenge of offering community engagement under these new circumstances." Hamilton has compiled a winter calendar of events, including book signings with bestselling authors, trunk shows and fashion shows to debut the boutique's latest finds, and evenings with renowned local chefs. The full schedule is posted on the Nomad Chic website.
The Loft @nomadchicmx will also be available for private events, photoshoots, meetings, and general renting purposes; guests can design their own event or collaborate with the Nomad Chic team to create a perfectly bespoke experience. "We can host any sort of group, from remote workers needing a space to focus, to bridal parties wanting mani-pedis and a private shopping experience, to business groups in search of a tranquil offsite. If someone can dream it, we'll work with them to make it happen." Within reason, of course.
More importantly, The Loft's main goal will be to provide a safe, comfortable environment for locals and travelers to enjoy good vibes and good company; no risk will go unassessed and no detail will be overlooked. Hamilton and the other team members have spent months putting together a comprehensive plan to ensure both the shop and The Loft @nomadchicmx are up to the highest health and sanitation standards.
"We understand the fears around gathering and traveling right now," Hamilton says, adding that she's sensitive to local concerns around encouraging outsiders to visit town, as well. "We want to be clear: we take the current health situation very seriously and will be monitoring the trends, just like everyone else. We're adhering to all required safety standards. But if we're able to safely remain open and help keep the vibrancy of Todos Santos afloat, then we absolutely will. The entire community will benefit from travelers having comfortable experiences here and from businesses working with travelers to ensure they understand the town's concerns and requirements."
The full list of COVID preparations and policies takes up an entire page of the Nomad Chic website, and all guests visiting the shop or taking part in an event or activity at the Loft @nomadchicmx will be made aware of the policies prior to entering. And as an added measure, Hamilton will also be delving into another new space: the online events world. For guests who want to join in on the fun at The Loft @nomadchicmx from the comfort of their own home, digital programming is also under current consideration.
Usually known for offering margaritas to delighted patrons, Hamilton knows this new reality is quite a pivot from the carefree, whimsical experience she usually loves creating. With a laugh and a shrug, she says, "Todos Santos is a bold, resilient town, a town that won't let its love of art and culture fade in a storm. We'll get through this."
She adds, "And in the meantime, our plans for The Loft @nomadchicmx include how to safely serve margaritas." For queries about reserving The Loft @nomadchicmx for a private event, please contact Linda at linda@nomadchic.mx.
If you'd like to be added to Nomad Chic's events correspondence, please subscribe at www.nomadchic.mx