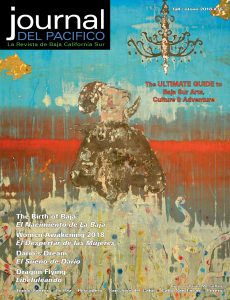 Thank you for all the compliments on our Fall/Otoño 2018 issue of Journal del Pacifico with the stunning cover by Brian McGuffey. It was a great start to our seventh season!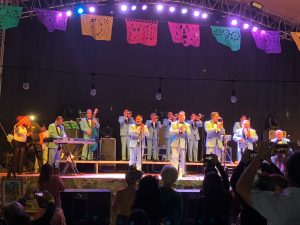 Congratulations to Rouss Ramirez, Amamos Nuestro Pueblo A.C., Bésame Mucho Bazaar, and many others who organized the third annual Fiesta de Día de Muertos Todos Santos. There were altars, catrinas, parades, and many fun events for the entire pueblo, and ended with a special concert by La Sonora Santanera in the plaza. We look forward to next year's event!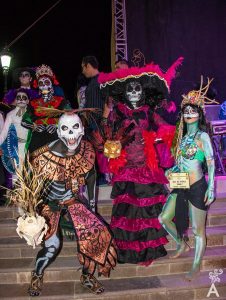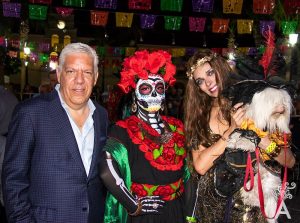 Speaking of events, the Palapa Society of Todos Santos has two popular ones coming up soon. December 29 is the Carrera de Todos Santos 5k walk/run and February 8-10, 2019 is the Artists Open Studio Tour. Read about both these events in our Holiday 2018/2019 issue.
One of the newest studios to participate in the Open Studio Tour, Taller de Terreno, will be holding their grand opening during the tour weekend. Taller de Terreno is an artists' retreat and case study of sustainable architecture. They also offer workshops at their sustainable ranch setting, where participants exchange ideas, practice wellness, and work toward assimilating the built environment into the natural one.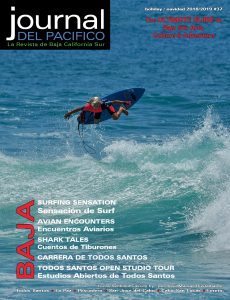 We hope that you enjoy our Holiday 2018/2019 issue of Journal del Pacifico, this entire issue is packed full of great articles and photos. The front cover photo and feature story tells the story of local surfer Lucas' quest to represent Mexico in the World Surf League.
Once again, Bryan Jáuregui of Todos Santos Eco Adventures has written a fascinating piece on sharks off the Baja coast and in the Sea of Cortez. Kaia Thomson, marine biologist Jay Gittens, and The Cortez Club has shared some of their photos of this misunderstood predator.
Miguel's Restaurant is now open for breakfast again! They have also added some delicious new seafood dishes to their menu.
Zack's Gym on the otro lado of Todos Santos opens Monday, January 1st. It will feature the revolutionary "Zack-Attack" small group training (think Tabata meets spinning). Each session combines spin, TRX and weights to optimize calorie burning for up to 72 hours and build muscle. Also available will be open gym hours, personal training, physical therapy, and free meal planning service for the entire community!
The reviews speak for themselves: Carlito's Place Restaurant is the place to stop at when in the Pescadero/Todos Santos. It's absolutely worth the drive out from Cabo or La Paz to experience their delicious food, hospitality and al fresco dining in a lovely setting.
The Baja Bliss Wellness Spa has a beautiful new location in Pescadero on the road to Rancho Pescdero. They offer a menu of unique relaxation services such as flotation therapy, Thai yoga massage with salt stone, Reiki with crystals, BreathWave, and reflexology. They have partnered with The Balm natural store and Poroto restaurant to form "El Colectivo de Bienestar, Pescadero." Stop by El Colectivo for relaxation, healthy eats, and natural products!
MiniSuper Munchies is in their fifth season and keeps getting better! They now have a bar license and are serving some mixed drinks, craft beers, and Kombucha on tap.
Villa Rocas is a luxury rental villa in south Pescadero beach. Villa Rocas, with four suites–all with beachfront terrazas, can host up to 15 guests comfortably.
Dos Marias Spa, also in Pescadero, offers the ultimate in pampering with a variety of facials, body scrubs, massage treatments, and a Temazcal sweat lodge. Treat yourself for the holidays!
Hesed Najera provides deep, holistic massage, body and energy work at your location or his. Visit his website for details: hesednajera.com
Las Olas Recovery can help you with personalized addiction treatment. They provide medically assisted detox, holistic healing, and comprehensive care. Contact them today for more information.
Villas de Cerritos Beach is a beach community of vacation rentals on the road to Cerritos Beach. Visit their website for more information and reservation.
The Baja Blooms Retreat, a five-day pottery, yoga, and art journaling retreat with Stephanie Friedman, Emelie Eldridge, and Zoë Dearborn, takes place in February 2019. They also have special day rates for locals. Check out their ad and our events listing for more details.
Two great writing retreats also take place soon and you can read all about them in the Holiday 2018/2019 issue. The Writing Ranch presents its ninth annual "Writing Down the Baja" retreat January 27 to February 3 at Serendipity in Todos Santos.
The Todos Santos Writers Workshop (TSWW) will be held February 3 to 9 at Casa Dracula on the otro lado.
Quinta Lupita in La Paz is the place for handmade Saltillo and Talavera tile, sinks, ceramics, accessories, and fixtures. See their ad for details and our La Paz map for their location.
Happy Holidays! We will see you again in February with our Winter 2019 issue. The deadline is January 10, 2019.