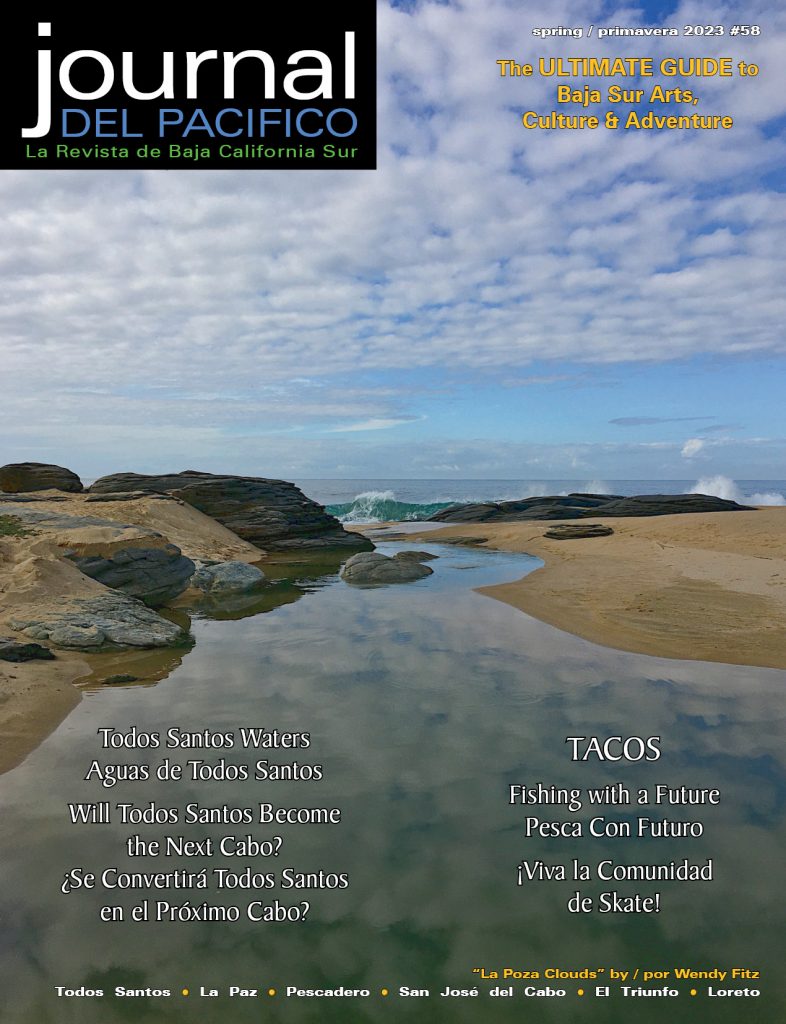 Happy Summer! Thank you for all the compliments on our Spring issue with its La Poza cover by photographer and musician Wendy Fitz. You can see her photography biography on our blog.
Kaia Thomson recently visited the Cactus Sanctuary in El Rosario and has shared her story and photographs in this issue, as well as the photo on our summer front cover.
Bryan Jáuregui, Todos Santos Eco Adventures, tells us a condensed history of Todos Santos with photos by photographers Kenny Viese and Keenan Shoal.
The Palapa Society of Todos Santos provided us with photos of Todos Santos' historic sugar cane mills. You can see those in our "How You Can Help" feature listing how we can all give back to the community.
One way to give back is The Palapa Society's Annual Scholarship Drive. Your contribution supports students in need of financial assistance to pursue their academic goals.
Even more "Hotels with a Heart" have teamed with Padrinos Children's Foundation. Your stay with any of the hotels listed in their ad also helps the foundation provide important health services to local children.
Our feature story on Sharon Katz tells how she has brought her music and humanitarian work known as "The Peace Train" to Baja California Sur and Todos Santos.
This issue's Art Talk tells a deeply personal story of Jill Logan's recent "Wake Up Call" on the highway south of town and how it has affected her look on life and her art.
Congratulations to Pura Vida Health Food and Deli. They are celebrating 13 years of serving our community with delicious meals and healthy groceries and produce.
Chill n Grill will be serving up the best breakfast in Todos Santos on Sundays 10 am until 2 pm. Stop in for Eggs Benedict, biscuits and gravy, omelets, pancakes, burritos, hash browns, fresh orange juice, coffee, and 2×1 bloody marys and mimosas.
Doce Cuarenta Café / Bar is open every day from 7 am to 9 pm. The adjacent El Mercado, open every day except Mondays, is the perfect place to explore a variety of interesting shops and galleries. You can see more works by photographer Kenny Viese there as well.
Mini Super Munchies, on the road to Rancho Pescadero, is an artisan boutique, has craft beer, wine, ice cream, chocolate and more!
Protect Todos Santos shares information in this issue on proposed changes to the Todos Santos PDU.
We would like to welcome our newest advertisers: architect Gabriel Peri (Mar de Sol Villas), Los Torotes, Ronival Real Estate, Diamante Realtors, and Sarah Jean Mucha, el Pescadero and Todos Santos real estate advisor with The Agency.
If you're going away this summer, Todos Los Perros Bed and Biscuit is a great choice for boarding your dog. I recently boarded my newest pup while away for the weekend. She had a great time, and I had the comfort of knowing that my pet was safe and received the best care.
Have a great summer! We'll be back with our Fall 2023 issue in mid-October. The deadline is September 15.