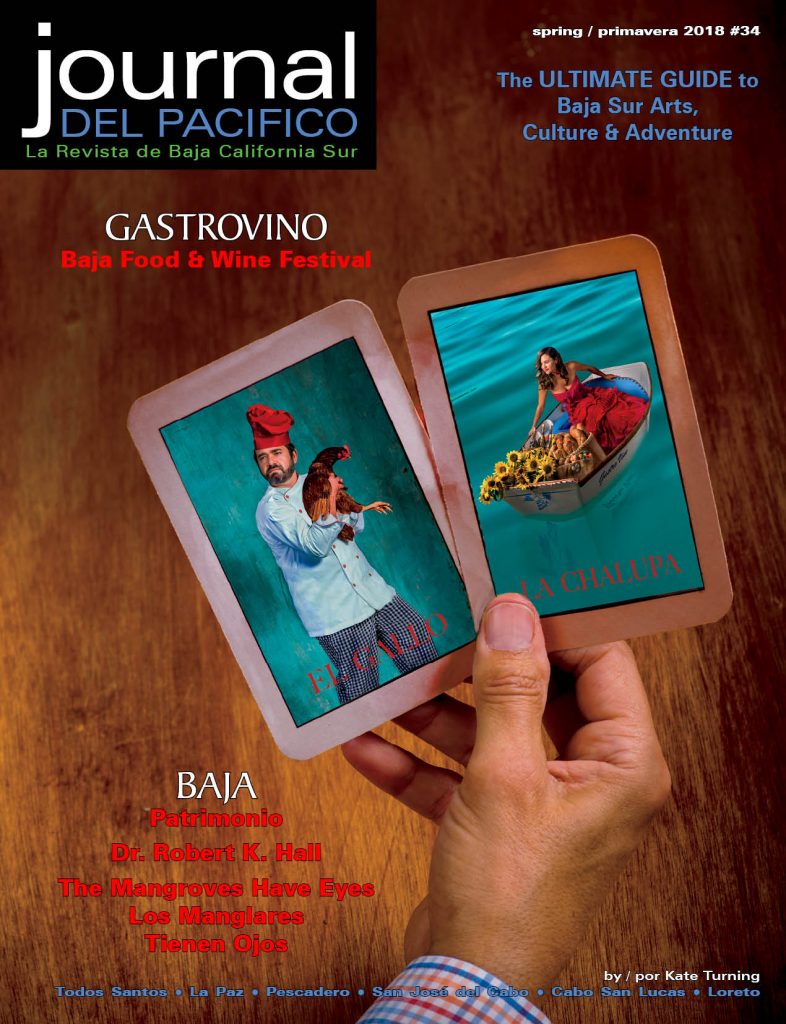 This May 19 & 20, once again people will flock to Todos Santos to celebrate the GastroVino Food & Wine Festival. Now in its seventh year, this popular festival honors and celebrates the traditions of great food and Mexican wines. Tickets go on sale May 3. You can read more about it in our article this issue, and the fun Loteria cards by our cover artist, Kate Turning.
Check out events for the upcoming Noche de Super Salud plant-based, locally sourced, fresh organic dinners at Pura Vida. They will also be having another Full Moon Community Farm Dinner at Rancho Buen Día on April 29. See Facebook: Noche de Super Salud for more details.
Amor D'Vino and Santo Vino have teamed up for an evening of Mexican wines paired with a trio of Chef Dany's signature dishes Monday nights during April and May on the Wine Deck. See weekly events for more information.
In our Spring 2018 issue, we are celebrating the work of Dr. Robert K. Hall in a fascinating article by Bryan Jáuregui of Todos Santos Eco-Adventures. Translator Elena Ascencio-Ibáñez has studied and worked closely with Robert over the years; Elena provides Spanish translations to many of his Dharma Talks on his website. I have had the pleasure of producing the three books on Buddhism by Robert and translated by Elena: Buddha Now/Buda Ya, Everybody Now/Todos Ya, and Así Es. All are available at El Tecolote Bookstore in Todos Santos.
Congratulations to Besáme Mucho Bazaar on their first anniversary! You can see photos from their grand celebration in this issue.
Nomad Chic, will be popping up at various hotels in Cabo throughout April, visit www.nomadchic.mx for locations and dates.
We'd like to welcome The Agency, Los Cabos, to their newest home in Todos Santos–at the corner of Topete and Centenario in the historic district. Stop in to meet their diverse team of real estate professionals.
Pacifico Storage, at KM45 on Highway 19 outside Todos Santos, will be open soon for all your storage needs—RV, boat, ATV and enclosed storage. They also can help you move your local RV or vehicle. See their ad for more information.
It doesn't matter who you are, where you are, where you have been or where you would like to see yourself–we can all benefit from support and guidance in times of our life. With academical, clinical and spiritual training and experience in Sweden, Hawaii and Mexico, Northern Light Healing offers services to suit individual needs and to help you on your path through life. Available for individuals, couples and groups. Emelie focuses on healing both past wounds, through counseling, and life coaching to creating a future that her clients would like to have and how to, in practical ways, reach those goals. Whatever you are struggling with there is help and support.
Las Olas Recovery in Pescadero is a sub-acute medical detoxification clinic for those who struggle with drug and alcohol addiction. This unique facility offers a bed and breakfast vibe with personalized medical and psychological care. See our article in this issue for more information.
Nancy Joyce is a local distributor of ionized water filter systems. These medical devices produce filtered, hydrogen rich water using a solid 40-year technology with an amazing track record in the health industry. Nancy holds a Q&A session every Thursday from 11 am to 1 pm at Pura Vida Health Food Store and Deli. You can read more about Nancy's healing journey at: http://nancyjoyce.com/about/my-story/
Also, in this issue, Patricia Baum interviews the filmmakers behind the controversial film, Patrimonio, which débuted at the Berlin Film Festival in March, was the opening night film for the Festival de Cine de Todos Santos and this April,was shown at the 21st Annual Full Frame Documentary Film Festival in Durham, North Carolina.
Casa Sur yoga lifestyle boutique in Cuatro Vientos on the otro lado of Todos Santos, has a colorful assortment of quality clothing, mats, jewelry and natural products.
Going somewhere? Pickle N Paws provides high quality pet care. See her ad for more information!
In the Summer 2018 issue of Journal del Pacifico, we'll be doing a feature story on Baja Dream Properties. This issue—will cover June through September 2018. Deadline is May 10. Reserve your space today!