Thank you for all the compliments we received for our Holiday issue with the fabulous Mark Gabriel cover, "El Rey." We hope that you enjoy this issue with its great Baja stories, photos, and art.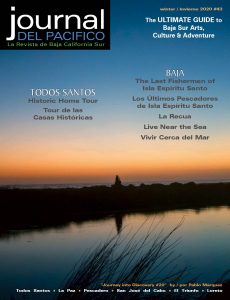 Photographer Pablo Márquez contributed this issue's cover photo of La Poza lagoon. You can see more of his fine art prints at Galería Logan in Todos Santos.
Galería Logan is holding an art opening March 14, featuring new works by Lee Mothes and Jill Logan.
The Palapa Society of Todos Santos A.C. has two popular tours coming up—the Artists of Todos Santos Open Studio tour at the beginning of February and the ever popular biannual Todos Santos Historic Home tour. See this issue's article for more information. And you can still get a copy of the 18-month Artists of Todos Santos calendar! All support The Palapa Society of Todos Santos programs.
Artist Ann Hebebrand has two more workshops coming up, Abstract possibilities and Painting with Neutrals. See events for more information.
In our Winter 2020 issue, Bryan Jáuregui of Todos Santos Eco Adventures shares the story of the Puppo brothers in the "Last Fishermen of Isla Espírtu Santo," with photos by Keenan Shoal Werner. Trudi Angell of Saddling South also shares with us more background on the making of the film "La Recua, Dario's Dream."
Growing old in Baja is a reality for many ex-pats. Now Comfort Care & Assistance is providing options for assisted living, hospice care, and information about death and dying in Mexico. The Asociación de Colonias de Todos Santos' (ACTS) mission is to help support neighborhood security, communication, preservation, and also publishes a community phone book.
Dylcor Design & Construction in Pescadero is a responsible building company that not only offers high-quality construction but helps the local community and supports the local fire department. See their ad in this issue.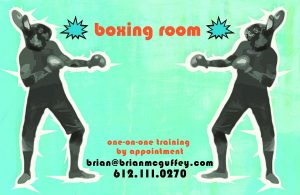 The Boxing Room on the otro lado of Todos Santos is now open. Brian teaches one-on-one professional boxing by appointment. It's a great workout!
De la Rosa Architecture mixes contemporary design with traditional architecture, creating luminous spaces that connect with the sea, the mountains, and the desert. Check out their ad in this issue or visit: www.delarosaarchitecture.com
LoveLeigh Designs is an ethical fashion collection situated adjacent to Baja Beans Café in Pescadero. They work directly with local (many underprivileged) artisans, helping to generate an income for them and their families. Each piece in their store, and online, is handmade, tells a story, and every purchase helps someone in need. A portion of all sales goes to fund local projects, individuals, and communities in Baja California Sur.

You won't want to miss the 25th annual St. Paty's Day celebration with Frank's famous corned-beef and fixings on March 17th at Shut Up Frank's in Todos Santos. Then head over to Todos Santos Brewing for a pint of beer and listen to some great music in the beer garden.
Amor d'Vino is located inside La Generala Restaurant in Todos Santos. In addition to stocking great Mexican wines and tequilas, they can make you a beach basket, and gift certificates are available. Contact them for weddings, private events, private tastings, and birthday parties, or stop in on Wednesday for a wine tasting 1 to 5 pm.
Dos Marias Day Spa, in Pescadero, is situated in a lovely garden setting and offers the ultimate in pampering with a variety of facials, body scrubs, massage treatments, and a Temazcal sweat lodge. It is time to treat yourself to some important self-care!
Todos Los Perros, certified professional dog training is now in Todos Santos. Contact them for group or private lessons. They specialize in dog socialization, obedience, and security K9s. My dog, Max, a recent AKC canine good citizen graduate, loves their classes!
Galería La Gitana on calle Hidalgo in downtown Todos Santos, features paintings by Jimena Garcia, unique ceramics, jewelry, and clothing that you won't find anywhere else. You can also see Jimena's work at the monthly Baja 100 art walks.
Chez Laura in Todos Santos serves delicious French specialties in an outdoor, romantic atmosphere. Besides their regular menu, they have daily specials and happy hour Wednesday through Friday.
Virginia Moonstone Mazzetti knows that some would find it insane to uproot from a life in Washington state and start over on a plot of land in Mexico. Most people couldn't imagine doing something so daring, but she's found others who have done the exact same thing. Through twenty interviews, Mazzetti explores the reasons for their odysseys and the peace, happiness, and adventure they have found in their new homes. You can find her book, Beginning Again in a Foreign Land, at El Tecolote Bookstore in Todos Santos.
We will see you in our next issue, Spring 2020. We'll have more great stories, photos, art, and information on the GastroVino Baja Food & Wine festival! The deadline is March 10. And don't forget, you can see every issue online at journaldelpacifico.com