This Winter 2019 issue of Journal del Pacifico covers a wealth of regional history—silver mining in Baja California Sur and El Triunfo; Mark Spahr's move to Todos Santos and El Triunfo and his recovery; long-term Todos Santos resident Ezio Colombo, and he and his wife Paula Rafelson's restaurant Café Santa Fé; and one woman's mission to share the history of local ranches and their unique products.
Like many visitors, I have fond memories of my first trip to Todos Santos in 1993 and the delicious meals and welcoming hospitality of Paula and Ezio at Café Santa Fé.
Mark Spahr´s first restaurant, Caffé Todos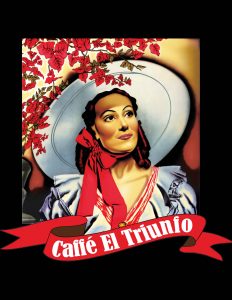 Santos, and current restaurant, Caffé El Triunfo, have been popular breakfast and lunch destinations for decades. Mark was one of nine people featured in the documentary, film called The Age of Disconnection, which will be shown at this year's Festival de Cine de Todos Santos y La Paz. You can read more about it in this issue's story by local artist Nanette Hayles.
Photographer Kenny Viese provided our cover shot and many beautiful photos of El Triunfo for Bryan Jáuregui of Todos Santos Eco-Adventures' fascinating tale of the Ruta de Plata.
Ángela "Yera" Cota's "El Mercado Ranchero" celebrates the handmade products and produce of Baja California ranches. Lisa Jackson's story shares Yera's dream of providing a unique market for ranchero wares like traditional pottery, handmade knives, furniture, and furnishing. Mercado Ranchero also has fresh chickens every Saturday, organic eggs, and ranch cheeses.
Shut Up Frank's, a different local institution, is open again, Wednesday through Monday, with seven TVs showing all sports including UFC and boxing. Frank's 22nd annual St. Patrick's Day corned beef and cabbage feast is March 17, starting at 3 pm.

Besides selling the best in Baja wines, Amor d'vino has gourmet olive oil, chutneys, salsas and more. Their restaurant is also open Monday through Friday, 5 to 7 pm. Enjoy a glass, or bottle of Baja wine with your dinner!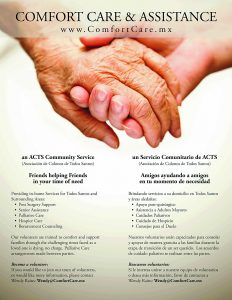 Growing old in Baja is becoming a reality for many ex-pats. Now Comfort Care & Assistance is providing options for assisted living, hospice care, and information about death and dying in Mexico.
St. Jude's Pharmacy, next door to their clinic, has prescription medications and orthopedics. They speak English and are open late until 11 pm.
Last issue, we placed Taller de Terreno a bit too close to town on our otro lado map. They are located farther out on the road to Las Playitas and are having their grand opening event as part of the Todos Santos Artists Open Studio Tour.
Also participating in the Todos Santos Artists Open Studio Tour, Cate Thomassen, shardArtist, creates beautiful mosaics—hangings, tables, water features, lamps, and commissions—inspired by nature. She uses stained and vitreous glass, and polished and unpolished minerals.
Casa Las Tunas has comfortable units complete with kitchens on the otro lado of Todos Santos. They are available daily, weekly, or monthly.
Bleu, in the garden at Galería Ezra Katz, serves amazing Mediterranean breakfasts and lunch. They are also available for catering and special events.
Pacifica Fish Market seafood restaurant now has a full bar and is open until 9 pm, Tuesday through Saturday.
Mail Boxes Todos Santos is now open! They provide mail boxes with a US address (up to four people) plus shipping of packages, vehicles, boats, and trailers—even entire households!
Why worry about thieves? Get peace of mind with Pacifico Storage with enclosed units, automotive, boat, ATV, camper, and household storage. They are located at KM 45 on highway 19.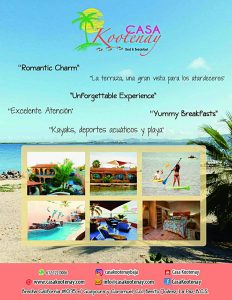 Casa Kootenay bed and breakfast is a romantic getaway on the beach on the Sea of Cortez in La Paz. Relax by the pool, or launch your kayak or stand up paddle board right from the beach out front!
Dana's Office is now open in La Paz. Dana and her husband Alastair build custom homes, as well as offer full real estate services.
Looking to start a new adventure in Mexico? Allende Books in La Paz is for sale.
You'll see us next issue, Spring 2019 with information on the GastroVino Baja Food & Wine Festival and more! The deadline for ads and articles is March 10.