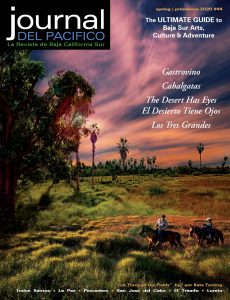 The communities of Todos Santos and Pescadero have been working through these trying times, finding ways to adapt to the many changes, figuring out business options, and reaching out to help those in need. These individuals are neither heroes nor saints but are the backbone for real community that we love.
Many local restaurants have found creative ways to stay open by offering takeout and delivery options.
Chill N Grill has curbside pickup for their full menu and pizza, Monday – Friday, 4 – 8 pm, and Taco Tuesday again! Call to order, 6121450014.
Chez Laura and Poke Loco have teamed up to offer daily specials Wednesday – Saturday. You can also order Chez Laura's delicious bread!
Gallo Azul has pizza and beer to go and offers home delivery, Tuesday – Sunday, 2:30 – 8 pm. Call to order, 6121588457.
Shut Up Frank's has their full menu and beer available for takeout and delivery, Wednesday – Sunday, 12 – 8 pm. Call to order, 6121450707.
Todos Santos Brewing is providing people with that valuable substance – beer. You can refill your growlers Monday, Wednesday, and Friday 12 – 2 pm. Checkout their Facebook page for brew master, Ted Mitchell, performing his original acoustic tunes for our listening pleasure.
Palmar in Pescadero has their full menu available for takeout, Monday – Saturday, 12 – 7 pm. Order in advance via Facebook, Instagram or WhatsApp.
Area grocery and specialty stores have stepped up to the "new norm" by asking customers to wear masks and limiting the number of people in the store at one time.
Pura Vida Health Food and Deli is open Monday – Saturday, 10 am – 5 pm. You can shop at the store or place your order for pickup. They offer personal delivery to Pescadero on Thursdays and Las Tunas on Fridays. They are also taking orders for Costco purchases.
Que Rico has recently changed ownership but continues stock the same great local products. They are open Tuesday – Thursday, 11 am – 5 pm. They also have cloth face masks for sale made by Manos Magicas sewing team.
You can order from Mini Super Munchies online, by WhatsApp or Messenger, Monday – Friday, 12 – 4 pm and pickup at their location.
Todos Santos Private Transportation and Todos Santos Eco Adventures have been working with ACTS to distribute food to area families in need. And Mario Surf School has also been helping the group distributing pet food to families in need.
Todos Santos Private Transportation also is offering shopping service to La Paz or Cabo.
Farmacia San Benito and St. Jude's pharmacy are open regular business hours and stocking hand sanitizer, alcohol, vitamins, and all your needs. Farmacia San Benito can special order medications as well.
St. Jude's Medical Center is open and seeing patients.
Cuatro Vientos recently offered 5 Days of Fitness Zoom classes as a fundraiser for ACTS.
Cate Thomassen, shardArtist, donated an original mosaic table for a fundraiser raffle for the Biblioteca Elena Poniatowska. Tori Sepulveda was the proud winner.
You can still learn or improve your Spanish from home. Hablando Mexicano is offering online Spanish classes.
Mail Boxes Todos Santos continues to provide their full mail, shipping, and receiving services.
Todos Insurance would like you to know that COVID19 is covered for new and existing clients. Check out their international insurance. Contact Jack Schaub at jack@shoreline.com.mx
How you can help?
The Palapa Society of Todos Santos A.C.'s students are finishing the school year at home and are receiving help online, via telephone, and WhatsApp.
It is also the time of year when parents and students are working on their applications for the 2020/2021 school year. Although all Palapa students receive tuition help, this is a hard time for parents to pay their portion. Your generous donation can help keep local/ students in school. To make a donation, visit: https://palapasociety.org/donate/
ACTS, Asociacíon de Colonos de Todos Santos A.C., is taking donations to help feed local families in need. You can visit their website to get the link to make a PayPal donation at: www.actsbaja.org  The Palapa Society of Todos Santos is helping with their donations. To donate via PayPal: use the email: tickets@palapasociety.org, Enter your donation amount. Be sure to note FOOD BANK in the memo.
The Pescadero Food Bank has increased their outreach to 200 bags on a biweekly basis. Their goal is to continue to feed more families, including helping those from Grupo Madre Teresa, Pescadero rancheros, and Padrino Children's Foundation. You can make a
donation via Paypal: paypal.me/pescaderofoodbank
There is also a group distributing pet food to families in need. You can donate via PayPal: coast-paradise@shaw.ca, or through www.raincoastdogrescue.com and click on donate. Be sure to fill in the note section that it is for Todos Santos for this option! Donations via this method are tax deductible in the US.
We at Journal del Pacifico are posting updates on changes, and keeping you informed on when and how things will be reopening. Follow us right here, on Facebook, and remember, you can read all our issues online!
Stay safe!