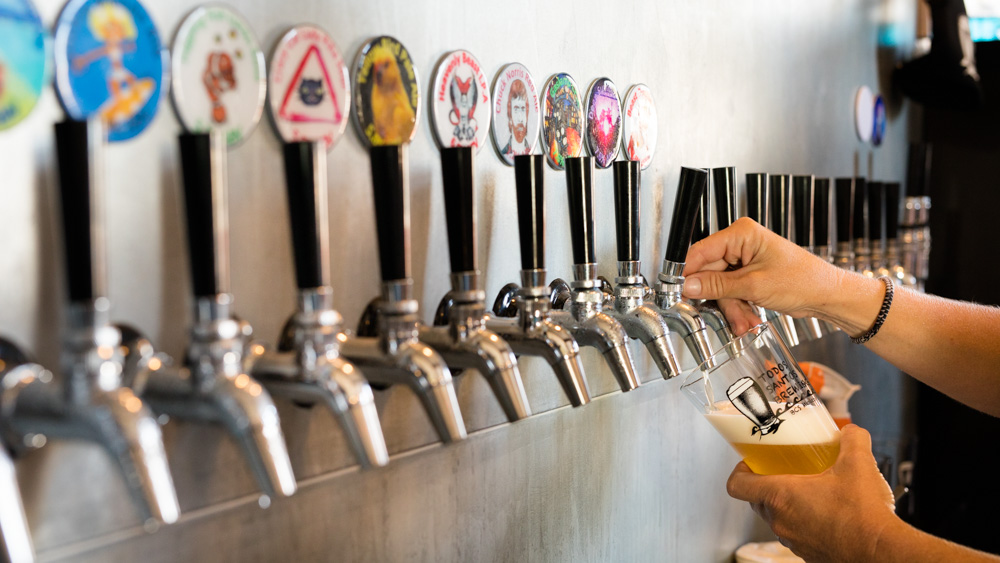 Todos Santos Brewing's 3rd Anniversary
Just over four years ago, Liz and Ted Mitchell flew to Mexico with the plan of staying one month. They fell in love with the area, bought property and opened a brewery!
Todos Santos Brewing (TSB) opened its doors in June 2017, and since then Liz and Ted have shared a lifetime of beer, laughs, and memories with locals and visitors alike. After starting off strong on their opening day–serving the amount of beer they had planned for the month in the first three hours–they have made and served over 39,000 liters of beer. This is a remarkable feat considering they run a single-beer barrel system, meaning they brew 100 liters at a time. They've brewed over 397 batches including their gluten free FAB (Fermented Alcoholic Beverages) and Ginga Ninja.
Todos Santos Brewing regularly has fifteen small-batch brews to choose from, plus four non-alcoholic beverages, and three rotational or guest taps. They are predominantly an "ale" house with varieties from Summer and Blonde Ales to Brown and India Pale Ales. Not to mention their gluten-free alcoholic ginger beer.
Liz and Ted are proud to have participated in several competitions over the years and came away with awards for their Dizzee Lizzee Summer Ale at the Copa Cerveza; and for the Gaslamp IPA, Dizzee Lizzee and Brown Owl Brown Ale at the Baja Sur State competition.
People raved when they opened their kitchen offering a menu of gastropub food, including specialty gourmet hamburgers, and fish and chips. They also serve traditional Mexican fare, as well as vegan options.
Locals and visitors enjoy the Sunday Sessions live music, a popular event that showcases talented local musicians.
This year plans for their annual anniversary party and just normal dining out changed with the stay at home and social distancing orders of the BCS government due to Covid-19.
But that hasn't slow them down!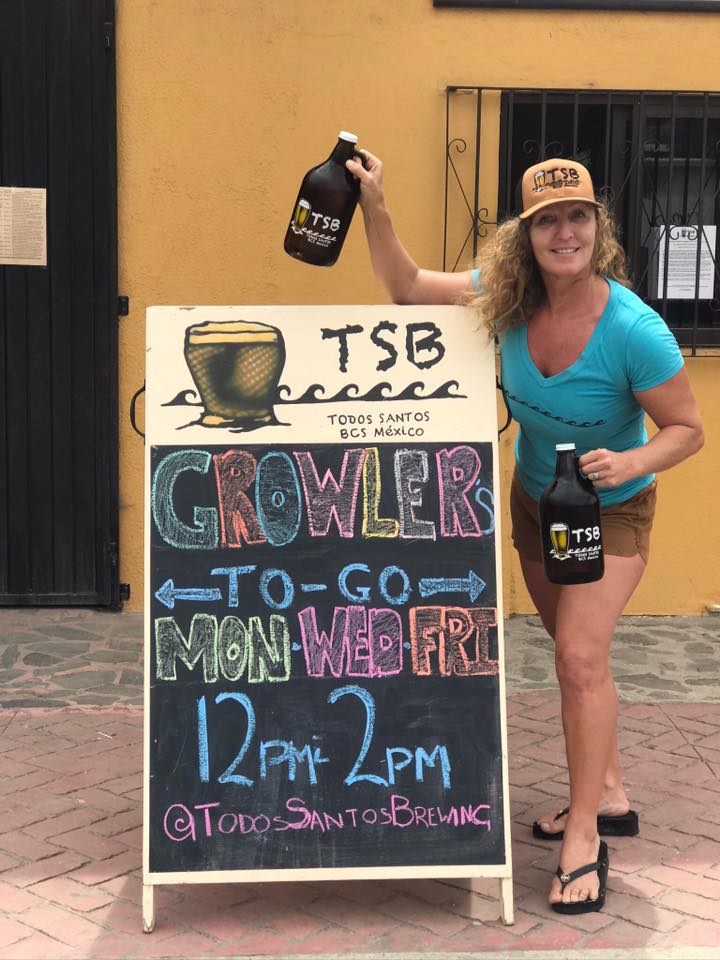 You can refill your growler every Monday, Wednesday, and Friday from 12 to 2 pm. Apocalyptic times have called for an apocalyptic beer and so they have introduced a beer appropriate for the current times, the HOP-APOCALYPSE their Double Hazy IPA. This beer comes in at 8.7% ABV (alcohol by volume) and with the IBU (International Bitterness Unit) at 53, this has a much higher perceived bitterness due to this ale having a whopping four pounds of hops per beer barrel!
And on Sunday, June 14, Todos Santos Brewing will celebrate their 3rd year anniversary with a special SUPER SUNDAY SESSIONS online music event featuring an amazing line up of their favorite regular musical artists, including BrewMaster Ted. TSB's online concert will benefit TODOS UNIDOS: Relief for Todos Santos and Pescadero. Providing much needed food, medical and community needs led by ACTS , Padrino Children's Foundation and The Palapa Society of Todos Santos, A.C.
Keep posted on the TSB Facebook page for further details, times, artists, etc. that will be shared soon. And be sure to checkout JDP Tv's TSB one year anniversary video at: https://www.facebook.com/JournaldelPacifico/videos/1708430289210191/
Liz and Ted add, "We're so grateful for the warm welcome we received from the very start and love the support we continue to get from our local community here in Todos Santos. Come for the beer, stay for the experience!"
Todos Santos Brewing is located on Alvaro Obregón between Militar and Rangel in Todos Santos. Growler refills on Monday, Wednesday, and Friday, 12 to 2 pm. For more information, visit them on Facebook and Instagram.