Thank you for all the compliments on our Day of the Dead fall cover of Ophelia Manik by Kenny Viese. Emmanuel put on an unbelievable show in the plaza for the third annual Día de Muertos Todos Santos event. Kudos to Bésame Mucho Bazaar and the whole team of volunteers who made the event possible. La Paz photographer, Sandra Muñoz covered the concert for Journal del Pacifico.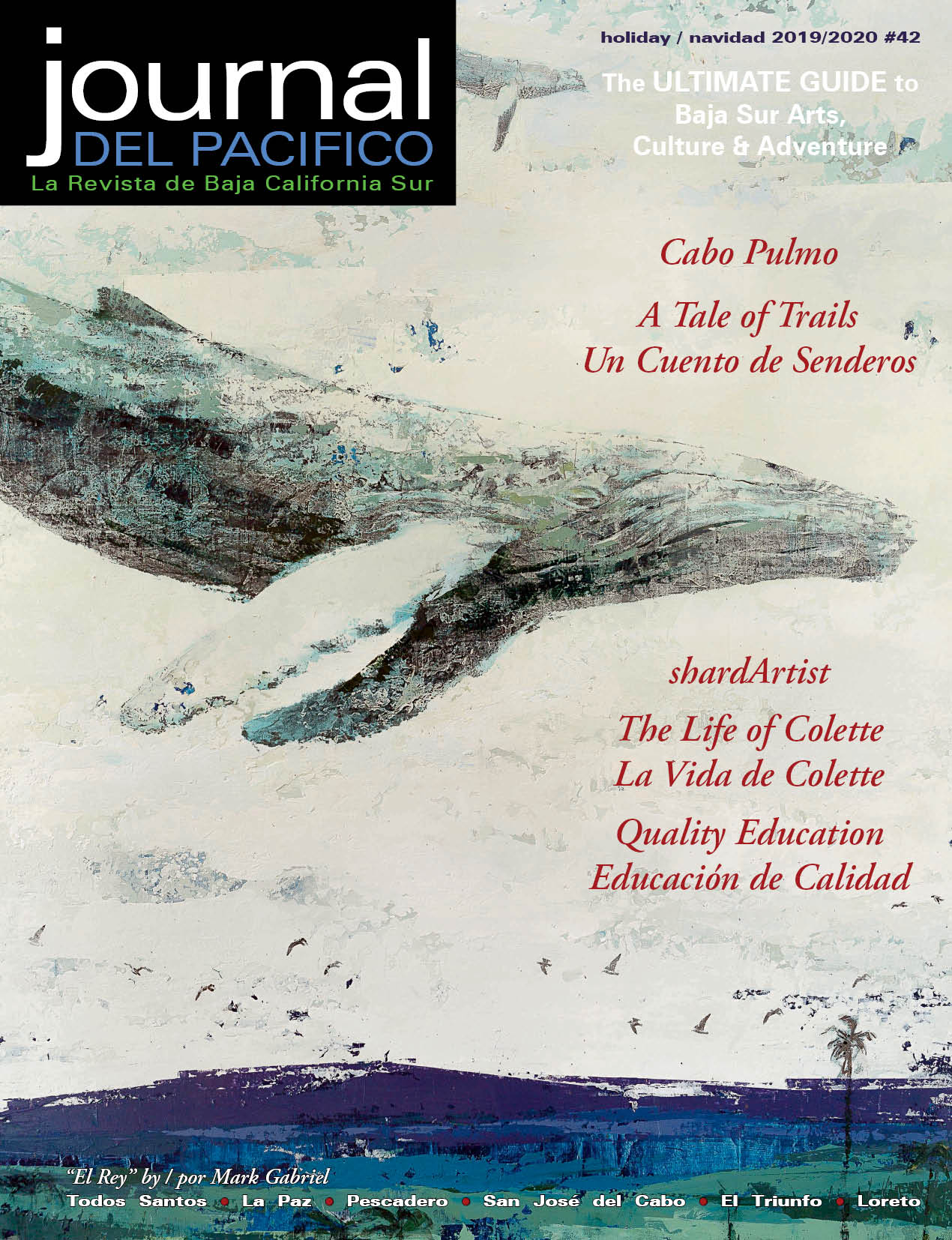 Mark Gabriel, Galería Militar in Todos Santos and Pez Gordo in San José del Cabo, has shared "El Rey" the humpback whale for our holiday cover. Mark Gabriel is an award-winning multi-media artist who began his career in the underground comics and fanzine world. He is also one of the featured artists in The Palapa Society's Artists of Todos Santos 2020/2021 calendar.
We have a variety of informative and fun stories for you in the issue. Bryan Jáuregui of Todos Santos Eco Adventures shares the success story of Cabo Pulmo and the Baja Coastal Institute. She also had the pleasure of interviewing a pig for our Life of Colette piece.
Trudi Angell of Saddling South tells the tale of Baja's first mule pack-trains and their journey to "Alta" California.
Pamela Ambrose interviewed Cate Thomassen, shardArtist. You can see Cate's mosaic work at her show at the Galería de Todos Santos on January 29.

This holiday season enjoy the abundant activities, specials, events, workshops, and seminars. There is a whole lot going on! Start the season off with The Palapa Society's Carrera de Todos Santos 5k walk / run on December 28.
Then, live the red-carpet experience at Colette The Pig's world premiere of her art film at Panteón 19, which benefits the Padrino Children's Foundation.
Photographer Pablo Marquez, Galería Logan, will be leading a four-day master class in capturing the soul of landscape photography starting January 12.
Artist Anne Hebebrand is offering classes in abstract painting, painting with neutrals, and cold wax January through March.
The Writing Ranch's 10th annual "Writing Down the Baja" retreat takes place January 26 through February 2, at Serendipity in Todos Santos.
The Todos Santos Writers' Workshop, now in its seventh year, takes place February 1 through 8, and have added a second week for those enrolled in the first week, February 10 through 15, for writers who want to continue their work.
Baja Blooms, a five-day pottery, creative journaling, and yoga retreat takes place March 22 through 28 at the Hotelito this season.
And you won't want to miss the Artists of Todos Santos Open Studio Tour, February 7 to 9, a benefit for The Palapa Society of Todos Santos.
The Pelican Theater Company of La Paz is also back this season with shows January 21 through 25. See our article for more details.
La Palapa del Sabor has monthly mariachi nights with delicious Mexican specialties for dinner. See our events listings for all of these and more!
Mailboxes Todos Santos has added a third location, in Cabo in the Walmart complex, location #69.
Pura Vida Health Food Store & Deli in Todos Santos is celebrating 10 years of serving the local community.
Tortugeros Las Playitas will have hatchling releases every day at 5 pm at the Tortugueros Las Playitas greenhouse in Las Tunas. Releases are open to the public and free of charge. Reservations requested for tour and school groups, info at: Whats App 612-177-8393.
Cross2box has moved to a new location at the entrance to Todos Santos. Cross2box doesn't have individual classes, every hour there is new session based on their clients' needs.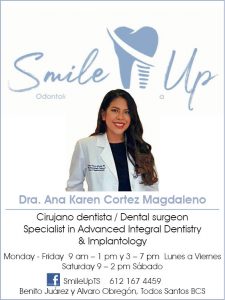 You've probably been hearing about the new dentist in Todos Santos, Dra. Ana Cortez at Smile Up. In addition to general dentistry, she is a specialist in crowns, implants, and cosmetic dentistry.
Panterra Eco Expeditions, at the Fonatur marina in La Paz, offers land-based and cruising expeditions to Magdalena Bay and the Sea of Cortez. And right now, they're offering special Christmas discounts!
St. Jude's Medical Center now has a walk-in clinic in Pescadero, next door to their pharmacy.
Shut Up Franks is back with new specials and some old favorites. They also have happy hour weekdays from 3 to 6 pm.
Happy holidays! We'll see you in February with our winter issue. Deadline is January 10.