February gets off to a great start with a lot of fun events in and around Todos Santos. Here are a few of the upcoming events.
Thursday, February 1, 3 pm, Todos Santos Writers Workshop Roundtable. "Inner and Outer Landscapes: Nature Writing in the First Person, with Christopher Merrill and Ellen Waterston, moderated by Jeanne McCulloch, at Casa Dracula on the otro lado. Open to public for a donation to the Palapa Society of Todos Santos.
Sunday, February 4, Catch the Superbowl LII at Chill N Grill in Todos Santos, The Oasis and Cerritos Beach Inn in Pescadero.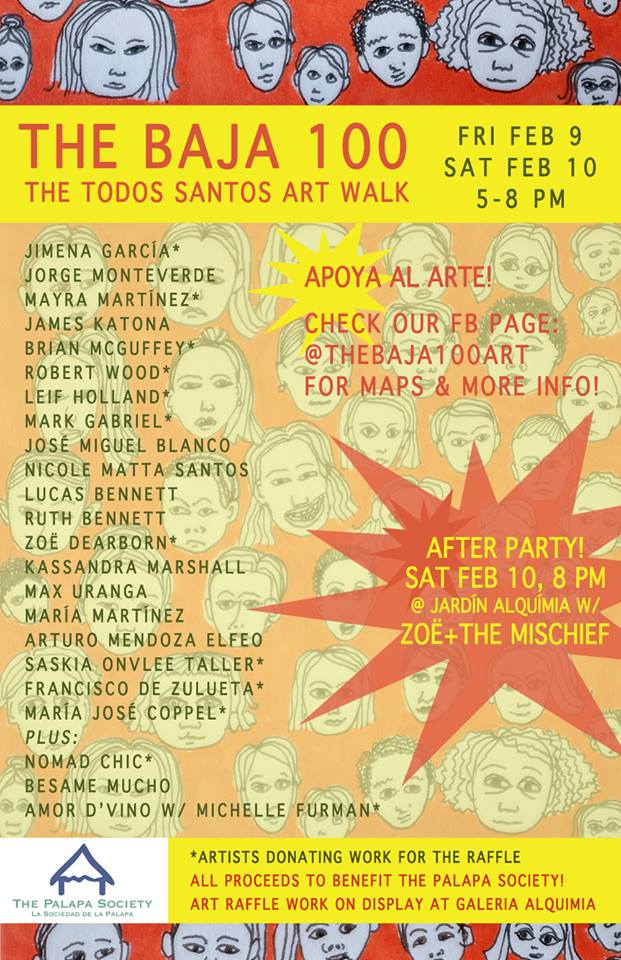 Friday, February 9 & Saturday, February 10, 5 – 8 pm, The Baja 100 Art Walk
The Art Walk will take place on Friday and Saturday afternoon/evening with live music from Zoe and the Mischief plus a raffle of 13 original pieces of work donated by The Baja 100 artists. Don't miss your chance to win a painting or original work by local talented artists. This event is free of charge to attendees. We are also an event that is walkable. Park your car in town and start new Hotel Casa Tota where you'll find Galería Jardin Alquimia and all the works for the raffle to benefit The Palalpa Society.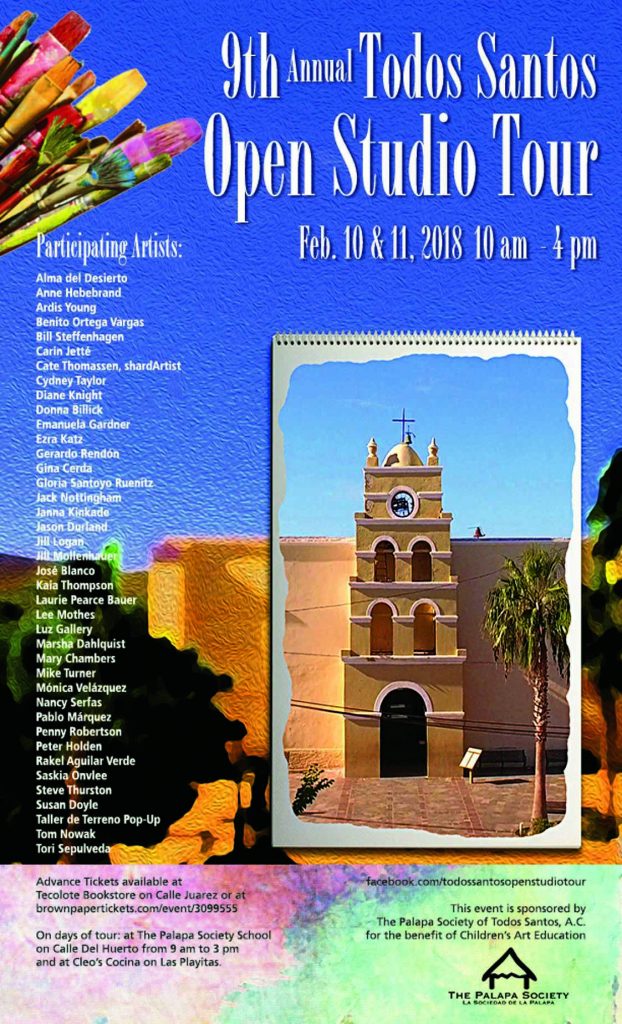 February 10 & 11, 10 am – 4 pm, The 9th Annual Todos Santos Open Studio Tour
Have you ever yearned for a glimpse into the private world of artists where ideas and inspirations are translated into dazzling creations of color, texture, shapes and forms? If so, the Todos Santos Open Studio Tour is designed to satisfy your curiosity. The 9th Annual Todos Santos Open Studio will be held the weekend of February 10 and 11, from 10 am to 4 pm. Once a year during this special event, a community of artists opens the doors to their studios, inviting you to explore down rambling dirt roads and discover what's hidden behind their walls. The experience of visiting an artist's studio is completely different from viewing the artist's work in the formal setting of a gallery. It's a chance to connect more intimately with the artist, ask questions, discuss observations, see his or her tools of the trade and even gain insights into the artist's personal working process.
If this sounds intriguing, come and discover what attracts and sustains so many diverse artists from Mexico, the Unites States, Canada, South America and Europe to come and settle in Todos Santos! Over the years, artists have been influenced by many or all of the elements of their surroundings: the Baja desert landscape, the vast and dynamic ocean, the majestic Sierra de La Laguna, the distinctive quality of light and air and clouds. However, essential to all artists who have made Todos Santos their home is a pervasive, almost tangible, sense of artistic community.
For artist Steve Thurston, who has participated in every annual tour since its inception in 2010, establishing himself in Todos Santos has been total immersion into an "art world," which exists in only a very few places. Encaustic artist Gloria Santoyo Ruenitz never imagined she would find such a supportive and curious community as the one here in Todos Santos. She describes the first Todos Santos Annual Artists Studio Tour which took place on March 10th, 2010: "The tour was created and organized by ARTS (Artists of Todos Santos), an informal group of artists and art lovers dedicated to the development and support of a vibrant, inclusive arts community and to inspiring and growing the visual arts talent in Todos Santos. Amongst these friends were Diane Knight, Vic Kirby, Michael McAllister, Steve Thurston, Tori Sepulveda, and Roxanne Sparks."-Most of whom remain actively engaged and thriving in their artistic endeavors in Todos Santos today. Another painter, Peter Holden, loves being in such an idyllic location and creative community. He finds this context has been a great motivator to propel his work, encouraging him to explore open-ended artistic directions as well as focused work.
Now nine years later, approximately 40 artists participate in the Annual Open Studio Tour including painters, sculptors, photographers, ceramicists, encaustic and cold wax artists, jewelers, printmakers, mixed media artists, woodworkers and more. The spaces in which they work are as uniquely different as their type of craft. Some of their studios are well-established, others are more improvised or temporary, some expand into the outdoors or are entirely outside and some showcase a group of artists. At Marsha Dahlquist's studio, a group of five to six artists have been meeting every Thursday for the last three years. According to Marsha, "we paint mostly from photo references–our own individual photos. We paint, laugh, drink coffee and encourage each other. It's more than painting. We've all become such good friends. For me, it's been a blessing. I love each and every one of these amazing, wonderful women."
On the tour, you'll find emerging artists as well as artists who have been working professionally for many years. It's a wonderful opportunity to expand your familiarity beyond the collection of more-established artists, as well as learn about new and exciting directions evolving in the work of artists with whom you're already well-acquainted. To find artists who are participating in the Todos Santos Open Studio Tour please visit www.facebook.com/todossantosopenstudiotour.
Now that you've chosen several artists' studios to visit, the fun begins! You will need a car (or carpool with a friend) and the map provided with your ticket to lead you on a self-guided tour through the various neighborhoods of Todos Santos. Along the way, large colorful signs painted by the artists will help direct you to their individual studios. It has become a tradition amongst the artists to create their own distinctive and delightful signage. Don't be concerned if you make a wrong turn. Most likely you'll enjoy encountering an artist who was not on your original list. All artists will be pleased to discuss their work and will be displaying work available to purchase at various price ranges.
Your entry ticket will provide you with a map and a wristband that will be good for two days. Most participants appreciate the flexibility to wander about in different neighborhoods each day or return to their favorite studios a second time–perhaps to acquire something that caught their eye the day before. All proceeds from the sale of artwork go entirely to the individual artist, while all proceeds from ticket sales benefit the children's art programs at the Palapa Society of Todos Santos, A.C.
The Palapa Society of Todos Santos, A.C., founded in 2003, is a multi-cultural non-profit Mexican civil association. Its mission is the development and administration of scholarship, educational, and environmental programs for the benefit of local children and their families. Visit www.palapasociety.org for more information.
Advance ticket sales begin January 28, 2018 and are $10 USD or $200 pesos. They can be purchased in Todos Santos at the El Tecolote Bookstore on calle Juárez, ordered online at ts.studiotour@gmail.com or purchased at www.brownpapertickets.com. Tickets can also be purchased on event days from 9 am to 3 pm at La Cocina de Cleo in Las Tunas and The Palapa Learning Center (PLC) on calle del Huerto in town. The PLC will feature a sampling of the studio tour artists' work for sale and children's art on display.
See you with the new Spring 2018 issue of Journal del Pacifico soon!