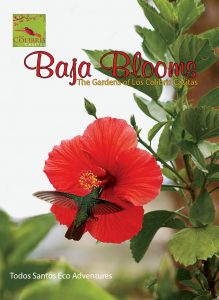 Happy Holiday from Journal del Pacifico!
Thank you for all the wonderful compliments on our special Fall issue cover by Bruce Herman of Luz Gallery. This issue's front cover features a botanical illustration by Dr. Esmé Hennessey. You can read more about Dr. Hennessey in Bryan Jáuregui of Todos Santos Eco Adventures' story, "Different Continents, Same Problems"—which also has photos of some of Baja's 'local' plants by Kaia Thomson, excerpted with permission from Baja Blooms: The Gardens of Los Colibris. Baja Blooms was edited and produced by Journal del Pacifico's Janice Kinne, and is available at El Tecolote Bookstore in Todos Santos and Allende Books in La Paz.
"Go Together: It Takes a Village to Save a Peninsula" tells the incredible history of Tim Means of Baja Expeditions' 40-year vision to spend the rest of his life exploring and preserving the natural world of Baja California Sur. At 73, Tim continues to share the inspiration he has found here, and his desire to preserve the health of these unique local marine and desert ecosystems.
This issue also has information on two very popular events: The Palapa Society of Todos Santos' Carrera de Todos Santos 5K walk / run and the Todos Santos Artists Studio Tour. Both are fun and support worthy local causes.
Also in this issue, is a feature on the Padrino Children's Foundation (PCF) and the important work that they are doing for the Todos Santos / Pescadero community. Their mission is to promote wellness for the community and provide access to professional medical care for underserved children in Todos Santos and the surrounding area. To do so, PCF collaborates with health professionals and organizations that provide medical evaluation, treatment, medical aids, and family assistance. Read more about it and how you can help.
La Posta del Oasis in Todos Santos serves World cuisine—conventional, vegetarian and vegan—featuring fresh, local organic vegetables, fish, seafood and meats. They also have special event nights and wine flights with dinner.
Rancho Pescadero is offering two Yoga, Surf & Nutrition Retreats at the end of March and May. More than your average yoga and surf getaway, they offer practical advice on mindful eating from a nutritionist; participants learn how to nourish the body for optimal energy while engaging in what it means to eat mindfully in today's fast paced world.
La Misión Restaurant and Sunset Bar at Hacienda Cerritos, situated on the point at Cerritos Beach, is now open to the public after 4 pm, for lunch and dinner, cocktails and breathtaking sunset views.
Carlito's Place Restaurant in Pescadero, is newly remodeled and expanded, with an outdoor kitchen, sushi bar, and martini bar. Carlitos prepares Asian fusion and farm-to-table seafood, poultry and steak specialties. Check out their daily happy hour!
Dos Marias Spa, in Pescadero, invites you to come and enjoy a truly relaxing experience at their beautiful spa, nestled in a traditional rustic location near the beach.
Mini Super Munchies' famous Tuesday Night Open Mic/Music Jams, with amazing food, wonderful people, and rocking music takes place from 5 to 9 pm, every Tuesday until spring! All ages are welcome.
La Bohemia Baja Hotel Pequeño, in downtown Todos Santos, has a daily happy hour, a local artisan market Thursdays, live music Fridays, and lots of fun events this December and January. See events for more details. Ask about their pool pass!
The popular Noche de Super Salud, delicious plant-based dinners, will return this season at Pura Vida Health Food Store, La Fuente Winery (formerly The Tasting Room) and, La Bohemia Baja Hotel Pequeño. For dates and times, check their Facebook page. They are also excited to announce Prana Foods and RAWHigh—their new assortment of food to go, available for delivery in Todos Santos, at Namaste Yoga Centro and other local markets.
Surf Casitas, on the beach in Pescadero, is located in a gated private beachfront property on San Pedrito Beach. They have six casitas with a shared kitchen. Just step out of the front gate and on to the sand!
Corazón de Té, on the otro lado in Todos Santos, is re-opened daily for breakfast, waffles, smoothies and tea.
We are very excited that Chocolates La Laguna has re-opened in time for the holidays! Their luxury handmade chocolates and truffles are always a popular gift, or treat for yourself. You can also find unique, handmade gifts for yourself and those you love at Étnica, Nomad Chic, Tony's Arte, Décor y Muebles in Todos Santos and Allende Books in La Paz.
Looking for a fun time on Christmas Eve or the New Year's Eve weekend? Check out our events page for parties, music and good times at La Esquina, Gallo Azul, Posta del Oasis in Todos Santos and the Oasis Bar & Grill and Cerritos Beach Inn in Pescadero.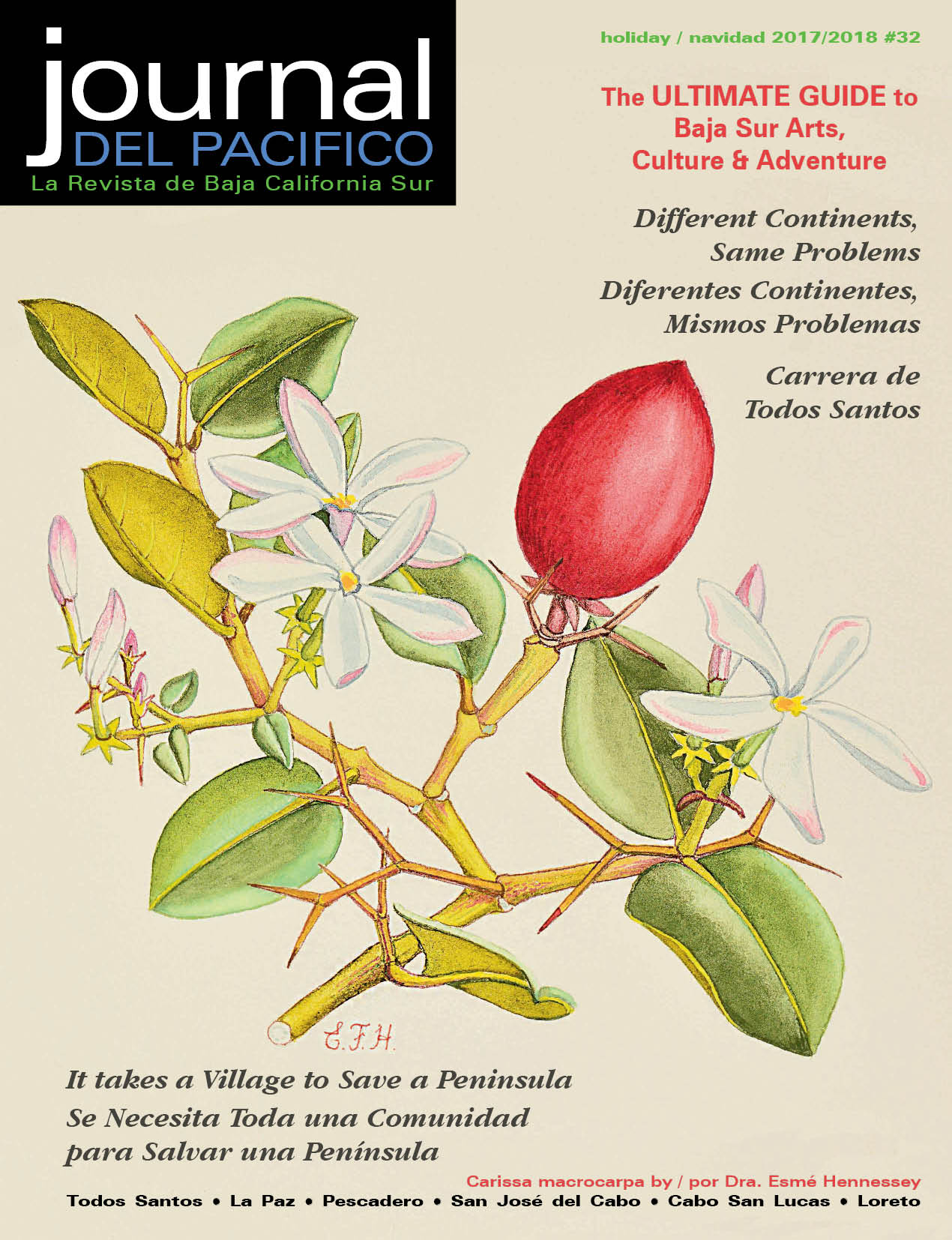 Download Holiday 2017/2018 in PDF format
See you with our next issue in the new year! The deadline is January 10, 2018.