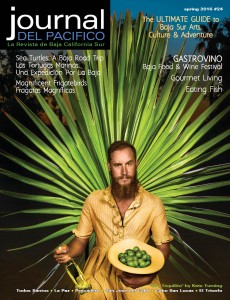 We're very excited about our delicious Spring issue, that starts with the "Santo Tequilito" cover by Kate Turning, which is part of her "Every Day Miracles—Common Saints" series. Kate also designed and photographed the images for this year's GastroVino Baja Food & Wine Festival, which takes place April 22 – 24 in Todos Santos. See our articles in this issue for more details about this fun festival that celebrates Baja wines and local gastronomy.

Kate's photograph "Santa Terra" graces our feature story on Gourmet Living. We've put together a list of where you can buy locally sourced and organic and tasty foods including baby greens, vegetables, fruits, berries, eggs, hummus, yogurt, cheeses, olives, meats, sausages, wines, homemade breads, chocolates and desserts… plus imported goodies like nut butters, rice, crackers… it made us hungry just writing the story!
If you'd rather eat out, Baja California Sur is the land of "farm to table." Local restaurants serve up bounty from the land and sea in delicious Mexican, French, Italian and International fare.
If you love wood fired pizza, Gallo Azul Pizza Bar in Todos Santos is now open seven days a week. They also have evening special events like movie and salsa nights.
Chez Laura, the affordable French restaurant in Todos Santos, now serves a lunch special of soup, salad and quiche for $120 pesos, from 12 to 5 pm.
Chill n Grill, in Todos Santos, is now open for Monday Fun Day—grilling up your favorite steaks, arrachera, chicken wings, stuffed potatoes along with garden salads and, of course, happy hour from 4 to 6 pm.
Todos Santos' newest restaurant, La Generala, one block off the main drag of Degollado, invites you to try their taco buffet, the only one in town. Open seven days a week, they also serve breakfast, offer steak, seafood, Mexican dishes and house made delicious deserts.
La Cocina de Cleo can be found on the road to Las Playitas in Las Tunas on the otro lado of Todos Santos. It is a small, family run restaurant that serves up traditional Mexican dishes and cold beer, Monday through Saturday, 8:30 am to 7 pm.
In Pescadero, you can enjoy gourmet dining near the beach. FreeSouls offers a culinary experience at Cerritos Beach, along with a rooftop saltwater pool and live music on many evenings.
Enjoy bounty from the sea at the elegant Rancho Pescadero, or take a weekend cooking class. They are holding their last culinary weekend of the season, with guest chefs Greg Denton and Gabrielle Quiñónez Denton, which takes place May 26 to 29. See events for more information.
Dana's Diner Sports Bar in Pescadero has the best burgers, coldest beer, TexMex and live music. Call or stop in for details.
Emma's Deli in Todos Santos and Joe's Deli Mart in Los Barriles offer some of those hard to find foods items and tasty deli sandwiches. The family will also be opening a store in La Paz soon!
Artists love Baja California Sur for the light. Many say that it reminds them of Italy. In this issue's Art Talk, Alan Casty talks about the serendipity of a shared Italian experience that brought the glass sculptures of artist Jill Casty and the Guaycura Boutique Hotel together. Jill's bold, brilliant works are now displayed at Galería de Ida Victoria in the San José del Cabo historic art district and at Sorstis Restaurant in La Paz.
Galería de Ida Victoria's framing service has revamped, remodeled and restocked. They have a huge selection of in stock materials—the combinations are endless! And the service is even faster.
De Madera Framing Service, by Jaime Pedraza, now offers professional framing and canvas stretching in Todos Santos.
Tony's Arte, Decoración y Muebles, just off calle Militar in Todos Santos, has a large inventory of rustic Mexican furniture, hand painted ceramics, pottery, art, crafts and more.
Looking for somewhere to stay? Osprey San Pedrito has the most spectacular views on San Pedrito beach. Their spacious one and two bedroom suites have full kitchens. Rent one or more for large groups.
Cerritos Beach Inn is offering a special price on all rooms–including ocean front–April 15 to October 15. Just $99 USD or 1,700 pesos per night!
Villa Bugambillias Luxury Apartments on the otro lado of Todos Santos are now available for rent! The fully furnished one and two bedroom apartments are conveniently located near La Esquina café and Estudio Cuatro Vientos.
Dance, laugh and exercise with Zumba with Jan at Estudio Cuatro Vientos. No experience is needed. Check out our Groups listings or Facebook for class times and see why people love Zumba!
Farmacia San Benito is a new drugstore in plaza San Antonio in Pescadero, just off the highway. They stock a variety of name brand and generic medicines.
Clarananda Natural Living Retreat offers natural well-being through meditation, yoga, Ayurveda and sustainable living. Contact Valma Brenton for more information.
We also hope that you enjoy this issue's feature stories on a few of the wildlife species found on our peninsula's wild coasts and ocean. Please help conserve and protect them! We will see you again with our Summer issue. Deadline is May 10.