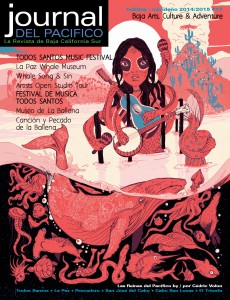 Our Holiday 2014 /2015 issue is out and we're ringing in the New Year with lots of new faces and new places…
We're getting lots of compliments on this year's special cover by Cedric Volon of La Sonrisa de la Muerta gallery in Todos Santos.
Dooney Real Estate Group, part of the Los Cabos division of Sotheby's International Realty, is opening their new office Todos Santos office in Gallery La Poza on calle Juárez.
Bistro Mágico is back! For their third season, they've moved around the corner to the garden patio of the Ezra Katz Gallery at the three way stop in downtown Todos Santos. They serve up lots of fun multi-ethnic healthy cuisine for lunch, and Monday night special theme dinners. Visit bistromagico.com for details. Also available for private parties and catering.
La Gitana Mezcal Bar in the Todos Santos historic district serves mezcal like you've never tried it. Mezcal is a distilled alcohol made from the maguey plant. The word mezcal comes from Nahuatl word mexcalli which means "oven-cooked agave." Try it straight or in one of their specialty drinks, and you'll agree with the saying, "para todo mal, mezcal, y para todo bien también" (for everything bad, mezcal; for everything good, the same!)
Chez Laura, on Hidalgo between Rangel and Cuauhtémoc, is the affordable French restaurant in Todos Santos. Enjoy a chilled glass of white wine and appetizers in their lovely garden setting, or order from their entrée menu. Wine by the bottle and a selection of beers are also available and remember to save room for their delectable desserts!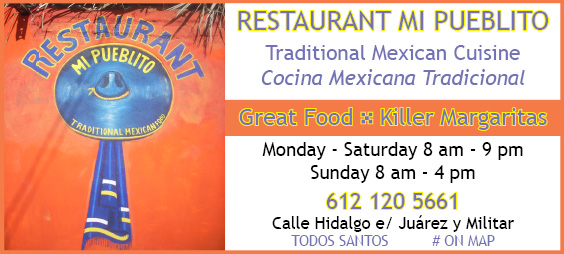 Restaurant Mi Pueblito serves traditional Mexican Cusine in the heart of downtown Todos Santos. Stop in for their great food and try one of their killer margaritas!
Have your friends overstayed their welcome? For affordable accommodations send them to Perro Surfero on the otro lado of Todos Santos. Owner Mauricio, "Mao" also offers Crossfit classes on the San Sebastian beach. See our groups section for my details.
Turtle hatchling releases are happening at sunset several times a week at the bocana in Las Tunas. Look for the Tortugueros Las Playitas logo, #15 on our otro lado map.
The Museo de La Ballena y Ciencias del Mar is yet another good reason to spend a day or two in La Paz. Bryan Jáuregui of Todos Santos Eco Adventures spoke with the museum's executive director, Francisco J. Gomez, for this issue's story. Bryan and Kaia Thomson also have shared more interesting whale facts and photos in this issue. Todos Santos Eco Adventures is offering a new "glamping" experience on Isla Espiritu Santo with walk-in safari-style tents that feature raised cots with mattresses, sheets and pillows, fabulous food, sun showers, and terrific adventures such as standup paddle boarding, kayaking, hiking and swimming with sea lions. Spend the night or the week. It's great fun for families and groups of friends.
La Sirena Eco Adventures and Explora Baja in the Todos Santos Surf Shop also offer different packages to see whale sharks, sea lions, visit Isla Espritu Santo in La Paz, day trip whale watching in Todos Santos and overnight trips to see the gray whales up close and personal in Mag Bay—it's once in a lifetime experience!
The fourth Todos Santos Music Festival returns for two weeks in January with an exciting new lineup and some of our favorites from past years. In this issue, Doug Newcomb interviewed Peter Buck about the festival and how it has grown and changed. One of the new bands in this year's festival will be Drive-By Truckers. La Paz musician Terry Townson asked band member Patterson Hood a few questions about his musical background, the band's new album and their link with R.E.M.
El Mirador restaurant, overlooking the Pacific Ocean, is serving Sunday brunch and full moon dinners. For more information or reservations, call, email or check at the front desk at Guaycura Boutique Hotel.
Casita Anita, behind the El Tecolote Bookstore, is having Fixin' Fridays–Bring in your broken or unwanted jewelry to be repaired and/or refurbished. Check with Anita about upcoming jewelry making classes.
Dana's Diner and Cantina in El Pescadero has moved to a larger location and have not only expanded their menu, but also have a fully stocked bar, a Monday through Friday Happy Hour and feature live music.
Metaphysical Odyssey into the Mexican Revolution: Francisco I. Madero and His Secret Book, Spiritualist Manual is C.M. Mayo's new book, and it knocks the huaraches off the official story of Mexico's 1910 Revolution. On December 2, Mayo spoke about Madero's secret book, which she translated into English for first time, at Mexico City's National Palace. Look for more about that on her webpage www.cmmayo.com.
Happy Holidays to all!