Welcome back!
The communities of Baja California Sur have been working through these trying times, finding ways to adapt to the many changes, figuring out business options, and reaching out to help those in need. These individuals are neither heroes nor saints but are the backbone of real community that we love. Like many small businesses, we've faced changes and challenges, but we are resilient like our Baja California pueblos. In this issue, we have fascinating local history, as well as current stories on how our communities are rising to carry on in the "new normal."
Kate Turning once again has given us a stunning Day of The Dead themed cover based on Mexican master Diego Rivera's painting "The Flower Vendor."
It is sad that there will not be a large Día de los Muertos celebration in Todos Santos this year, but you can now participate in the Catrinas contest virtually. See Ivonne Benítez's Covid Catrinas story.
Photographer Emanuela Gardner shared one of her recent photographs on the opening page of the feature story by Bryan Jauregui, of Todos Santos Eco-Adventures, the story of a Pericue named Fabian—a Todos Santos rebel—based on research by Dr. Shane Macfarlan.
Galería Militar is exploring how to show art in the pandemic age. They will be holding a series of socially distanced shows to a limited audience in-person and a wider online audience. See the article in this issue.
A Granel opened in Todos Santos right before the April shutdown, but that didn't stop them with their quest to reduce waste while providing sustainable, affordable products that biodegrade in the environment. Read more about it in our article.
Five years ago, the co-creators of Women Awakening embarked on a new journey of self-discovery and love, bringing to the community of Todos Santos a Women's Summit designed to foster connection and celebration to the women of Todos Santos and beyond. In 2020, Elemental Change: Engaging in Our Evolution was chosen as the theme. Not long afterwards, the entire world began a great and seismic shift that has indeed altered the entire trajectory of all our lives. "We could never have known at that time of our themes choosing, that it would prove to be so apropos and timely."
With deep contemplation and great consideration for the community, the co-creators are announcing the cancellation of the Annual Women Awakening Summit, previously scheduled for December 4 to 6, 2020. "We may be separate physically at this time, but we are all truly together in spirit, and want you to know you are not alone. We are with you. The bonds we have built these past five years have not broken and we will join together one day again, when the climate is right for such a gathering. We encourage you to take this pause as we are also doing, as a time of spaciousness."
—Women Awakening CO-Creators
Angelica Vélez Mendez
Marimar Higgins
Jill Mollenhauer
Elena Ascencio Ibañez
Arii Corona Miranda
The Todos Santos Writers Workshop will continue, in its eighth year, as a virtual event via Zoom on January 31 to February 6, 2021, adding novelist and long-time Todos Santos resident Joanna Hershon to the faculty. The team of creative writers and editors "dedicated to inspiring and furthering the art of the written word," also includes editor/memoirist Jeanne McCulloch, journalist/screenwriter Rex Weiner, author/memoirist Karen Karbo and poet/author Christopher Merrill, director of the International Writing Program of the University of Iowa. The one-week event, this year, offers workshops via Zoom in Fiction, Poetry, Writing for Stage and Screen, and two classes in Memoir. Additional events will include craft seminars, panel discussions, social gatherings, and the opportunity to engage one-on-one with instructors. Tuition is $850US. For more information: www.todossantoswritersworkshop.com
Étnica now carries textiles for the home like cushions, runners, placemats, and napkins—all made in Mexico.
We'd like to welcome two business that have recently opened offices on calle Juárez in Todos Santos: Legal & Tax, attorneys and accountants, and DAR Design and Construction. Legal & Tax can help with all your legal, immigration, and accounting needs, while DAR will work with you to design and build your dream.
This is the first year that Pueblo Pescadero is launching for sale the "Hacienda" home, a 3-bedroom, 2-bath, with a 1350 sq.-ft. private garage available for secure storage.
The Mini Super Munchies crew welcomes everyone into the new season with a few great new additions to their sweet little shop. They will be offering in-house prepared, healthy fresh food 'to go" with daily hot food specials and a pre-order pick up option. Check out their website for details and daily specials: http://www.minisupermunchies.com. And, of course, all safety protocols are in place.
Casa Maya & Barefoot Cantina Bar in the Barefoot Luxury's property at Cerritos Beach features freshly caught and delectably prepared local seafood dishes, carefully selected meats, locally grown organic vegetables, an assortment of sushi, homemade pastas, soups, and salads. Barefoot Cantina offers a generous selection of ice-cold beers, fresh-squeezed margaritas, tasty cocktails, and an extensive wine selection.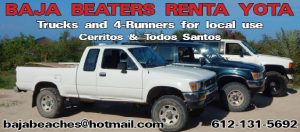 Need to get to the beach? Baja Beaters / Renta Yota has Toyota trucks for local rentals. Call or email for more information.
Allende Books has recently moved to a larger location close to the malecón near Sears in La Paz. In addition to an expanded inventory of books and gifts, they have a coffee shop, outdoor seating in the courtyard, Wi-Fi, and information on events and resources. Local artists have brought the interior and exterior walls alive with a dazzling display of the vibrant marine life found in the Sea of Cortez. Drop by and see their magical new space.
Pelican Theatre of La Paz has cancelled their 2021 production due to COVID-19.
This past summer, we featured advertisers on our blog including Irving de la Rosa, architect. When asked about his design philosophy, he stated: "To me, the important thing is that the people who will live in the spaces that I design are happy. As they look out their window, they see something beautiful: the ocean, the mountains, a tree, a bougainvillea. And that the spaces are bright, warm, and pleasant. If I could talk briefly about my philosophy that I believe is the most important thing in life, it is the physical, emotional, and spiritual health of a person—his connection with his environment, with nature. What I try to do in my spaces is create an equilibrium, a harmony in the person's habitat."
We look forward to seeing you with the Holiday/Navidad issue! The deadline is November 10.