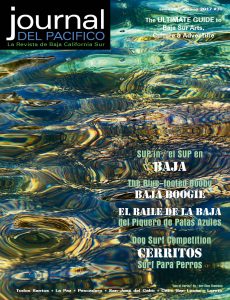 Baja California Sur is cleaning up, getting ready for visitors and Journal del Pacifico is ready to bring them to your door!
Now in our 7th season, Journal del Pacifico continues to inspire people to travel to our beautiful peninsula and support the unique area businesses and events.
Don't wait! Contact us today to participate in the upcoming Fall/Otoño 2017 issue with stunning photography, exclusive stories, profiles, and, as always, the features that make each issue a valuable resource to guide visitors and residents to the special qualities that make Baja California Sur a great place to live and a magical place to visit.
Deadline for the Fall/Otoño 2017 issue is September 18, 2017.
Reserve your space, share your business news, events and send your ads to: info@journaldelpacifico.com
"Click" here for our 2017/2018 season closing dates.