Español abajo.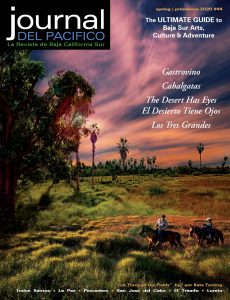 The coronavirus (COVID‐19) pandemic is changing how we live' work and serve you. Currently, our team is working from home and taking care of themselves and their families.
Global travel and the economy continue to remain in flux as communities both at home and around the world act to slow the spread of COVID-19. During this time of uncertainty, we recognize that it can be challenging to determine what, if any, action to take.
While we never know what the future holds, we do know that over the past nine years, both Journal del Pacifico, and our surrounding area, have changed and come back from adversities such as Hurricane Odile and we shall do it again!
In the meantime, we will continue to distribute the printed version of the Spring / Primavera 2020 issue of Journal del Pacifico in a limited manner until more businesses, hotels, and restaurants reopen.
The Van Wormer resorts in Los Barriles have announced their reopening May 20 and Los Cabos area hotels are now taking reservations for June 2020. We look forward to their arrivals enjoying our Spring/Primavera 2020 issue with the fabulous Kate Turning cover!
The Spring / Primavera 2020 issue, and every issue, are available online at journaldelpacifico.com. We are also updating our blog posts and Facebook page with current advertiser and area information.
Unfortunately, we have decided to adjust our 2019/2020 publishing schedule to cancel the printed Summer/Verano 2020 issue of Journal del Pacifico. We WILL be back, better than ever, in the fall with our Fall/Otoño 2020 issue and look forward to sharing more great stories on how our area will be ready to welcome visitors in this changing world.
In the meantime, please stay safe and stay healthy.
Saludos from the whole Journal del Pacifico team!
—————
La pandemia del coronavirus (COVID-19) está cambiando la forma en que vivimos, trabajamos, y le servimos a usted.  Nuestro equipo se encuentra trabajando desde casa y cuidando su salud y la de sus familiares.
La economía y el turismo global se mantienen en limbo mientras las comunidades locales y en el resto del mundo trabajan arduamente en mitigar la propagación del virus.  Durante estos tiempos de incertidumbre, sabemos que a veces es difícil vislumbrar el camino a seguir.
Aunque no sabemos lo que nos depara el futuro, lo que sí sabemos es que en los últimos nueve años tanto el Journal del Pacifico como nuestra comunidad han pasado por cambios y sobrellevado adversidades. Sobrevivimos el huracán Odile, ¡y volveremos a vencer!
Mientras tanto, seguiremos distribuyendo la versión impresa del número de Primavera 2020 del Journal del Pacifico de manera limitada hasta que reinicien labores más negocios, hoteles y restaurantes.
Los hoteles Van Wormer en Los Barriles anunciaron su reapertura el 20 de mayo, y los hoteles de Los Cabos han empezado a tomar reservaciones para junio. ¡Esperamos que nuestros visitantes disfruten de nuestra revista de primavera con una imagen de Kate Turning en la portada!
Así como todos los demás números, la edición Primavera 2020 de la revista está disponible en journaldelpacifico.com.  También estamos actualizando nuestro blog y página de Facebook con información actualizada de relevancia y anunciantes.
Desafortunadamente nos hemos visto obligados a ajustar nuestro calendario de publicación 2019-20, con lo que se cancela la edición impresa de Verano 2020. Estaremos de vuelta y mejor que nunca con la edición de Otoño 2020 y anticipamos ansiosamente compartir con ustedes las historias del resurgimiento de la economía local en este mundo nuevo y cambiante en que vivimos.
Mientras tanto, por favor manténganse sanos y seguros.
¡Saludos de todo el equipo de Journal del Pacífico!