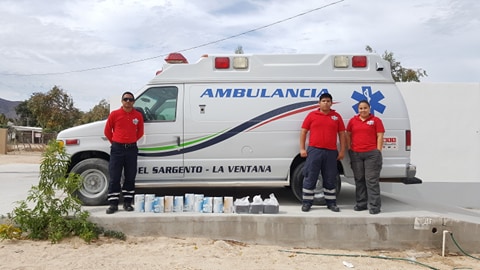 On March 31, the same day BCS registered its first COVID-19 deaths, a group of volunteers comprised of marine biologists and medical personnel began a project they call "Pro Paramedicos."

The handwriting was on the wall, the crisis was coming and our First Responders were nowhere near being ready. "These Paramedics, young people with big hearts and excellent training, many of whom are volunteers, have little or no equipment," said Dr. Xchel Palafox, one of the founders of the project.

That same day in March they began to distribute Personal Protective Equipment (PPE) to the Paramedics in the La Paz Fire Department and Proteccion Civil La Paz. The effort expanded to cover more than 120 Paramedics in 9 different teams.

"The farthest to the north is Las Pocitas," explained Pablo Ahuja, cofounder of Pro Paramedicos, "They cover 100 kilometers of highway, from marker 50 to marker 150, from Puerto Chale on the Pacific to San Evaristo on the Sea of Cortez. Small towns like Conquista Agraria, El Cien, and Dolores are part of their range. "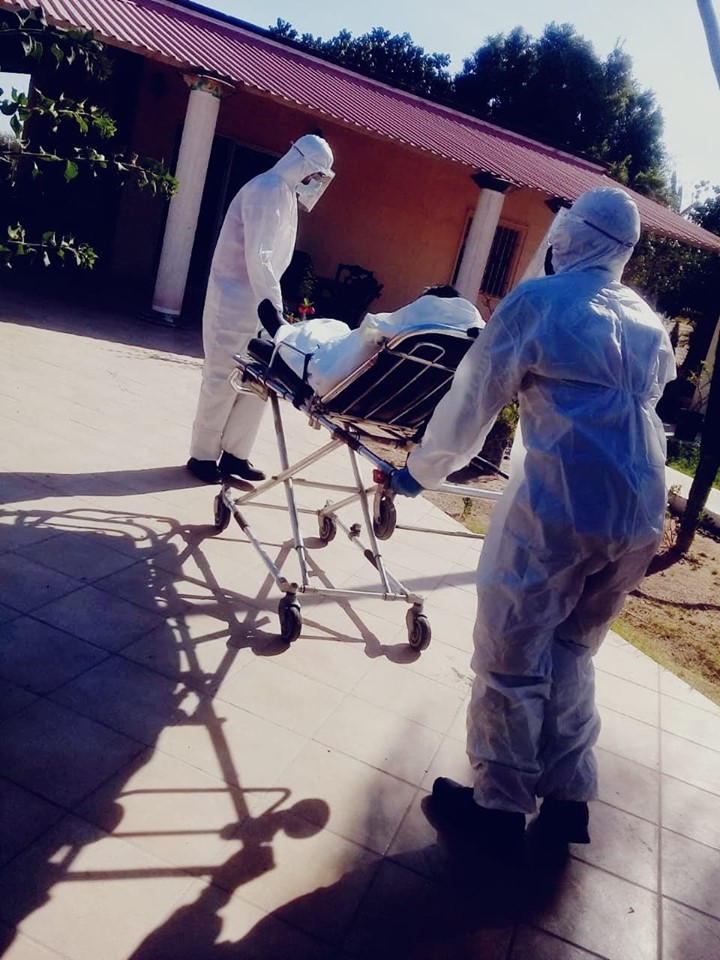 Before being supplied by "Pro Paramedicos" this team had no protection against the virus but now they are equipped with Faceshields, Full Body Suits, N95 masks and surgical gloves as well as surgical masks to put on every patient they treat, anyone of whom could be CV19 positive.

"To the south we supply the Bomberos and Paramedicos of Pescadero. This team is led by Comandante Griselda Sotelo, the first female Comandante Firefighter in Mexico. Her adult son Fernando is also in the unit. We stay in constant contact and visit them every few weeks to resupply their PPE," said Ahuja.

The rest of the teams that are supplied with donations used to purchase PPE include Proteccion Civil in Los Barriles, Grupo Sierra in La Ventana/El Sargento, Los Planes, Todos Santos Bomberos and Grupo Calafia based in Camino Real.

"Calafia is the largest and most active unit and they have transported more Covid-19 cases than the other units. They have 27 Paramedics and five rigs that seem to be constantly on the move," said Ahuja, "What´s even more amazing is that they are an all-volunteer team."

While Covid-19 cases increase every day and the death toll mounts in the state we have seen more than 100 hospital personnel become infected and some have even died from the virus. The most recent being a Doctor from the ER at the ISSTE Hospital who died earlier this week.

A testament to the effectiveness of "Pro Paramedicos" and their PPE campaign is that not a single paramedic in the Municipality of La Paz has become infected by the virus despite their ever-increasing caseload in the last three months.

"We know Covid-19 is not going away, that the numbers keep growing and that the virus forced the Government to reverse the reopening as far as access to beaches and the Malecon. We pledge to keep seeking donations and keep buying PPE even though every day the prices go up and the PPE becomes harder to find," said Ahuja. "On behalf of the Paramedics and their families I would like to thank all the donors."

You can participate in this lifesaving project by calling Pablo at 612 154 9859 or by making a donation through PayPal to an account set up by Dr. Xchel Palafox https://www.paypal.me/xchelapp.