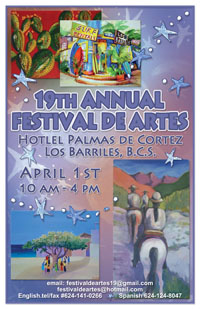 The 19th Annual Festival de Artes is coming our way on the 1st of April, 2012 from 10 am to 4 pm. Once again held at the famous and beautiful Hotel Palmas de Cortez in Los Barriles, you will be delighted with the selection of Art's and Craft's on the well known grassy area in Los Barriles.
The Asociación de Artes is expecting 150 artist's of all kinds, with everything from original paintings to creative hand craft items. This is sure to be a day of fun and sun, with many food choices, including the traditional Tacos Al Pastor and Carne Asada. Also available will be bar-b-que beef sandwiches, gourmet hot dogs, baked goods and snacks. Sodas and a full bar will be on site for the event spectators. Kid's projects will be on going throughout the day, along with some great music and raffles.
There will be plenty of shade this year but be sure to bring your hat and sunglasses. For the protection of the art displays, pets are not permitted on the grounds.
The show is sponsored by the Asociación de Artes del Mar de Cortez A.C. All proceeds from this event help to provide the local schools with art supplies.