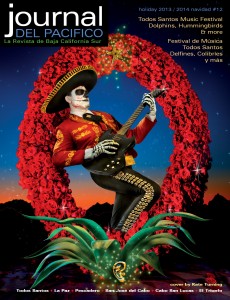 We've been busy delivering the new issue of Journal del Pacfico in Todos Santos and La Paz. People are raving over our rocking cover by Kate Turning with model Yannick Rondero and makeup by Martin Juan Carlos of W. Salon in La Paz.
The third Todos Santos Music Festival will take place at the Hotel California in mid-January with one concert in the town plaza. For more on the festival, check out our feature story by Doug Newcomb with photos from last year by Vivian Johnson.
Creative energy is flowing in Southern Baja! You can find many local authors in print now. This month we have an interview with Elizabeth Day about her book, Living with Gusto. Out now is Pamela Cobb's Tales of Tiny Town which features her popular essays that have appeared over the years in the Journal del Pacifico. And the beautiful new photo collection Birding in Baja by Journal del Pacifico contributor Kaia Thomson, will be out for Christmas—see her hummingbird photos in this issue. All are available at El Tecolote Bookstore in Todos Santos and Allende Books in La Paz.
The array of visual arts is stunning. Galería El Triunfo is open, again, for the season with the works by Gabo and Karin Schubert. Swing over to San Antonio on your way and visit Liz's art studio at Rancho La Venta. Multi-media photographer Emanuela Gardner has an opening January 9, at Hotel Casa Tota.
Galeria Logan will host an art opening with new works by Jill Logan and Doug West on January 18. And you can find Jill Casty's sculptures in glass at Art House in La Paz, Galería de Todos Santos or Pez Gordo in San José del Cabo. Gloria Ruenitz's new works can be seen at Galería de Todos Santos and Pez Gordo in San José del Cabo.
Nomad Chic has opened in their new location just down from El Tecolote Bookstore and Juice Bar. Nomad Chic is proud to be the exclusive location in Todos Santos and USA online for Acuarela Swimwear. Look at our events listing for their upcoming informal and "pop-up" modeling dates.
We received a lot of positive feedback on our featured restaurant reviews in our previous issue, Fall 2013. You can find another selection this issue, including Rumi Garden. Speaking of food… Wind and "C" will be open December 13, at the same location as last year—Los Cardones B&B at Cerritos Beach in Pescadero.
We can't wait for the new restaurant at La Copa in the Todos Santos Inn to open in mid-December. Chef Patricio is planning a delicious menu using fresh, local ingredients. And Landi's Restaurant has opened in its new location next to the Teatro Márquez de León in the historic district of Todos Santos.
If you're looking for antojitos (literally "little cravings") Carnitas Uruapan is the place to go. They serve authentic Mexican favorites such as sopes, huaraches, chiles rellenos and more.
Estudio Baja is located downtown between Miguel's Restaurant and La Cabaña in Todos Santos. Studio rentals are available for your movement classes or workshops, and a treatment room for massage/energy work is also available for rent. It's a tranquil atmosphere with wall of mirrors, bathroom, fans, and beautiful wood floors in a convenient downtown location. Stop in and check out their Yamuna Body Rolling and Foot Fitness. This practice uses gravity from your body weight to move over specialized balls that roll out tension in your muscles. It's like giving yourself a deep tissue massage!
Chocolates La Laguna is the place to find handmade Christmas goodies. Lots of stocking stuffers along with a line of liqueur chocolates including damiana truffles and large chocolate bars. They have something affordable for everyone!
La Bodega de Todos Santos has a wide selection of Baja wines for the holiday season as well as t-shirts, olive oil and other gift items.
The Gardening Guru will be holding a demonstration and seminar/workshop on Thursday, January 31, at Baja Beans in Pescadero. You can find out more information by clicking on the link or stop by her stand at the Baja Beans, La Esquina or Los Cabos Pedregal Farmer's markets.
Tiny Tienda, on the otro lado, in Todos Santos is now open. You can find items ranging from organic shampoo and deodorant to organic fertilizer to local artwork and cards. Photographer Laurie Pearce Bauer's art prints are available for sale. Look for the sign on the tree in Las Tunas.
Dr. David Martinez at MartVet in Todos Santos, can help you with all your pet needs—consultations, vaccinations, surgeries, grooming, health certificates and pet supplies. See his new ad this issue for more information.
One of the charities sponsored by the Todos Santos Music Festival this year is the Hogar del Niño A.C.—a non-profit, safe home for children who are abandoned, mistreated, or orphaned. It is a registered charity, recognized by the Mexican government as a sanctuary for at-risk children. The loving care these children receive is funded entirely by donations. The average number of children at the Hogar is usually 25, and they range in age from 3 to 16 years. A special wine pairing benefit dinner will be held at Rancho Pescadero on December 18. Look for details in our events section. To make a tax-deductible holiday donation, click on "Donate" on the website http://hogardelnino-baja.org/ or go to http://padrinoproject.com/ and click on "Become A Padrino."
Have you made a New Year's resolution to stay fit or get fit? Gimnasio Powerzone offers individuals and families monthly, three-month and annual memberships.
¡Feliz Navidad y Prospero Año Nuevo!