We've been busy delivering the Festival issue of Journal del Pacifico–it's hard keeping the new issue in stock! People are loving the Manta Ray feature story by Bryan and Sergio Jauregui and stunning photographs by Kaia Thomson and Iker Algorri.
The 11th annual Festival de Cine de Todos Santos begins Thursday, February 20 and will fill the town with famous Spanish and Mexican actors, distinguished Spanish diplomats, daring international directors, budding local film-makers, and dozens of great movies. And you won't even have to work very hard to get to it; this year the festival will show films not only in Todos Santos, but Pescadero and La Paz as well.
Carnaval takes place February 27 through March 4 on the malecón in La Paz.
The festival spirit continues with the Todos Santos Historic Home Tour on March 16 and the first Greenfest in Cabo March 27 through 29.
March 17th, Shut Up Frank's will have their Lucky 17th Annual St. Patrick's Day party with green beer and homemade Corn Beef and Cabbage with all the sides.
A lot is going on in Todos Santos' historic district. Guaycura Boutique Hotel will be opening their new Beach Club at the restored lighthouse on Todos Santos' southwest beach. They are also making changes to the restaurant at the hotel and will be having live music every other weekend at the Sky Lounge and Tapas bar.
At the Todos Santos Inn, La Copa Cocina is open and serving a delicious variety of small plate dishes—perfect for sharing while enjoying the jazz music of "Pepe and Friends" at the upstairs bar, Thursday, Friday and Saturday nights. La Copa Cocina is open from 5 to 10 pm, closed Wednesday.
Artique Boutique is open! Alexis carries unique women's clothing, swimsuits, jewelry and accessories. Check out her store, located in Plaza Antiqua at the three way stop on Juárez street—now with a special on many items!
IndiO Spirit Native Culture Arts, across the street from the Guaycura Hotel, has museum quality and custom leather art, paintings, clothing, accessories and more. While there, inquire about their Turtle Island Healing Lodge and upcoming seminars.
People stop in Todos Santos to shop at the two organic / fresh food stores, ¡Que Rico! and Pura Vida. ¡Que Rico! stocks a variety of specialty products like organic meats, cheeses, homemade spreads, breads and more. Their new facebook page is QueRicoFoods.
Not only does Pura Vida carry those hard to find organic, health and local products, they also serve healthy fare at the restaurant. If you're interested in buying this family minded venue with a commitment to community health, contact Joella Coronado.
MerciTodo is the Todos Santos' "notions" store with materials, thread, ribbons and many of your sewing needs. They also custom make curtains, pillows and many more home furnishings.
If you're driving south, stop at Vicbi's on the way out of Todos Santos for natural homemade ice creams like mango and pitahaya. They are also open early with coffee, burritos and other food for the road.
Baja's first and only Float Spa, Joy of Floating, is located next door to Baja Beans Roasting Co. in Pescadero. Relax in the luxurious warm Epsom salt tank and emerge rejuvenated. Flotation therapy is a luxurious escape and an extremely powerful tool for strengthening the immune system and improving health.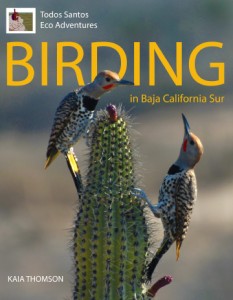 If you missed the well attended Todos Santos presentation and book signing for Todos Santos Eco Adventures' and Kaia Thomson's photographic book, Birding in Baja California Sur, on February 16 at the Guaycura Hotel, you'll get another chance to attend March 8 at La Encantada in La Paz. The book is available at El Tecolote Bookstore in Todos Santos and Allende Books in La Paz.
We're starting on our Spring "Wining and Dining" issue soon. Deadline is March 1. Contact us for more information!