Whatever you're looking for, we've got it here!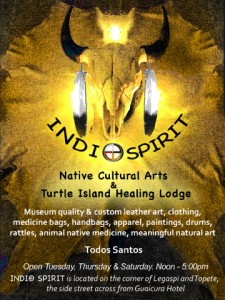 This Friday, February 14th, from 5 to 6:30 pm, IndiO Spirit in Todos Santos will host a "Valentine's Day Sunset Sound Meditation for Worldwide Day Of Sound Healing–A Harmonic Heart Realignment for All." Immerse yourself with the transformative vibrations of the planetary tones of the Acutonics Healing System with The Ohm Gong, Tibetan Bowls, Bells, Chimes and Tuning Forks—for balance, harmonic healing and reconnection with the divine harmonies and rhythms of the universe.
Across the street at the Restaurant at Guaycura Boutique Hotel you can enjoy a Valentine's weekend for two, February 14, 15 and 16th, starting at 1 pm daily, the chef will be preparing a romantic "prix fixe" meal for two using only the freshest local ingredients.
For cool listening to hot jazz, there's no better place than La Copa at The Todos Santos Inn. This Friday, from 7 to 11 pm, "Pepe and Friends" will welcome Grammy award winning artist, Terry Townson. Share a delicious variety of chef Patricio's small plate dishes from La Copa Cocina with your loved one.
Amigos de El Pescadero will be holding a Valentine's Day Fundraiser, February 14, at 6 pm, at Mariscos El Pescadero Restaurant on Highway 19, Pescadero. Raffle tickets for whale-watching trip to Magadalena Bay for 2. Raffle tickets are 10 pesos and can be purchased at Pescadero Life Booth at Baja Beans Sunday Market or online: www.PescaderoLife.com. Amigos de El Pescadero is a non-profit multi-cultural, community organization that undertakes projects that benefit the community, such as infrastructure improvements, neighborhood security issues, and support to health programs.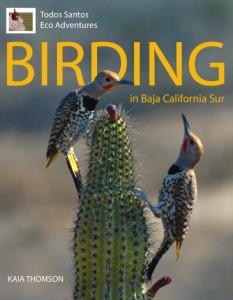 Sunday, February 16th, at 4:30 pm, will be a Presentation and Book Signing for Todos Santos Eco Adventures' and Kaia Thomson's stunning Birding in Baja California Sur. Books will be available for purchase. You won't want to miss this one!
Birding in Baja California Sur is available at El Tecolote Bookstore in Todos Santos and Allende Books in La Paz.