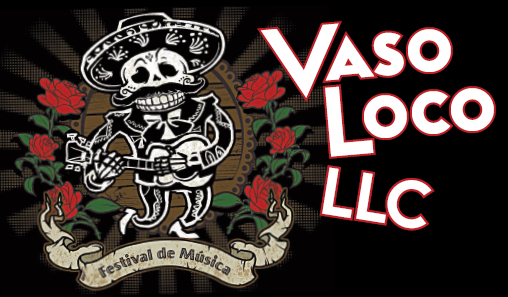 Vaso Loco LLC and the Hotel California will be presenting the 2014 Todos Santos Music Festival January 16 through January 25, 2014.
Shows will take place at the Hotel California in Todos Santos January 16, 17, 18, 23 and 24. Doors open at 7 pm, music starts at 8 pm.
The Todos Santos Music Festival Town Plaza Concert will be on Saturday, January 25. Seating starts at 7 pm, music starts at 8 pm.
This year's bands include Peter Buck's own band, The Minus 5, headed by Scott McCaughey and featuring Peter Buck and Steve Wynn's Dream Syndicate known as the saviors of alternative rock.
Kevn Kinney, who played the 2012 festival, will return this year with Drivin' n Cryin' an American hard rock/Southern rock band from Atlanta, Georgia.
Other bands that played at the 2013 Festival will be playing this year:
Torre Blanca–This Mexican group play post-pop with symphonic touches, with intimate, deep, playful and thoughtful lyrics.
Twin Tones–This Mexico City band's music is an explosive fusion of rock, surf and spaghetti western film music. They stole the show during their 2013 debut at the Todos Santos Music Festival! This year that are also featuring one of their side projects, Sonido Gallo Negro, that takes the sound of psychedelic Peruvian cumbia of the 70s and covers it with garage attitude.
New this year, there will also be a "local bands" night at the Hotel California on Wednesday, January 22.
When REM disbanded, after 32 years of creating music and fans around the globe, guitarist and founding member Peter Buck was in the process of making Todos Santos, in Baja California Sur, a south-of-the-border second home. The idea for the first Todos Santos Music Festival was born in September of 2011, and took place in January 2012.
The 2013 Todos Santos Music Festival featured ten nights of entertainment over the course of three weekends, including two free concerts in the town plaza. The lineup of artists was hand-selected by Peter Buck and featured an eclectic array of musicians ranging from industry legends to emerging local talent.
Both the 2012 and 2013 Todos Santos Music Festival raised money for the Palapa Society of Todos Santos A.C., which provides educational after-school programs for local children. Some merchandise, including t-shirts and tank tops are still available from the 2013 festival via the Palapa Society.
The proceeds from some of the shows for this year's festival will again benefit The Palapa Society of Todos Santos, A.C. Other shows will benefit the Hogar del Niños orphanage, ProPlayas A.C. (lifeguards), The Todos Santos Internado (boarding school for local ranch children), DIF, the Bomberos (fire department), Escuela Pacifica and local animal welfare groups.
Festival founder, Peter Buck of REM, has had a busy year making albums and touring with his band, Tired Pony, as well as with The Baseball Project, The Minus 5 and Kevn Kinney. He is currently planning a US tour of the Midwest and South with Alejandro Escovedo (Todos Santos Music Festival 2013) in late February and early March 2014. Peter and singer-songwriter Rachael Yamagata both accompanied Ed Kowalczyk of Live on his second studio album, "The Flood and the Mercy," available on October 29. http://audioinkradio.com/2013/10/ed-kowalczyk-new-album-r-e-m-peter-buck/
For more information on Peter's busy year, read this great interview at Salon
http://www.salon.com/2013/10/09/peter_buck_i_think_we_were_all_really_ready_for_a_change/
Peter Buck's first solo album was released on vinyl only in November 2012. http://www.youtube.com/watch?v=sCEcfeTL5pU He also has a second, vinyl only, album coming out in 2014 on Mississippi Records. His 45 vinyl single, "Peter Buck! El Rei de los Monos Presente! You Must Fight to Live on the Planet of the Apes" available from Mississippi/Change Records. http://blurtonline.com/feature/the-singles-scene-vi-blurts-indie-45-roundup/
Tired Pony's second album 'The Ghost Of The Mountain' was released in the UK/Intl. in August and in the US in October. You can order in the UK now at Fiction (CD) – http://trdpny.com/FictionCD / Fiction (Vinyl) – http://trdpny.com/FictionVinyl / iTunes – http://trdpny.com/iTunes
To watch a preview with Gary Lightbody of Snow Patrol: http://www.youtube.com/watch?v=dpZPt3pFkvk  You can follow Tired Pony online at their Facebook page and on Vine and Twitter @TiredPony.
Erick Ochoa, president of the Palapa Society of Todos Santos, A.C. stated that they are grateful for everything that the Todos Santos Music Festival has done for the Palapa Society. The contributions and publicity generated from the Music Festival and the move into their new home in the San Vicente neighborhood of Todos Santos have enable them to include over 100 children in their programs. They have also received a US fellowship via the International Community Fund allowing them to hire both a full time teacher and part-time assistant for their Bridge to English program.
Todos Santos, near the tip of Mexico's Baja peninsula on the Pacific Ocean, features colonial architecture, top-rated restaurants, fine art galleries, miles of pristine beaches and a colorful community of locals and expats. Todos Santos has a population of just under 8,000 people, but offers an abundance of creative events, annual arts and cinema festivals and other cultural activities that cater to an international tourist and expat crowd as well as locals. It was the first town in Baja designated as "Pueblo Magico" by the Mexican government, which signifies places in the country that have "a unique authentic historic and artistic charm."
Check TodosSantosMusicFestival.com or Facebook: TodosSantosMusicFestival for more information and tickets soon!
Other upcoming Todos Santos events and festivals include:
Todos Santos PorQue 5k? Walk/Run. December 28, 2013. Sponsored by the Palapa Society of Todos Santos A.C.
The Festival de Arte Todos Santos takes place February 1-8, 2014.
The 5th Annual Open Studio Tour will be held immediately following the Todos Santos Art Festival on February 9, 2014. Last year there were 35 artist studios open for viewing, covering mediums from oils, pastels, watercolors, mixed media, en-caustic, ceramics, sculpture and photography. Sponsored by the Palapa Society of Todos Santos A.C. All proceeds go towards Children's Art.
The 11th Festival de Cine de Todos Santos, February 20 – 28, 2014 with the Premiere of 'Youth in Video' films on February 20.
Todos Santos Historic Home Tour takes place Sunday, March 16 from 10 am to 2 pm. Sponsored by the Palapa Society of Todos Santos A.C.
The Todos Santos GastroVino Festival will be held in May 24 and 25, 2014.
For a complete listing of events visit:  http://journaldelpacifico.com/blog/events-2/
About Peter Buck
Peter Buck is a founding member and lead guitar player of REM.
About The Hotel California
At the hub of Todos Santos is the legendary and colorful Hotel California. Originally built in 1948 this unique hotel underwent a masterful renovation in 2001 that would go on to win numerous awards for design and décor. The original 16 rooms were transformed into the eclectic 11-suite hotel it is today.www.hotelcaliforniabaja.com/press
About The Palapa Society
The Palapa Society of Todos Santos, A.C., founded in 2003, is a multicultural, non-profit Mexican Civil Association. The mission is the development and administration of scholarship, educational, medical and environmental programs for the benefit of local children and their families. http://palapasociety.org/