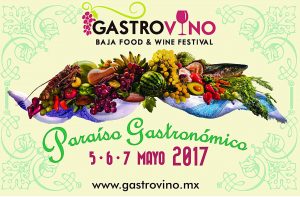 by McCandless K. Sutton
The gastronomical paradise of Todos Santos encompasses the abundance of the Baja California peninsula in every way possible. We revel in our beloved backdrop of mountains, beaches, sunsets, and the energizing catalyst they provide for such a vibrant multi-cultural community. And then there's the food and wine, of course.
The land of the chiles, mangoes, avocados, bananas, basil and limes blends with the abundance from the sea—the snapper, shrimp, scallops, oysters, clams, sierras, tuna and more. Combine this bounty with Mexico's best wines and you have a perfect pairing in paradise. Crisp bubblies, refreshing whites, versatile rosés and a diverse range of structured reds all will be on display for your palate's pleasure at the 6th annual GastroVino, Baja Food and Wine Festival!
On Sunday, May 7, in the Todos Santos plaza, Mexico's best winemakers will be on hand explaining about and showing off their wonderful creations. Some of Baja Sur's best chefs will be featuring their culinary creations, including Tadd Chapman, Dany Lamote and Javier Plascencia. Five of Todos Santos' notable artists will paint live in the plaza on Sunday: Jill Logan, Tori Sepulveda, Robert Wood, Brian McGuffey and the one and only Carlos Díaz Castro. The musical entertainment is sure to impress with the rocking soul of the beautiful Samantha Rae Band, of La Voz México fame, coming to town.
It is hoped that thousands of dollars will be raised at the 100% benefit silent auction for the Palapa Society of Todos Santos' programs and for the restoration of the children's park, el Parque del Misión de San Juan, which is by the original Jesuit mission in barrio San Juan at the north entrance to Todos Santos. Last year over $8,000 USD was raised and over the past five years, the GastroVino Festival has raised $32,500 USD for a variety of local organizations, including los bomberos, Hogar del Niño, the Internado, DIF and more. This year, a wide variety of artwork, dinner certificates, hotel getaways and more will be auctioned.
Friday night's kick-off event on May 5, the Blanco Ball, will be a wonderfully elegant evening featuring dancing wine nymphs, sexy souvenirs, great music, lots of bubbles, premium wine raffles, a white carpet with fashion photographers, a delicious selection of tapas, and winemakers mingling and discussing their various nectars.
The GastroTour takes place the evening of Saturday, May 6, and allows for a gastronomical adventure around the centro histórico of Todos Santos. A winemaker is paired with the chef of each restaurant to create the best maridaje possible. After receiving your commemorative glass and a map you're encouraged to follow tour leaders or head out on your own downtown food and wine adventure.
Also during the day on Saturday, the BCS Wine Tasting Challenge takes place and is hosted by the head winemaker of Freixenet México from Querétaro. GastroVino artwork photographer Kate Turning and husband Steve Jacobi will be defending their shared-crown as reigning Blind Tasting champions!
The 6th Annual GastroVino Festival is sure to be the best yet and the gastronomical paradise of Todos Santos will be showcasing why Baja California Sur is an international destination for Baja food and wine lovers. ¡Salud!
See Events in the Spring 2017 issue of Journal del Pacifico for more information. Tickets for all events are available at: La Bodega de Todos Santos and El Tecolote Bookstore in Todos Santos, GotBaja store in La Paz, and Pez Gordo Gallery at The Shoppes at Palmilla. For more information visit: Facebook: Gastrovino Baja Food & Wine Festival / Gastrovino Fest Baja or www.gastrovino.mx