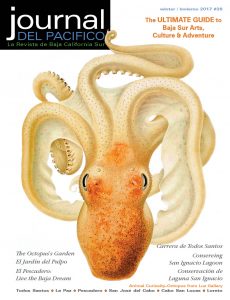 by Janice Kinne, publisher
The Baja Sur weather is great, our Gray whale visitors have returned and we have a lot of interesting stories on Baja California Sur residents and adventures. I was looking at the front page of our website recently and watching all the fabulous covers go by. This issue, Winter 2017, is certainly one of our most popular already! Luz Gallery in Todos Santos provided the stunning vintage octopus print.
Once again, Bryan Jáuregui of Todos Santos Eco Adventures has written a fascinating article on the octopus. Kaia Thomson of Todos Caballos has shared her photos of octopus you can find in the Sea of Cortez and the Pacifico Ocean, marine biologist, Paula Angeloni of Explora Baja and the Todos Santos Surf Shop translated the article into Spanish.
We also have three captivating profiles from the growing community of El Pescadero. The founders of Carlito's Place restaurant, Carlos Cham; the Residences at Freesouls' Marc Jouille; and Mark Catania and Peter Arbuckle of Pueblo Pescadero. You can read about their varied backgrounds, what brought them to Pescadero, their visions for their own restaurants and developments and the El Pescadero community.
The community also came together to build the Todos Santos skate ramp and our feature story. Jason Jacobs of Adventure 19 and Aaron Balducci of La Katrina Surf Shop funded the brand new skate ramp in our town park. Right after the ramp was open, a group of Todos Santos skateboarders showed off their moves for photographer Kate Turning. She shared her vintage skateboard poster-look photos for our story. You can see more of Kate's work at Galería de Todos Santos.
Anne McEnany of the International Community Foundation has shared the story of the Alliance conserving the San Ignacio lagoon and of her encounter with the gray whales that helped give birth to that Alliance.
The Journal del Pacifico running team is excited that after a two year absence, the Palapa Society of Todos Santos A.C.'s Carrera de Todos Santos will take place this March 25th. This year, in addition to the popular 5K, a 10K race has been added. Read about the other improvements this year and get ready to race!
Whatever facet of stand up paddling is your passion, whether it's touring, fitness, surfing or family recreation, SUP Outdoor is your gateway to nature, fun, and adventure. And now, SUP Outdoor paddleboards are available in Todos Santos. For more information, visit their website, call (612) 111-8040 or email: kate@lxvoutdoor.mx
Bésame Mucho Bazaar and El Edén restaurant will be opening in a new location in Todos Santos soon. They invite you to come and discover a unique experience that will entice you to come back for more!
Did you know that Que Rico Specialty Foods on calle Militar is now open Saturday from 11 am to 5 pm?
Chill n Grill in Todos Santos has new hours this month. They will be open Monday through Saturday, 4 to 11 pm with All You Can Eat Pizza nights on Wednesday.
St. Jude's Medical Center on calle Militar in Todos Santos provides medical consultations, hospitalization, laboratory and ambulance services, and 24 hour emergency care. They have also added a pharmacy to their location.
Now in Todos Santos, La Perla Mosaico Artesanal is a project that intends to rescue the tradition of handcrafted hydraulic cement tiles and bring it to your home or business. Their pride and dedication is expressed in every one of their tiles. Choose from one of their more than 60 designs or ask them to design one especially for you..
Miguel's Restaurant in Todos Santos is known for their chiles rellenos, seafood and traditional Mexican dishes. They also serves refreshing margaritas, cold beer and have a full bar.
Do you have health and fitness goals this year? Aldo's Gym in Todos Santos and La Paz can help you out! They have free weights, resistance training and certified instructors and trainers.
We are sorry to say that Mi Pueblito 3 in Pescadero has closed. Don't worry though; you can still enjoy their tasty Mexican meals at both locations of Mi Pueblito on calle Hidalgo in Todos Santos.
We see you with again with our Spring 2017 issue covering April and May. Deadline is March 10. For more information, visit our website at: journaldelpacifico.com