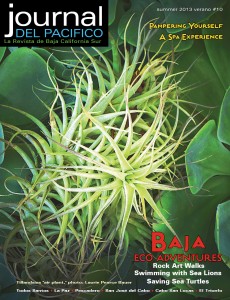 The new issue of "Journal del Pacifico" is on the streets in Todos Santos and Pescadero and in select locations in Cabo. We'll be distributing in La Paz in the coming week. Already we're getting great feedback on the beautiful cover photo of an air plant by Laurie Pearce Bauer and our Spa and Eco Adventure feature stories–such as Baja Rock Art, Swimming with Sea Lions and Saving Sea Turtles.
The water is warm here in Baja California Sur and there's a lot to do from eco-adventures to being pampered at a day spa. Those who know me may be more accustomed to seeing me leading a yoga class, out running or riding a horse on the beach, but for a change I tried out the White Sand Massage and Day Spa signature facial for a feature story in this issue. Photographer, Laurie Pearce Bauer, provided the photos for the story. 'Tiny Town' also tells the hilarious tale of the author's decision to get a fresh new look.
ÉTNICA is a new store in the historic district of Todos Santos, across the street from La Copa / The Todos Santos Inn. They have beautiful handmade Mexican blouses, dresses, leather handbags, sandals, belts, shirts and guayaberas for men, unisex hats and espadrilles.
Santo Vino in the Hotel California will only be open for another week, so hurry in to get one of Chef Dany Lamote's special creations. Citlalli Martinez Cano of Santo Vino wrote an article for this issue on wine pairing.
If you're looking for some Baja wine, La Bodega de Todos Santos will be open Wednesdays and Saturdays from 2 to 8 pm through June and July. La Licoreria is open all summer with over 400 wine labels from the US, Mexico, Chile, Argentina, Germany, France, Italy and Portugal.
Joseph Arthur, one of the very talented artists from this past year's Todos Santos Music Festival, has a new album out. You can listen here:
http://www.pastemagazine.com/blogs/av/2013/06/album-stream-joseph-arthur—the-ballad-of-boogie.html?utm_source=twitterfeed&utm_medium=twitter
The children's library at the Palapa Society of Todos Santos, Rincon de Cuentos, will be open at the same time as the adult library–Monday, Wednesday, Friday and Saturday from 10 am to 1 pm. The children's library is free and stocked with lots of great books.
There's a new Mexican restaurant on the otro lado next door to Mercado Pinos, Restaurant Horizonte, serving breakfast and lunch daily from 8 am to 5 pm.
Royal Palm Property Management provides homeowners from Elias Calles to Las Tunas with professional and reliable service along with an exceptional vacation experience for travelers.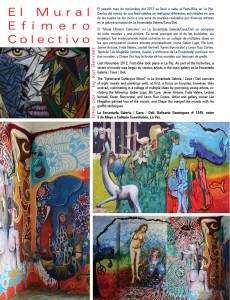 If you're in La Paz, stop in La Encantada to see the beautiful murals painted by young, Paceños artists. Kat Bennett of Allende Books shared her photographs, that show details of the murals, on page 42 of the current issue.
The Cortez Club in La Paz is fully equipped to take you on a variety of adventures in the world's largest natural aquarium, the Sea of Cortez. Go SCUBA diving, snorkeling, kayaking, water skiing, windsurfing, wave running, sailing, a day of sport fishing or 'Dancing with Sea Lions'!
Staying in an air conditioned room at Sr. Mañana in the historic district of San José del Cabo is a great way to start or end your visit to Baja Sur. Todos Santos and Pescadero have a variety of accommodations in different price ranges all with swimming pools! Check out Hacienda Todos Los Santos or Hotel Casa Tota in the historic district, Hotelito, just outside "downtown" on La Cachora road or Serendipity and Casa Rancho on the otro lado. In Pescadero you can relax on the beach or spend the day surfing at Rancho Pescadero, or hang out with fellow travelers by the pool at Pescadero Surf Camp. What could be better?
Thanks to our clients, contributors and our readers for making the second season of Journal del Pacifico–La Revista de Baja California Sur such a success! We'll be back in the fall with more great stories about the best that Baja has to offer. You can follow us through the summer at journaldelpacifico.com and on Facebook at JournaldelPacifico.
If you can't be in Baja to pick up the latest issue, you can always get the PDF online at: http://journaldelpacifico.com/blog/issues-online/summer-2013/