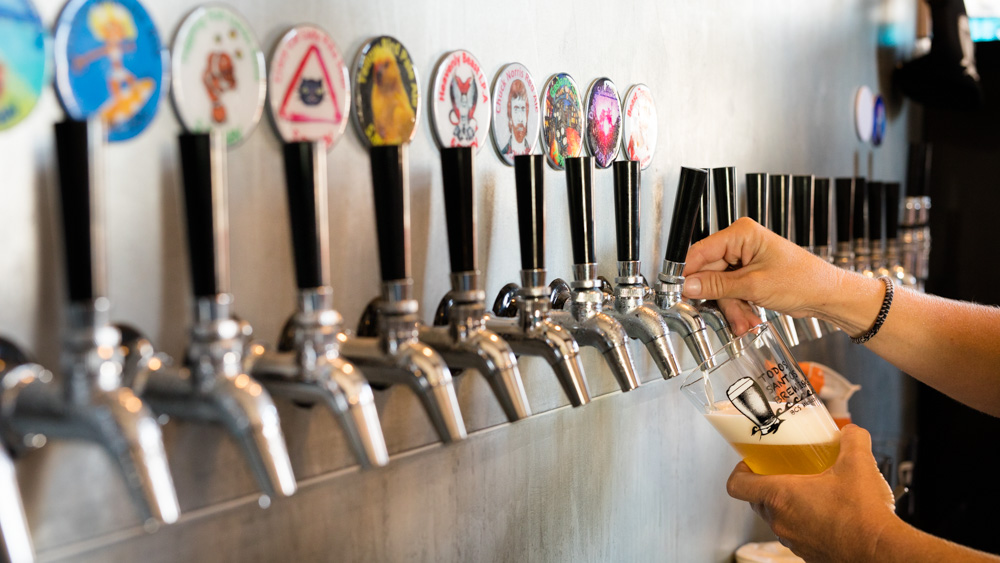 TODOS SANTOS BREWING'S 1st ANNIVERSARY CELEBRATION
by Jen Crandall
A year ago, in June, Liz and Ted Mitchell opened the doors of Todos Santos Brewing and since then have shared a lifetime of beer, laughs, and memories with locals and visitors alike! After starting off strong on their opening day–serving the amount of beer they had planned for the month in the first three hours–they've made and served over 12,000 liters of beer. This is a remarkable feat considering they run a single-beer barrel system, meaning they brew 100 liters at a time. They've sold over 300 growlers to date, so guests can take their favorite beers to enjoy at home.
Todos Santos Brewing regularly has fifteen small-batch brews to choose from, plus four non-alcoholic beverages, and three rotational or guest taps. They are predominantly an "ale" house with varieties from Summer and Blonde Ales to Brown and India Pale Ales. Not to mention their gluten-free alcoholic ginger beer.
A few months in, they opened their kitchen offering a menu of gastro pub food, with the specialty being gourmet hamburgers (and many other delicious dishes). Their fabulous chef, Erick, came over from the mainland to showcase his fusion of traditional Mexican fare with "gastropub" food–he's now offering a weekly special–find out more on their Facebook page!
Liz and Ted are proud to have participated in several competitions this past year and came away with awards for their Dizzee Lizzee Summer Ale at the Copa Cerveza; and for the Gaslamp IPA, Dizzee Lizzee and Brown Owl Brown Ale at the Baja Sur State competition.
The friendly staff is very focused on creating a sociable environment for all their guests and friends. They feature fun weekly events such as Friday Night Trivia and the Sunday Sessions live music showcasing talented local musicians. And they've newly started "The Brewer Talks" sessions every Saturday for those who want to know more about their beers and brewery.
Liz and Ted add, "We're so grateful for the warm welcome we received from the very start and love the support we continue to get from our local community here in Todos Santos. Come for the beer, stay for the experience!"
Join Todos Santos Brewing the weekend of June 8, 9, and 10 to celebrate "Cheers to One Year!"
Friday, June 8, 6 pm: Trivia Night with pint-sized prizes, the topic being: Beer & Todos Santos Brewing!
Saturday, June 9, 1 pm: they'll tap their Celebration Ale–a habanero-cacao porter.
1 – 6 pm: join DJ Dimitri Kota in the beer garden for music, games, and prizes.
7 – 9 pm: "Beergustation Celebration Dinner" a food and beer pairing dinner with five courses; sign up at info@todossantosbrewing.mx
Sunday, June 10, 2 pm: "The Brewer Talks": a tasting session of all taps plus a brewery tour, hosted by Ted & Liz.
6 pm start: "Super Sunday Sessions" hosted by the fabulous Jenelle Aubade, featuring a range of local talented Sunday Sessions musicians including David Red Buffalo, Divier, Anibal Cota, Liiroi Douglas, Zoë Dearborn, Angelina Wolf, Steve Keys, and more!
Todos Santos Brewing is located on Alvaro Obregón between Militar and Rangel in Todos Santos, #74 on Todos Santos map. Open Thursday to Sunday, 1 to 9 pm. For more information, events and weekly menu specials, visit their Facebook and Instagram.